The Fallout 76 2022 Roadmap Proves That The Franchise Lives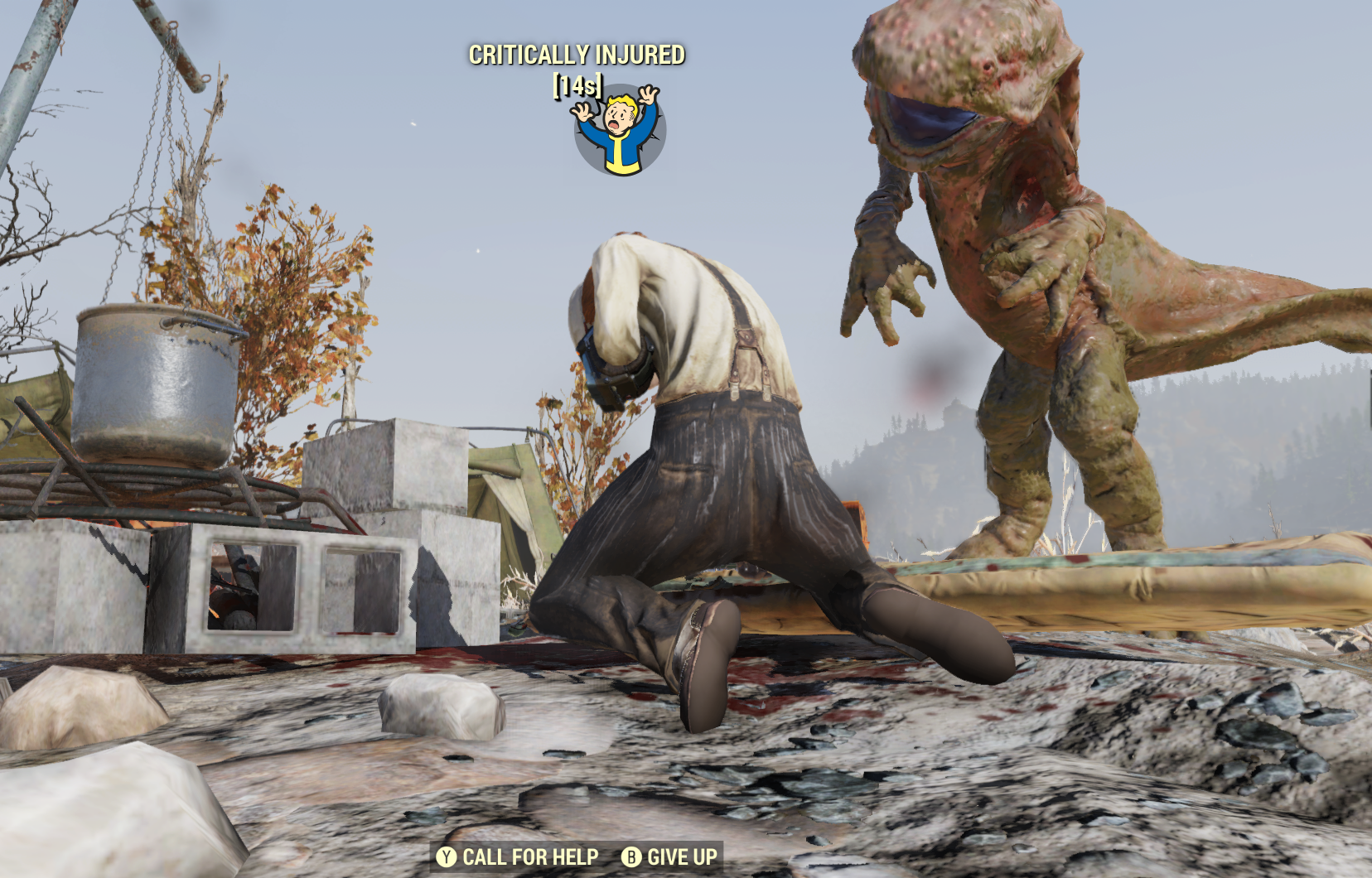 Anyone looking for the Fallout 76 2022 roadmap knows a secret — this is a pretty good game. This poor, put-upon prequel to the handsome, dashing Fallouts 3, 4, and New Vegas, Fallout 76 had a wobbly start in 2018. However, it long ago became a worthy addition to the series' post-apocalyptic canon.
You want nukes? Fallout 76 will let you launch them. You want a bevy of creative monsters, and disturbing environmental storytelling? Got that, too. The game always featured a gorgeous backdrop of West Virginia forests and mountains. Now, its mix of real humans and NPCs is nicely balanced. You can wave to a new friend, and have dialogue with a cool robotic one. You can wander alone, or you can team up with other humans and fight a fearsome mutated bat, or an army of super mutants.
Casual gamers may have given up on Fallout 76 years ago, but surprisingly, Bethesda has not. They even recently hired the UK developer Double Eleven to work on additional content. Though the game wasn't quite as dire as some people claim when it began, it was a disappointing collection of quests ending in robots, or sad notes on dead bodies. Subsequently, the 2020 Wastelanders expansion was the shot in the arm the game needed. Turns out that even a game that includes other human beings things don't feel right without other, non-hostile NPC humans as well.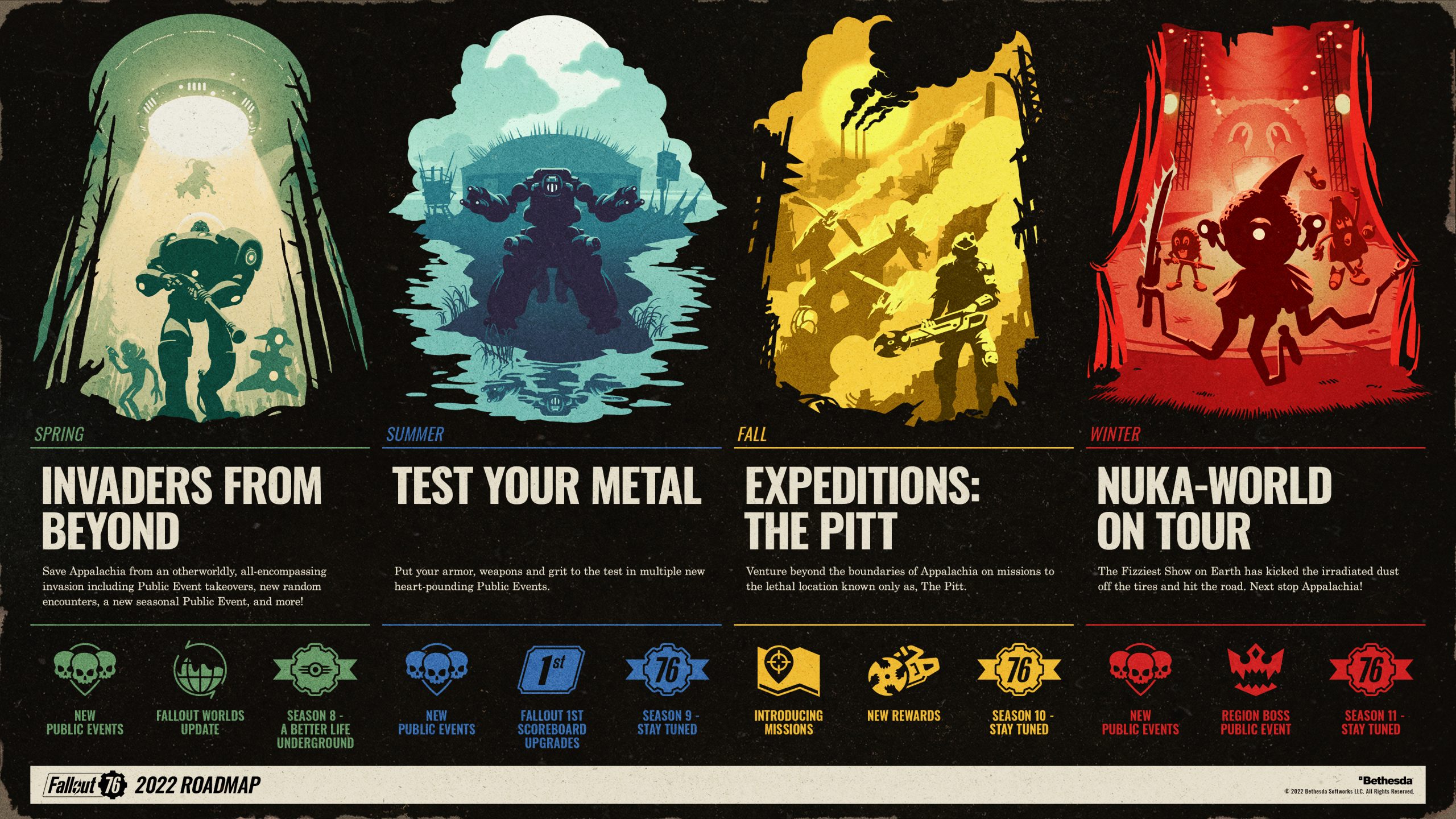 Image courtesy of Bethesda Softworks
After Fallout 76 brought back humans in Wastelanders, the game added scoreboards and seasons with rewards. They added more game events, and even annual holidays such as the real-world celebration Fastnacht, and "Meat Week" with its friendly super mutant and his friendly, two-headed cow. Bowing to fan love for those power armor-clad anti-heroes, Bethesda even released a Brotherhood of Steel DLC in 2020.
The 2022 Fallout Roadmap brings new content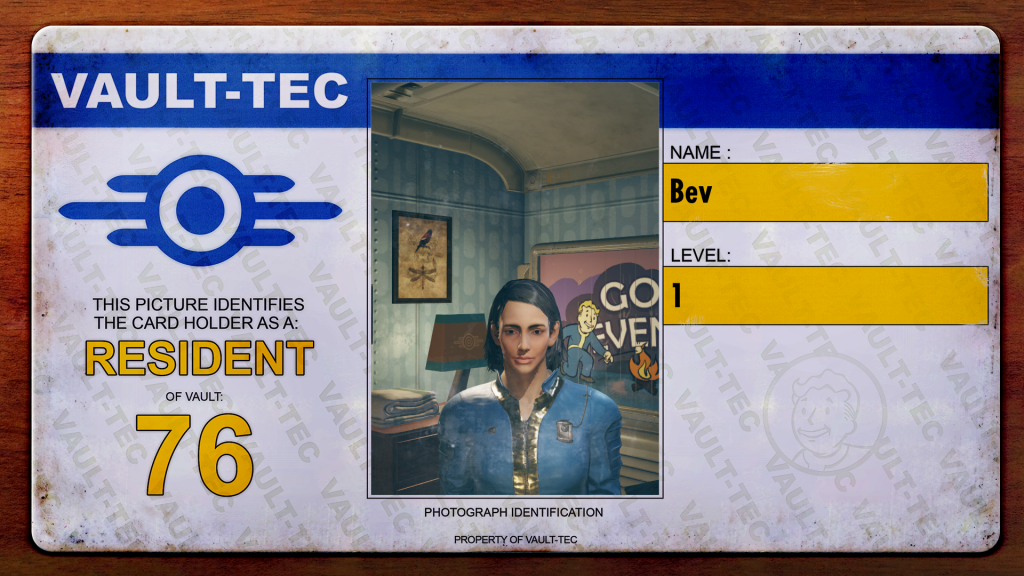 Image Courtesy of Bethesda Softworks
Bethesda's plans for the Fallout 76 2022 roadmap include two weeks of alien invasion earlier in the year, "Invaders from Beyond." That added scary UFOs and swarms of little green men to the map in varying locations. In summer, players will get to try "Test Your Metal" with a robot invasion.
Autumn brings back a familiar location, "The Pitt," which was a DLC in Fallout 3. Fallout 76, however, is set almost 200 years before that. This means that fans who played Fallout 3 can play Fallout 76 to see how the former Pittsburgh, Pennsylvania fell into such dire, post-apocalyptic shape in 3. Finally, in winter, another familiar location, but this time it comes to Appalachia —Nuka World, first seen in a Fallout 4 DLC, sends a traveling road show. The Fallout 2022 roadmap includes new rewards, seasons, events, and later in the year, a new big boss to join the likes of the Scorchbeast Queen, Earl the Wendigo, and the Sheepsquatch. 
Fallout 76 is far from perfect. Bethesda provokes controversy over its sometimes-for-real money Atom Shop. They have made more than a few shoddy merch manufacturing decisions. There are bugs in Fallout 76 still. You can almost always depend on notifications for events, or for rewards after events to pop up at a weird time. But the game is eminently playable, and it feels like a true Fallout game, even as it opens up the lore and adds new tragically irradiated creatures. None of the DLCs or updates have cost extra. If you bought the game, you own its future content. And due to its sour reputation, that $60 release day price has been known to dip pretty low.
Fallout 3, 4, and 76 'Ruined' the Franchise!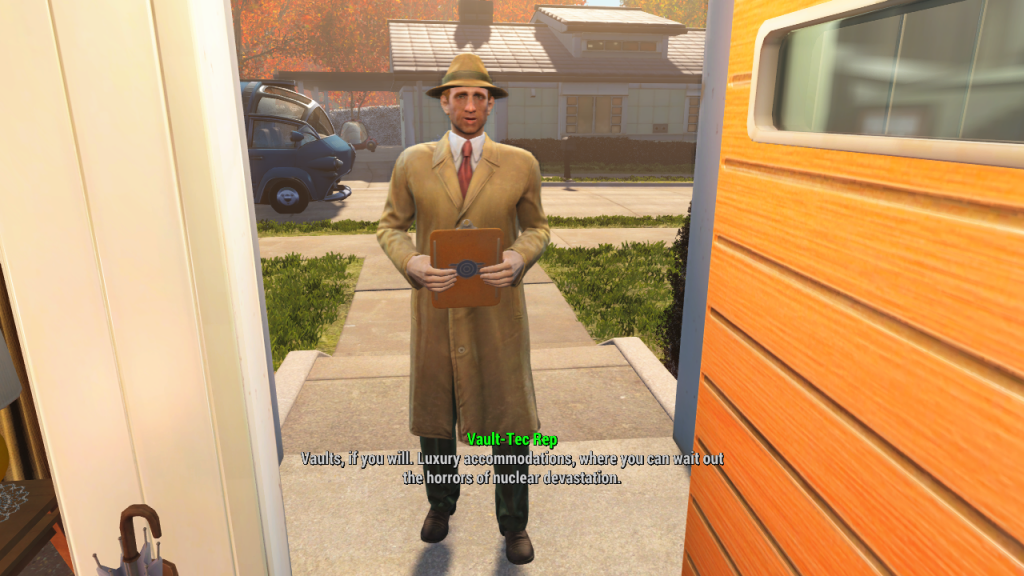 Image courtesy of Bethesda Softworks
There is plenty of debate over the state of the franchise all over Youtube, Fallout subreddits, and social media. Some people think Fallout 76 is an insult to nuclear war, but plenty of other people thought Fallout 4 was, too. Famously, there was a cranky web forum called No Mutants Allowed that only liked the original Fallout and Fallout 2. As soon as things went 3D and non isometric, it was all over for these video game luddites.
Once the Fallout television show hits Amazon Prime, undoubtedly some no fun people will claim that it has ruined the franchise as well. But in the meantime, what's the secret of Fallout? The secret is that they're good games, Brent. The Fallout games contain gorgeous, spooky environments, from the deserts of the southwest, to the cities of Boston, and DC, to the mountains of West Virginia. If retro-future, nukes, scares, and kitsch in your sandbox sounds appealing, play them all. (Play the isometric ones, too.) The negativity around Fallout 76 is reflected in mediocre Metacritic scores, and worse user reviews. But whether or not you bought it upon release, and threw it away, or you were scared off by the backlash, Fallout 76 is now a valued part of the family.
Do you play any of the Fallout games? Are you excited about Fallout 5, or the Amazon Prime TV show? Will you try out the 2022 Fallout 76 roadmap? Let us know in the comments.
Featured image courtesy of Bethesda Softworks
Leave a comment