The Day Before Game Finally Gets Gameplay Footage
We're just under two months away from the game's release, but game studio Fntastic has finally revealed they'll release gameplay footage for The Day Before game. They also revealed that this footage is coming later this month, although an exact release date isn't clear. Even so, many fans aren't positively taking this news. In fact, some of them are pretty sure that Fntastic won't release it on time. After all, it's meant to come out on March 1st, a little over six weeks away. That's pretty soon for Fntastic to release raw game footage!
The news comes via Discord, where the game's developer stated: 
This month, we will be releasing raw gameplay footage, as per the numerous requests received from our community. This footage will showcase a majority of the features and gameplay elements requested by our community and will provide a clear glimpse into the current state of development for The Day Before.
Despite it being good news, many fans still worry about The Day Before game. After all, this will be the first time we'll see gameplay properly. Previously, Fntastic did release the trailer. This was only two weeks ago. However, the trailer didn't show off any of the gameplay. Instead, it appeared to focus on the graphics side and the title's ray-tracing abilities. Naturally, these features are cool, but most people play games for gameplay and not the graphics! 
Over on the official subreddit, many fans speculate that Fntastic will delay the title again. The studio already delayed it once after switching to the new software, Unreal Engine 5. However, other fans believe the final edition won't be the same as the one from 2021. Instead, some fans think The Day Before game will have poor gameplay and bugs.
The Day Before Game Release Date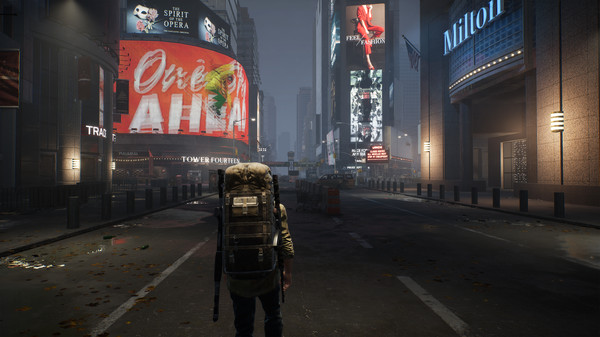 Image: Steam
This wouldn't be the first term a studio released an incomplete title. Last year, Nintendo released Pokemon Scarlet and Pokemon Violet, which had many glitches. Also, Rockstar released the Grand Theft Auto trilogy, which was almost impossible to play! So, let's hope that The Day Before game goes ahead without a hitch.
Originally, Fntastic announced it in 2021. They described it as a mix between The Division and The Last of Us. Since then, fans have been very excited about it. In fact, it was at the top of Steam's "Most Wishlisted" menu for a long time. However, Stray and Hogwarts Legacy later took the spot for themselves. 
On May 5th 2022, Fntastic announced they delayed the title until 2023. This was because they switched to using Unreal Engine 5. However, considering they were meant to release the title on June 21st 2022, they left the news pretty late! If that wasn't bad enough, the studio also revealed they were searching for help from "volunteers." Apparently, they wanted them to help with development. That's not a good sign!
Fntastic will release the game on PC, Xbox Series S, Xbox Series S, and PS5. However, there's no news if you can crossplay the title across systems. The official description for The Day Before game is:
The Day Before is an open-world MMO survival set in a deadly, post-pandemic America overrun by flesh-hungry infected and survivors killing each other for food, weapons, and cars. SURVIVE AT ALL COSTS. Search abandoned vehicles, houses, and skyscrapers as you scavenge for resources.
Fntastic Developer Studio
Previously, Fntastic did release another game titled Propnight. Critics gave the game warm reviews, although they did criticise the initial bugs. Additionally, it also had poor motion blur effects and fluctuating framerates, which the studio later patched out. Hopefully, The Day Before game doesn't have any of these issues! 
Aside from video games, Fntastic also created the remote work app Continent. Naturally, they're not the first game studio to have a split focus. However, a lot is riding on the success of The Day Before game. Perhaps they can deliver the game they promised in 2021 – only time will tell!
Hi! I'm Arvyn, and I'm an English teacher from the UK. I've been teaching English online for over 4 years to students from all across the world and all ages. Outside of work, I'm a huge fan of reading, video games, and playing with my adorable kitties. See ya!
Leave a comment