Tetris Effect Connected Review – An Unbelievable Experience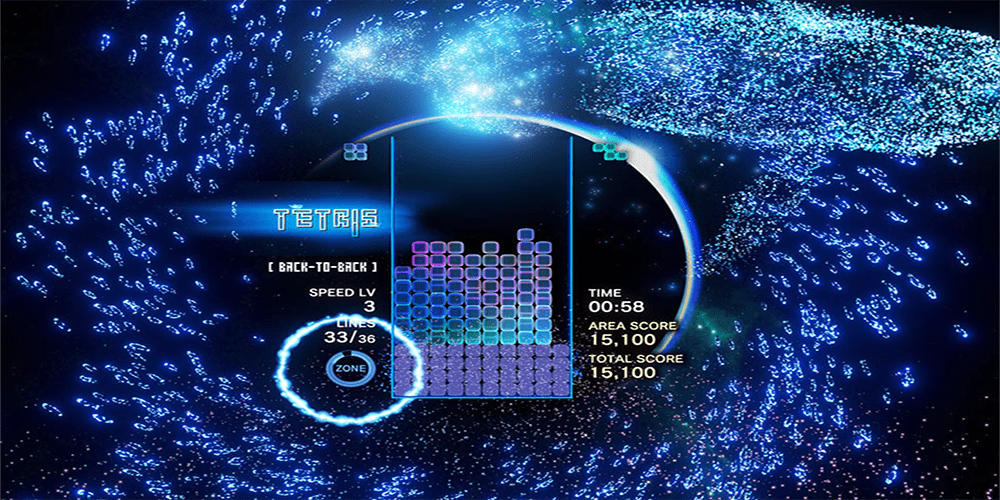 I have no idea how to start this review. Truly, I thought about it a lot last night. I planned to wake up, make some coffee, ease into the day, and then write a review for Tetris Effect: Connected. The trouble with a game like this is that everything I want to talk about comes from experiencing the game itself. You can describe a story to someone in a game like The Last of Us Part Two, or even the action sequences in The Witcher 3. Something like this game, however, is dangerously easily to undersell. It's Tetris. Everyone knows this game, and like a lot of people, I shrugged off the game's reveal in the summer Xbox Showcase. In short, I didn't expect much at all. Yet, with Game Pass, I end up trying a lot of things I normally wouldn't. Here's my Tetris Effect: Connected review.
Tetris Effect: Connected – A Visceral Gaming Experience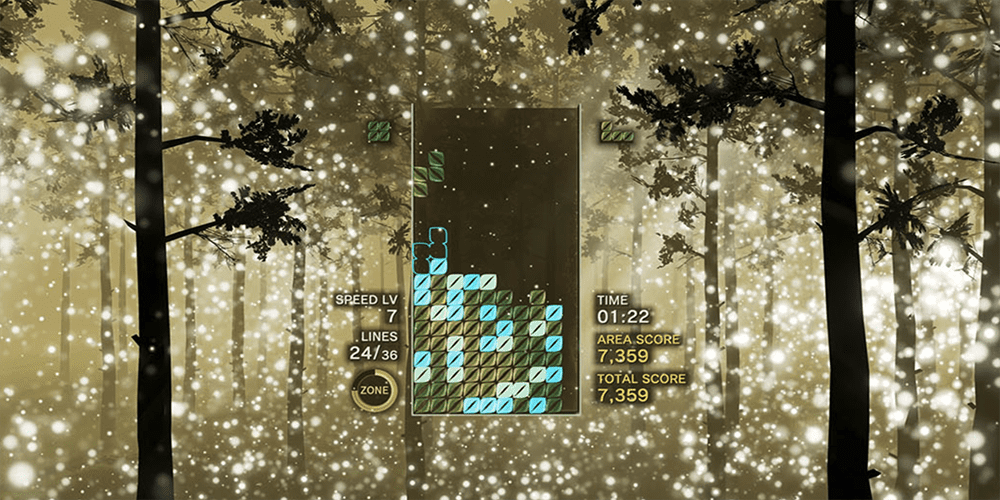 Image Credit: Enhance
Tetris Effect: Connected is one of the few launch titles for the Xbox Series X/S. Overall, Xbox planned on Halo Infinite's success leading the way but things didn't go so hot. Now, we're essentially working with an upscaled Xbox One X that can play last-gen games. That said, you're not playing this game for the graphics or photorealism. You're playing the beloved block stacking game we've seen time and time again. The twist, however, is the emotional, visceral experience of going through the motions of this reimagined title.
Every motion you make with the blocks creates something in the game. It's usually a sound and a vibration, or sometimes even a flash of color. Either way, even the early stages of a run through Tetris feel exciting. Each level has a sort of theme and bursts with build-ups and momentum that respond to your progress. It's insane to see fire dancers or jellyfish filling the screen while you play. As the game speeds up, the music and vibrations in your controller speed up. Suddenly, you're locked into the game unlike ever before. It's not just fun; it feels involuntary. You're sort of, pardon the obvious word choice, connected to the game, unlike most other titles.
Not 99, but Something Much More Addicting and Rewarding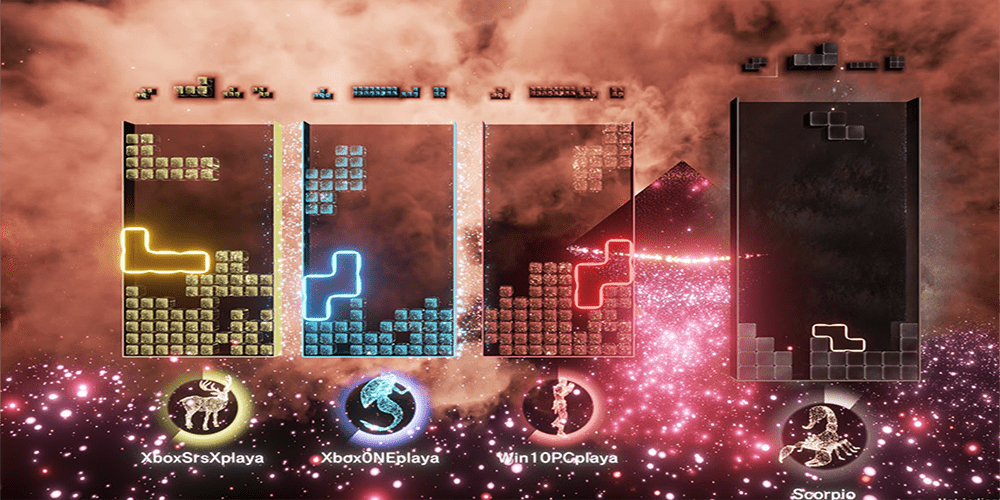 Image Credit: Enhance
Multiplayer Tetris is now widely associated with Tetris 99, the battle royale style online multiplayer game. I think that's a fine way to get your block-stacking fix, but I appreciate the experience of Connected's multiplayer much more. The titular game mode takes three players and faces them off against a series of AI challengers. These bosses are essentially playing a game of Tetris while you and your team play. Overall, you're just trying to outscore the boss. There's a catch, however, when they start putting gaps in your lines, sending you extra blocks, and making life harder for you and your team. You're not defeneseless though. As your team adds points to a meter, you can all power up a special mode that allows all three of you to play one big Tetris board.
Overall, I'm not really into high scores or rankings in games. For that reason, the traditional multiplayer experience of Tetris where you try to top others isn't my cup of tea. This mode, however, is quite rewarding and fun. Mix in all the amazing visuals with the game and the music and it's hard not to get very invested in the experience. There are also battle modes and attack modes to play with others as well. These are more of your classic, "who can do better" style experiences. While fun and enjoyable, particulalry with the presentation of this game specifically, the "Connected" game mode rules supreme.
Tetris Effect: Connected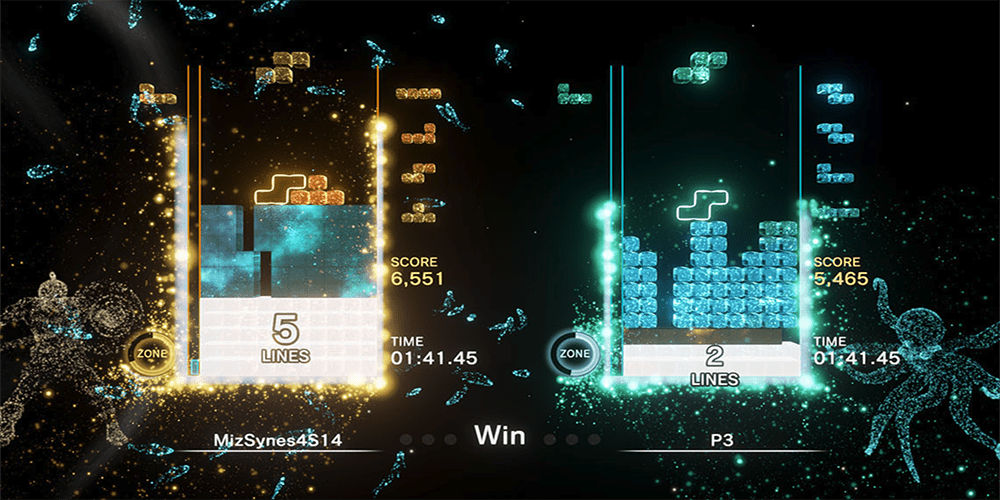 Image Credit: Enhance
I rate games on a scale of 1-10; Tetris Effect: Connected is a 10. I can't say I imagined scoring the game this high upon its initial reveal. Nor did I download the game thinking this would be one of my favoirte games of the year. That said, the simplicity and tranquility of the game's colors, soundtrack, and gameplay are hard to top. Not everything needs to be this wide-spanning, deep gaming experience. Sometimes, the less you do on screen the more you can tune into what's happening. I loved feeling like I couldn't put it down after a few hours. I enjoyed the music and building up to a big beat drop or explosion of colors on-screen. Most of all, I loved how calm and relaxing it was to play. 2020 needs this game.
Tetris Effect: Connected is available for $39.99 for Xbox Series X/S, Xbox One, and PC. If you subscribe to Xbox Game Pass, then you can download and play for free.
Featured Image Credit: Enhance
Taylor is the Gaming Editor of Comic Years and a lifelong fan of video games. He holds two degrees in Political Communication and wrote a Master's Thesis on resistance movements, race, and the exploitation of college athletes. His wife and two Toy Australian Sheppards keep him sane.
Leave a comment