Tears of Kingdom Gameplay: New Zelda Game Details Revealed
Just days before the official launch of the new Zelda game, the official Zelda Twitter account released teaser footage of the Tears of Kingdom gameplay. Read on to find out which new, exciting features you'll see! 
Tears of Kingdom Gameplay
Whether or not you've been a true Zelda fan since 1986, you are probably in love with the latest Tears of Kingdom gameplay. With the modern graphics and such a beautiful storyline, it's honoring Zelda the way it's supposed to.
Moreover, the revealed gameplay offers a variety of new skills to the players. First of all, Tears of Kingdom serves as a sequel to Breath of the Wild, which dropped in 2017. After a long wait, you'll finally be able to wander through Hyrule again. 
However, there's a sad twist. Now that Hyrule is shattered, the players will move across the sky islands and caverns. In addition to the breathtaking sky graphics, Link has several new abilities. 
Firstly, Link will now be able to interact with his surroundings in several new ways. For example, he can now saddle his favorite horse from the previous Zelda game and attach a mobile invention to the horse, such as a cart. He can now utilize pitchforks, flamethrowers, and even rocket cars. He'll also be able to construct complex machinery such as Zonai Devices. 
Moreover, the new Tears of Kingdom gameplay shows Link's new movement abilities. These include Ultrahand (attaching and detaching objects from one another). In addition, he can use his ability Ascend to jump through the clouds. 
When it comes to the control settings, players will now access Link's abilities via a radial wheel rather than a scrolling menu. This feature will most likely improve the mobility of the players.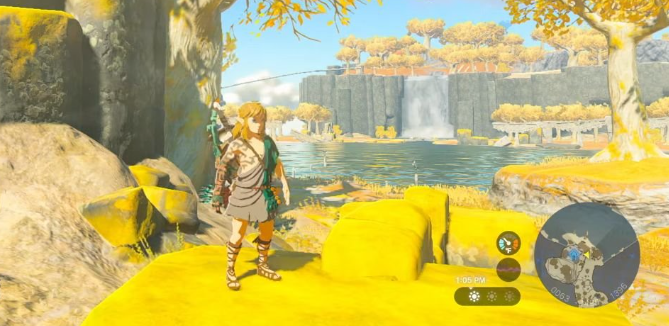 The Legend of Zelda: Tears of the Kingdom
The Legend of Zelda: New Video Game Release Date
The latest addition to the Legend of Zelda video game franchise is Tears of Kingdom, which is coming officially to Switch on May 12th, 2023. Moreover, now that we know more details about the Tears of Kingdom gameplay, we can prepare for the upcoming game!
Therefore, here are some additional features that you can expect in the game. Firstly, the main enemy is going to be Construct. While we still don't know how many enemies in total Link will have to face in the Tears of Kingdom gameplay, we do know that some of these enemies will have fused weapons that are hard to beat. 
Moreover, the upcoming Zelda game will include themed Temples and Dungeons once again! And when fans thought Ancient Shrines are long gone, they are also returning to the game with over 150 locations across the map. 
In addition, players will have access to several previous armor sets such as Flamebreaker Set. They'll also be able to create new sets. Lastly, one of the favorite features is making a comeback, and that is cooking! Players can once again save recipes and prepare their favorite meals. 
【投げる】
入手した素材は、手に持って投げることもできます。
氷系の素材を投げれば、魔物がカチコチに!#ゼルダの伝説 #TearsOfTheKingdom pic.twitter.com/N5LohNaMLW

— ゼルダの伝説 (@ZeldaOfficialJP) May 2, 2023
Obsessed with anime, all-things magical, collecting rare editions and funko pops, Natalija is a young writer who strives to read every comic and manga out there!
Leave a comment