Starfield Official Gameplay Trailer Revealed
Starfield Official Gameplay Trailer came out and there is much to see and marvel at. The long-awaited magnum opus of Todd Howard released the trailer and fans are buzzing.
Starfield is a highly anticipated game, as it is Bethesda Game Studios' first single-player RPG in over seven years. On June 12, it was the final game featured at the Xbox & Bethesda Games Showcase. We got a long look at the game, including combat, ship development, and the surroundings. It's building up to be a massive game, as seen by the size of the chunk allocated to it during the expo. Ever since Microsoft's acquisition of Bethesda, fans of both and even neutrals wanted to see what the collaboration meant for this game.
Starfield Official Gameplay Trailer Wrapped The Showcase
Source: Eurogamer
Microsoft wrapped up its presentation with the Starfield Official Gameplay Trailer. Todd Howard of Bethesda exposed fans to a sequence set in the year 2330 on the planet Kreet. The gameplay clip shows the player entering a space station and defeating adversaries with a machine pistol and, subsequently, a powerful shotgun in first-person mode.
The official game website describes the game as follows: "The year is 2330. Humanity has ventured beyond our solar system, settling new planets, and living as a spacefaring people. From humble beginnings as a space miner, you will join Constellation — the last group of space explorers seeking rare artifacts throughout the galaxy — and navigate the vast expanse of the Settled Systems in Bethesda Game Studios' biggest and most ambitious game.

In this next generation role-playing game set amongst the stars, you will create any character you want and explore with unparalleled freedom as you embark on an epic journey to answer humanity's greatest question: What is out there? Bethesda Game Studios "can't wait for all of you to experience the game. It's been an incredible journey for us making it, but we know that's only the beginning, for it's when all of you play it that the journey begins."
We Finally Get To See The In-Game Gameplay
We've seen many in-engine pictures, but until today's Xbox-Bethesda demonstration, when the show finished with an extended look, we've never seen what the moment-to-moment experience of playing Starfield entails. We looked at exploration of the world, including inspecting local species, mining for materials, and raiding a hostile facility, after opening on a beautiful moon landscape.
Starfield Official Gameplay Trailer then showed off some of the shooter action. Additionally, the player battles a gang of pirates while switching between first- and third-person perspectives. Later on, we saw space exploration, which included the ability to pilot your own ship, engage in space warfare, land anywhere on a planet, and explore various star systems, each of which included numerous worlds. According to Todd Howard, there will be 100 systems to deal with.
A lock-picking gameplay concept was also demonstrated, as well as some third-person shooting sequences. New Atlantis, the game's capital city, appears to be a large, bustling city where players will take missions and learn more about the universe, according to the clip.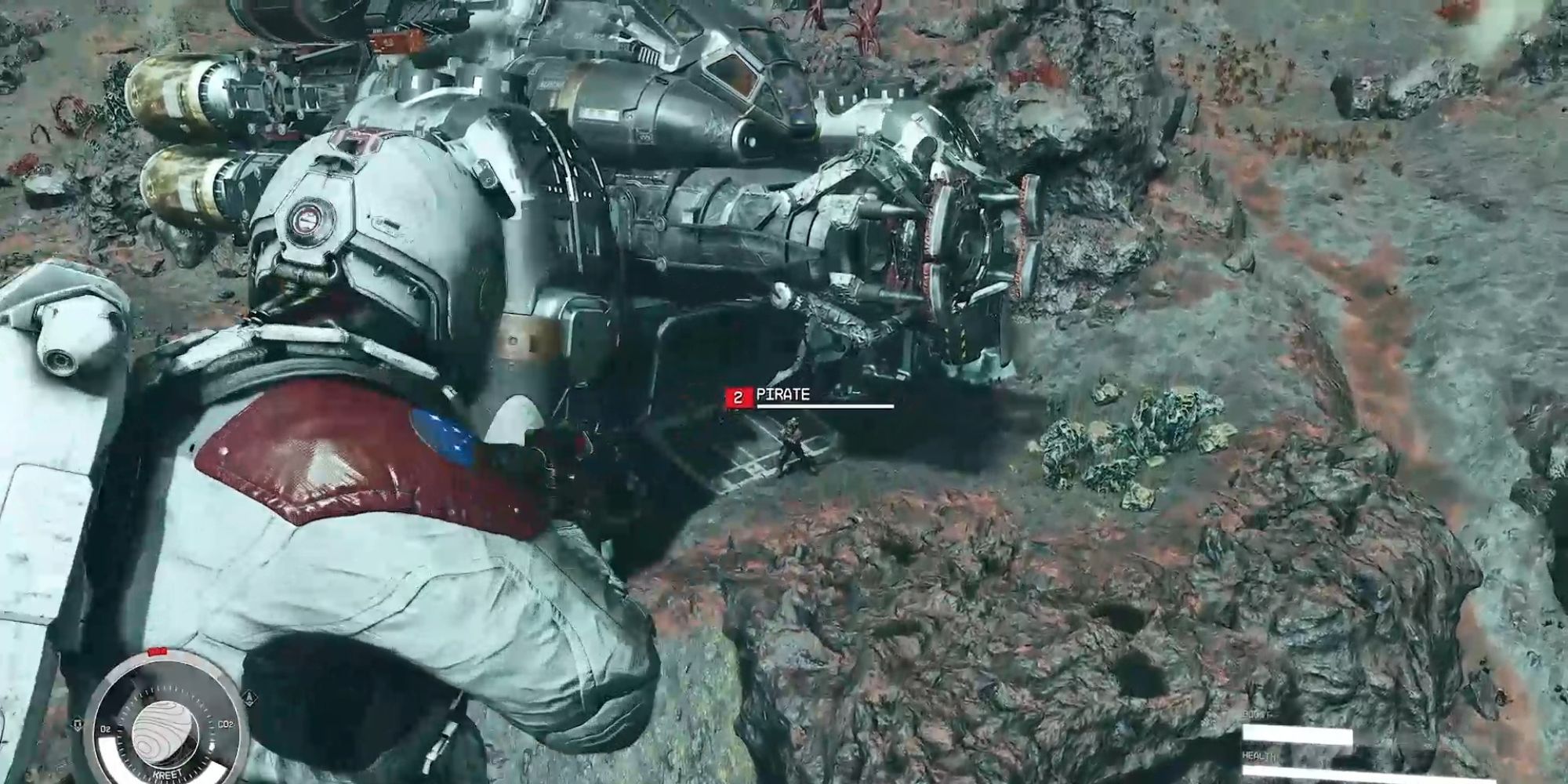 Source: TheGamer
Many Facets Of The Game In Starfield Official Gameplay Trailer
The movie also showed off Starfield's character creation system, which Howard described as Bethesda's most comprehensive ever. Players can also choose from a variety of extra qualities, each with its own set of benefits and drawbacks. Furthermore, Starfield will allow players to design and modify their own space ships, which they can then sail.
Starfield was supposed to be released in November, but now comes out in the first half of 2023. After lingering rumors that spanned many years, an announcement finally happened in 2018. That ended a long wait for Bethesda fans. Phil Spencer, the CEO of Xbox, guaranteed that the firm would improve as a result of the delay.
Starfield is Bethesda Game Studios' first new property in over 25 years, and it becomes available on Xbox One and PC. It'll try to build on Bethesda's open-world RPG features and promises both 1st and 3rd person viewpoints. Other things such as deep character creation have emphasis too. Many call it "Skyrim in Space" and a "Han Solo Simulator." We've met the game's first companion character, and learned about its antagonistic factions. Additionally, we have the comfort of knowing that there is complete mod support.
Leave a comment