Star Wars Fortnite Crossover Details Leak
If you're a fan of Star Wars or Fornite, then buckle up because we've got some exciting news for you! Recently, a Twitter user named NotPaloLeaks leaked some amazing details about the upcoming Star Wars Fortnite crossover. You won't want to miss this!
First, the Star Wars Fortnite crossover is launching at 9 AM ET on May 2nd. So, clear your schedules and prepare for an epic day. Trust us; you won't be disappointed.
Moreover, Anakin is making his grand entrance alongside three other mysterious skins. We're already speculating who these characters could be. Of course, we're hoping for some fan favorites. Perhaps a beloved Jedi Master or a charming rogue? We'll have to wait and see! 
The leaks suggest that Epic Games will introduce  "The Force" as a new mechanic. Just imagine using the power of the Force to dominate your opponents. How cool is that? We're curious about how this will impact gameplay and players' strategies.
Additionally, the iconic Lightsabers are making a comeback in the Star Wars Fortnite crossover. We can't wait to wield these elegant weapons once more. If that wasn't enough, a new Blaster is coming as a weapon, too. Pew pew! So, this is sure to add even more variety to the Fortnite arsenal.
Now, for all the Darth Vader fans out there, good news! The legendary Sith Lord is returning as a character on the map. Will you team up with him or challenge the Dark Side? Naturally, we anticipate some intense battles with this powerful villain!
Furthermore, two new characters will join the map for us to interact with. Unfortunately, it's unclear who they are, and we wonder who they could be. Will they be allies or enemies? Only time will tell. The anticipation is killing us!
Star Wars Fortnite Crossover Leak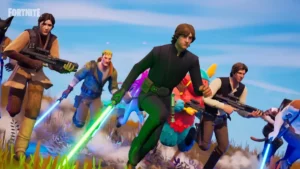 Image: Epic Games
But wait, there's more to the Star Wars Fortnite crossover! Star Wars chests are returning, allowing us to score some sweet loot. Plus, there's a possibility of old cosmetics making a comeback. Fingers crossed for some rare items! We can't wait to see which treasures we'll uncover and which old ones are returning. Either way, these will be exciting editions of the Fortnite game.
Excitingly, mini Star Wars locations will be scattered throughout the map. We can't wait to explore these iconic places while battling fellow players. What a treat for both Fortnite and Star Wars enthusiasts!
In addition, we're expecting new challenges and free rewards in this Star Wars Fortnite crossover. So, get ready to put your skills to the test and snag some awesome goodies along the way. We're eager to see what unique rewards await those who rise to the occasion! 
To wrap it up, the Star Wars Fortnite crossover is shaping up to be an epic event. Of course, this isn't the first Fortnite crossover event with Star Wars – and it certainly won't be the last! We're already counting down the days until May 2nd. A huge shoutout to NotPaloLeaks for giving us this sneak peek. Stay tuned for more updates, and may the Force be with you!
So, what are you most excited about in the Star Wars Fortnite crossover? Are you looking forward to exploring new locations, trying new weapons, or immersing yourself in the Star Wars universe? Let us know in the comments below, and remember to share this article with your fellow Fortnite and Star Wars fans!
Hi! I'm Arvyn, and I'm an English teacher from the UK. I've been teaching English online for over 4 years to students from all across the world and all ages. Outside of work, I'm a huge fan of reading, video games, and playing with my adorable kitties. See ya!
Leave a comment