Spider-Man PS4 Suits Ranked #5-#1
Even after beating the game, Spider-Man stays in a lot of player's PS4 rotation. The game is a great example of how to do a superhero game right. If you haven't picked up the game yet, it's running on sale nearly every week now. It's a great time to be a Spider-Man fan too, seeing as Spider-Man Far From Home is out. Spider-Man: Far From Home, the latest MCU movie (that we also wrote a review of) is an epilogue of sorts to the Infinity Saga. The movie starring Tom Holland as Peter Parker is crossing into the PS4 Spider-Man via some new costumes. This list is going to give you a peek at these costumes. Also, there is going to be a rank of the 5 coolest Spider-Man suits, one of which is from Far From Home. The new suits are available now for download. Now, let's get to the 5 coolest Spider-Man PS4 suits. 
5 Coolest Spider-Man PS4 Suits
There are a ton of great Spider-Man PS4 suits, and these 5 are just a few of the amazing costumes you can craft in the game.
#5: Iron Spider Suit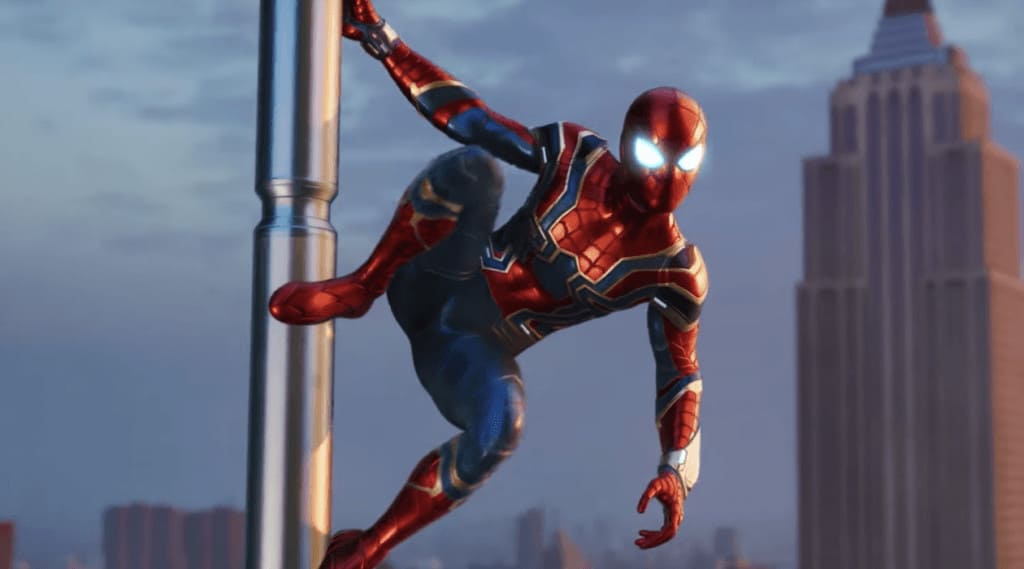 The Iron Spider suit is a favorite because of its Avengers' bona fides. Tony Stark crafted this suit for Peter using all the goods that come with the Iron Man suit. It has a fantastic chrome shine with just enough of the classic Spidey look. Players unlock this suit at level 31. You will need 3 base tokens, 3 challenge tokens, and 4 crime tokens to craft this suit. The iron arms that come out of the suit are a great touch, and they can simultaneously strike down enemies. In the comics, we first saw this suit in the Amazing Spider-Man Vol. 1 #529.
Other than the obvious MCU tie in and references in the movies, it's a suit that looks good. It's not the coolest available though, so here's number four as we move down the list!
#4: Far From Home Stealth Suit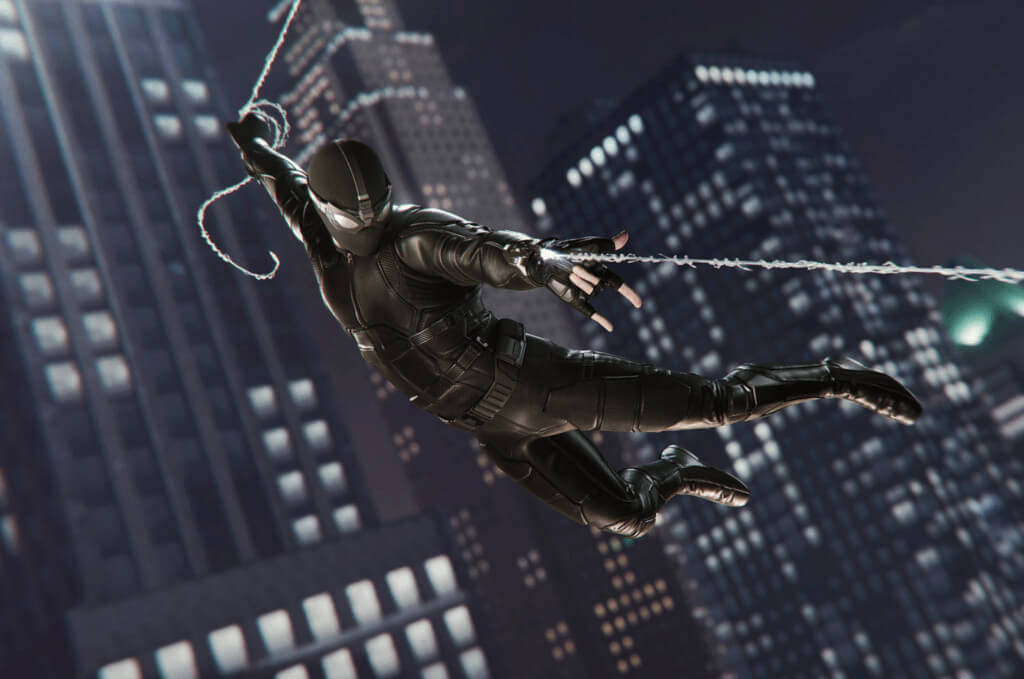 As mentioned above, Spider-Man Far From Home suits are in the Spider-Man PS4 game now. The Far From Home-inspired Upgraded suit is a fantastic look, and should be a favorite of fans of the movies. With a wonderful bold color to the classic look, a black Stealth suit is what takes the cake in this update. The all black look gives Spidey a new vibe. Likewise, it's a nice touch after seeing it in the film. Once you have Advanced Suit, you can switch to the Upgraded Suit or Stealth Suit. They don't offer new powers with them, but after seeing the movie, it will be fun to sling around New York in these MCU styled costumes. 
#3: Wrestler Suit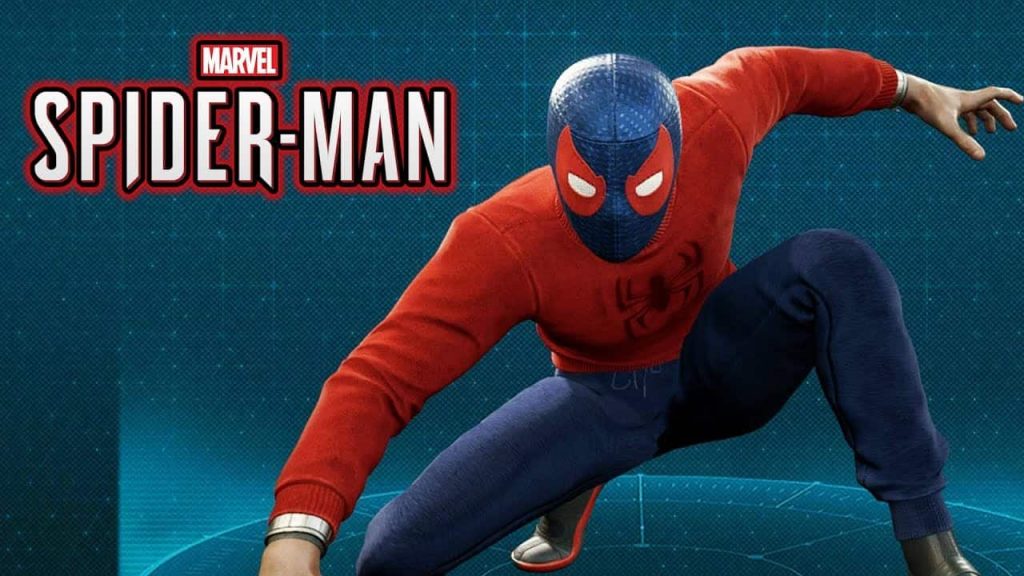 It's cool to see Far From Home get a couple suits in Spider-Man PS4, but don't forget where the Spidey films started. At level 19, you can unlock the Wrestler suit that debuted in Spider-Man (2002) starring Tobey McGuire. The first Spider-Man film is still a fan-favorite today. Fans remember this suit from the wrestling scene where Peter tries to win some money by using his newfound powers. Build the suit with 2 backpack tokens, 2 base tokens, and 2 research tokens. The suit comes with a power up called King of the Ring, which allows Spidey to skip the use of gadgets while stunning them. Yes, Spider-Man wrestled back in 1962 in the comics, but this suit is exactly what we see in the Tobey McGuire movie. It's a throwback suit for a great look in Spidey history. 
#2: 2099 White Suit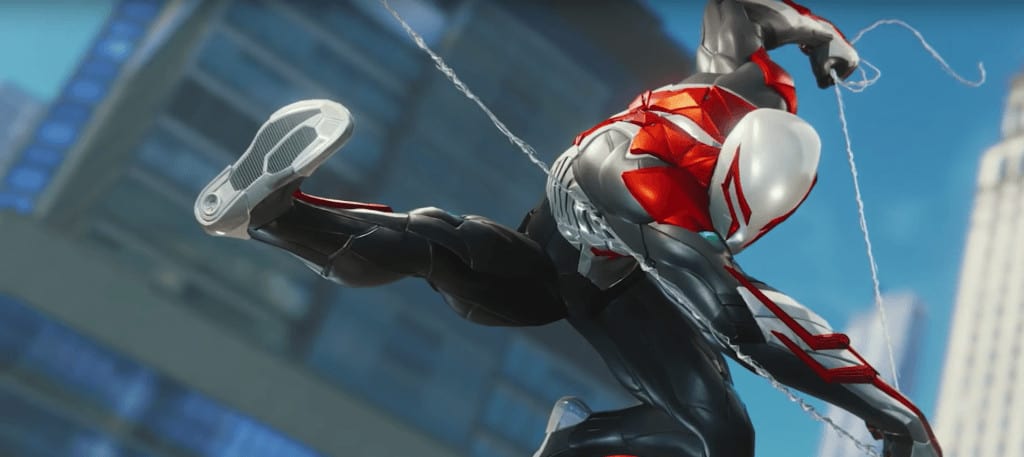 A bit of a different look comes in at #2. The 2099 Spider-Man runs are fun, futuristic takes on Peter Parker. The suit in this series looks like something out of a steampunk take on Peter Parker, with great tech finishes. At level 37, you can unlock the 2099 White Suit by collecting 6 base tokens, 6 challenge tokens, and 6 crime tokens. The powerup with the 2099 White Suit is a perk for sure, and it's called Spirit Fire. The 2099 suit allows you to channel energy into fiery waves that take down enemies. Some fans have said this might be a nod to Ghost Rider. There's no proof of it, but that would be cool! For a spooky vibe, the 2099 White Suit is a great choice to mix things up from the red and blue. 
#1: Classic Comic Book Suit
Think about the Spider-Man look you know best. It's likely the blue and red suit we all came to love through the comics. Well, that suit is in Spider-Man PS4. Best of all, it's shaded and colored like a real comic book look. It's fun flying around the game with this historic look. Grab it at level 41, with 4 backpack tokens, 4 challenge tokens, and 4 crime tokens. The suit comes with the power Quips, which allows Spidey to make cringe worthy comments while fighting that send enemies reeling. The cel-shaded suit is a favorite because it reminds us of where Spidey got his start. The look is true to the Amazing Fantasy Vol. 1 #15 issue from 1962. 
Are Spider-Man PS4 Suits Free?
Nearly every suit in Spider-Man PS4 is free, but there are some DLC suits. In The City That Never Sleeps DLC, you can get three new chapters and suits for each entry. Black Cat makes an appearance, as does Hammerhead, and it adds a ton of great content to the already fun filled game. Some DLC doesn't feel worth it, but at $24.99, you get some really great content. 
Is There a Spider-Man PS4 Sequel Coming?
We don't know for sure, but it's almost certain that Spider-Man PS4 is getting a sequel. Given its popularity, it would be a hit before it even hits the shelves. That would also mean more cool Spider-Man PS4 suits, so let's hope! For everything Spider-Man, Marvel, and gaming, keep an eye on Comic Years!
Taylor is the Gaming Editor of Comic Years and a lifelong fan of video games. He holds two degrees in Political Communication and wrote a Master's Thesis on resistance movements, race, and the exploitation of college athletes. His wife and two Toy Australian Sheppards keep him sane.
Leave a comment