Sony Removes Cyberpunk 2077 from the PlayStation Store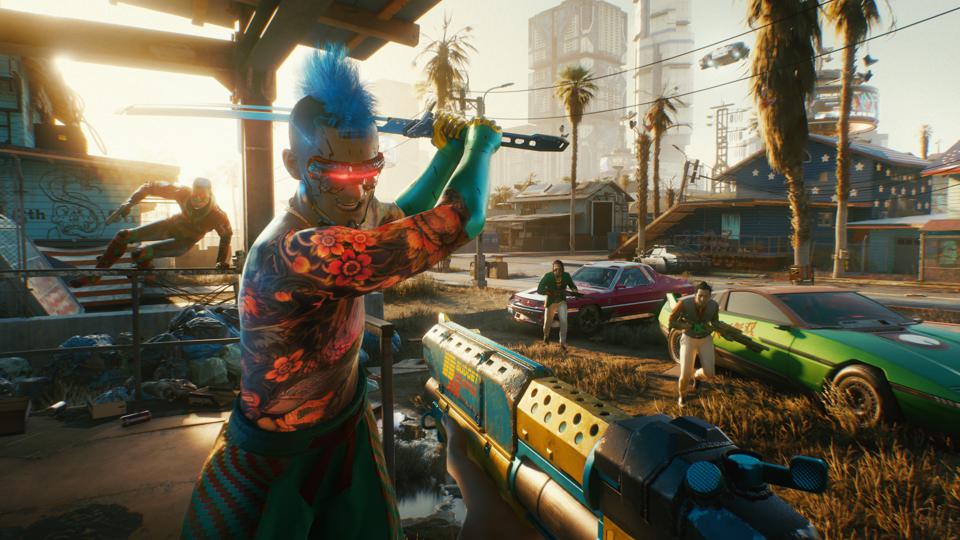 The headline you likely read before clicking this article seems unthinkable a few months ago. If you waited feverishly like most of us for Cyberpunk 2077, then the experience came with a few things. Full-page ads on digital gaming stores. Nonstop commercials on major cable channels. YouTube ads, billboards, years of anticipation, and here we are. When word spread that the PS4 and Xbox One versions of the game was broken, we had a feeling things would get messy. I didn't expect, nor did most of the gaming world, that this would happen. As Sony removes Cyberpunk 2077 from its PlayStation Store, a whiplash is hitting CD Projekt Red that we didn't quite expect. Despite a follow-up statement, the damage is done with this one. It will continue to sell on next-gen consoles, but this mess isn't something you clean up and forget about.
The Unthinkable Happens as Sony Removes Cyberpunk 2077 from its PlayStation Store
Image via CD Projekt Red.
Okay, a quick review. Cyberpunk 2077 goes through numerous delays despite an 8-year development window. Upon release, issues occur immediately for gamers. Epilepsy triggers make the game unplayable for some; until we get a patch. The game on PS4 and Xbox One are all but playable; until we get a patch. Cyberpunk refunds offered by CDPR are instead seeing refusals by Microsoft and Sony as players who can't play the game they purchased sit out of $64+ with no playable game. But don't worry, there's going to be a patch.
Now, facing numerous customer complaints and financial uncertainty surrounding any revenue made from the game until major fixes occur, Sony removes Cyberpunk 2077 from its PlayStation store. We went from Times Square ads to a game that you can't even buy digitally anymore on the most popular console on the planet. This sort of thing could be a blip in an otherwise successful game's history a year or two from now. If you're like me though, then this casts serious doubts on the future of the game and its company.
Contextualizing Sony's Decision and CDPR's Next Steps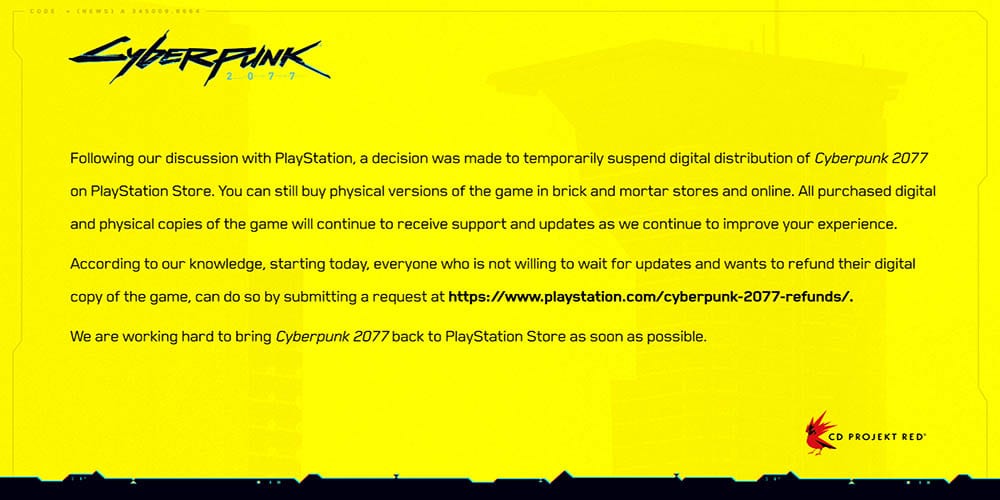 Image Credit: CD Projekt Red on Twitter
What now? Other than more bad news, CDPR simply needs to get patches out. The developers working on the game are likely going to get pushed heavily by execs for a fast fix. That's bad for the workers who pour their lives into the creation of these games. Sony, on the other hand, didn't really have a choice. A statement from CDPR regarding the issue claims they and Sony decided this together. Literally every ounce of my body believes this to be false. CDPR was fine releasing a broken game to people who would pay for it blindly; why would they suddenly want to do the right thing?
Really, what I believe happened is Sony, a publically-traded company, saw thousands of people requesting refunds from a company who told users to ask Sony for refunds and said, "oh, hell no." Sony's headaches regarding customer dissatisfaction and stockholder concerns for massively unpredictable revenue streams are enough to pull the game. Add in the fact that CDPR seemingly called the shots for Sony and Microsoft despite causing the problem and Sony didn't have any other choice.
As of now, Cyberpunk 2077 is still on the Xbox Store. There appears to be no plan to pull it at the moment. One's left wondering when this trainwreck will finally end. My gut says we're going to have to wait for a few more months before any of this is sorted out. Overall, I want to end again with a message of solidarity for the developers working hands-on with the game. They likely voiced concerns, and as we find all too often, the chance to make big bucks vetoed workers' cries for more time to get things right.
Featured Image Credit: CD Projekt Red
Taylor is the Gaming Editor of Comic Years and a lifelong fan of video games. He holds two degrees in Political Communication and wrote a Master's Thesis on resistance movements, race, and the exploitation of college athletes. His wife and two Toy Australian Sheppards keep him sane.
Leave a comment