Railway Empire: Nintendo Switch Edition Review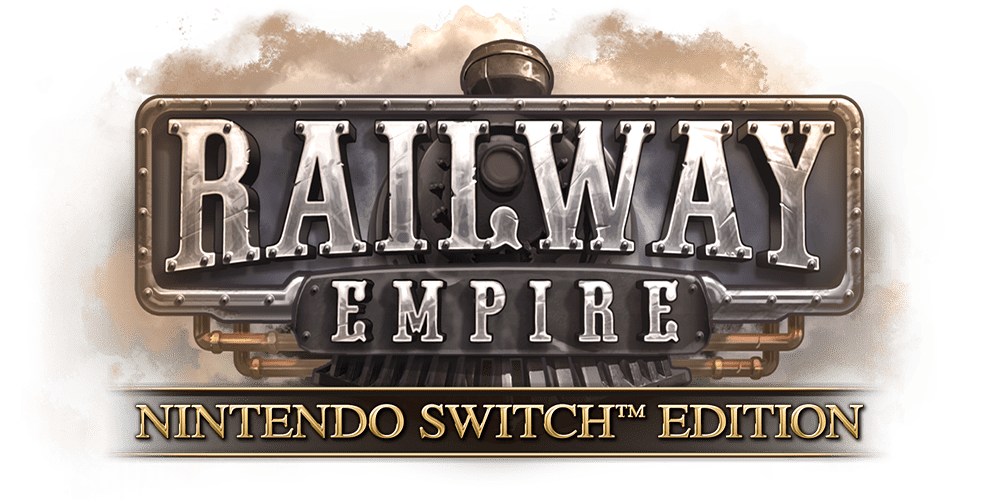 It's not unheard of in 2020 for games to put out a ton of different versions. One popular place we see this is in the spread of mobile and console games. For example, Call of Duty is on consoles as a full $60 title, free battle royale, and mobile game. Taking the core elements of a game and presenting it for different platforms is a smart move. The trick is making sure it's well done. Even across consoles, we see different versions released. It's well known that the Nintendo Switch does not have the power of the PS4 or Xbox One. Needless to say, you won't get the same experience on a weaker console. A huge perk for the Switch is portability and touch screen, however. In this Railway Empire review for Switch, you'll see why Gaming Minds Studio is one such team that nails the transition.
Railway Empire Review for Switch – Total Knockout Experience
Image Credit: Kalypso
Railway Empire: Nintendo Switch Edition is the official title of the port. The title takes the beloved concept of simulation games and puts it smack dab into 1830. As railways begin to transform the United States as we know it, you're in the heart of it all. As you compete with rivals to build rails and connections across the West, you find yourself addicted from the get-go. I briefly played one other Railway Empire game in my life, so jumping into this one was sort of like playing for the first time. I'm happy to report newcomers can pick up on this game quickly. If you're a Nintendo Switch fan, then this one of the best games to take a look at.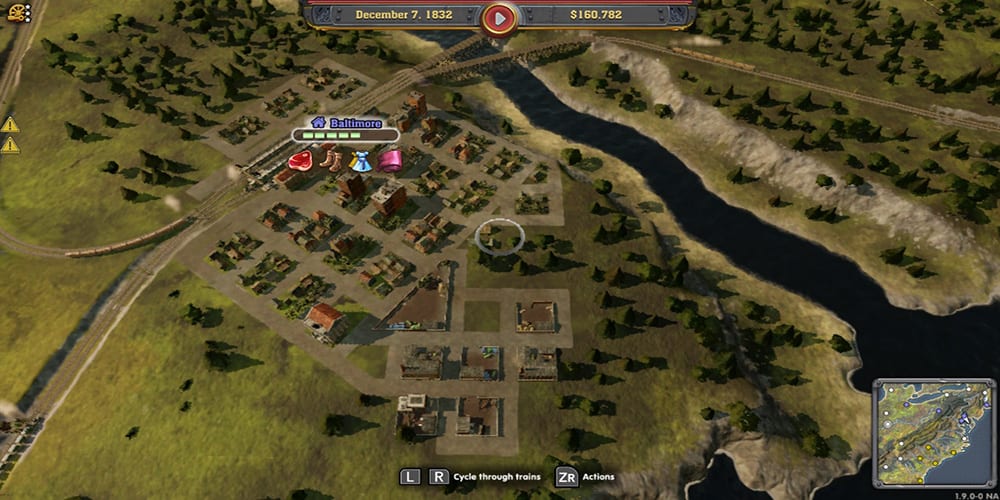 Image Credit: Kalypso
The control scheme for building and organizing your rails and stations is very user friendly. The interface is easy to read in docked mode while playing on a TV as well as handheld mode. That's not something we always see work out very well (looking at you, Civ VI for Switch.) You get a feeling in the presentation and gameplay of the Switch port that Kalypso and Gaming Minds Studio didn't just simply pull this together for the sake of releasing it. When the PC version of this game released in 2018, people loved it right away. The addicting gameplay and fine-tuned mechanics make this an easy game to pick up and play. Overall, the presentation and gameplay feel meant for the console.
Not Into Trains? No Worries!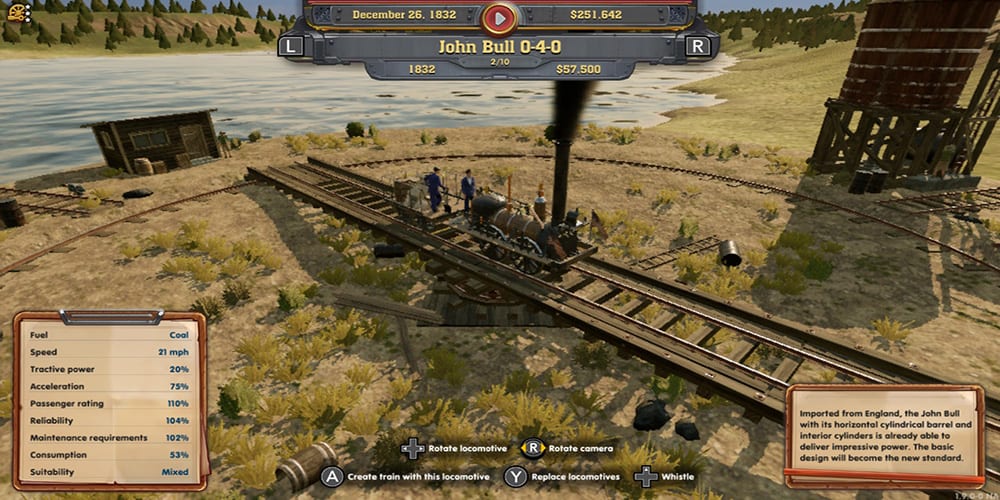 Image Credit: Kalypso
I'm not someone who hunts down every single simulation game, let alone one about trains. So, why am I so happy with Railway Empire: Nintendo Switch Edition? In short, it's a well-organized simulator with manageable challenges. The train theme might not be as sexy as roller coasters or zoos, but this is up there with the best simulation games on the market. Overall, the AI in the game is wonderful and keeps you on your toes. If you like playing with a little less pressure, then there are game modes for you as well. The wide variety of experiences available in this title make it very versatile.
The Switch version of Railway Empire also comes with some added perks. You get access to the DLC packs "Mexico", "The Great Lakes" and "Crossing the Andes." These packs unlock new scenarios on regional maps, additional soundtracks,  and locomotives. They also bring together night and snow modes that are a ton of fun to explore. With over 40 locomotives and technologies to play with, all of which are historically accurate, this title is one of my most pleasant surprises of 2020.
Railway Empire: Nintendo Switch Edition Review Score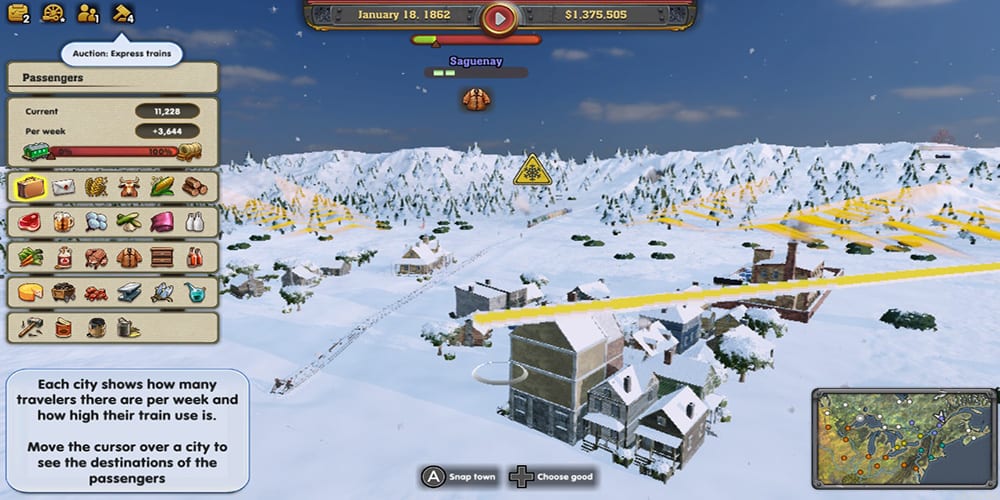 Image Credit: Kalypso
I rate my games on a scale of 1-10; Railway Empire: Nintendo Switch Edition is a solid 9. This game has provided me with a ton of hours of entertainment in just days of having it. I prepared myself to enjoy the game but not really plan on playing it much after the review went up. Honestly, it's going to be a pleasant game to rotate into my relaxing evening game sessions.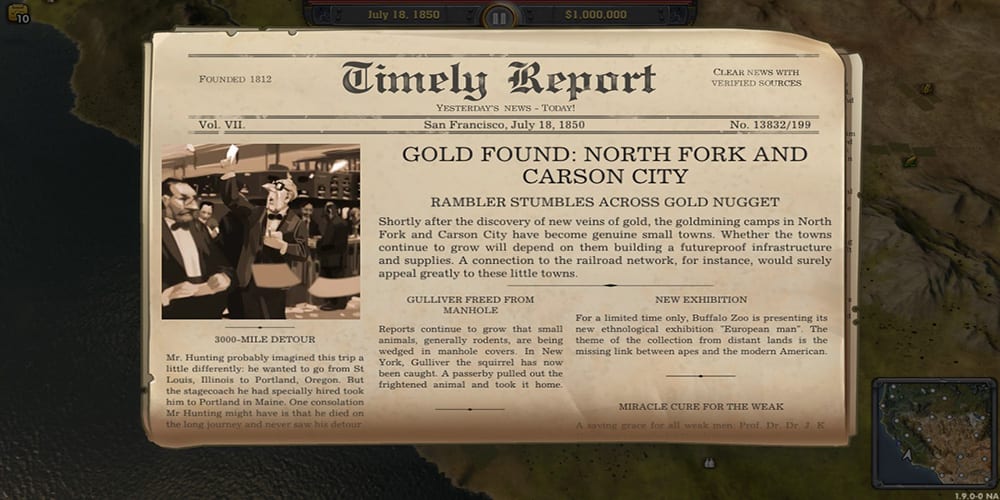 Image Credit: Kalypso
If you're on the fence, then let me put it this way. If you like simulation games, then this will give you a great experience. For those who enjoy trains or history, then you'll also find a lot to love. Some people don't love maintaining and developing environments a la Civilization or Roller Coaster Tycoon, and that's fine. For those of us who enjoy that freedom to create an entire world in a well-designed game, then this needs to be on your buy list.
Railway Empire: Nintendo Switch Edition is published by Kalypso, who provided a digital copy of the game for the purposes of this review.
Thanks for reading Comic Years for all things gaming, comics, and pop culture.
Taylor is the Gaming Editor of Comic Years and a lifelong fan of video games. He holds two degrees in Political Communication and wrote a Master's Thesis on resistance movements, race, and the exploitation of college athletes. His wife and two Toy Australian Sheppards keep him sane.
Leave a comment