God Of War Series – Kratos Saga Coming From Amazon Prime Video
Video game franchises are innovating, so we see in the limelight efforts where the creators of these would participate in projects to continue entertaining their audience, not through video games but film and TV. Several companies want to launch video games on the small or big screen, adapting their sagas to live-action series. The list includes HBO, PlayStation, Peacock, Netflix, Amazon Studios, and dj2 Entertainment. For the fans of God of War, we bring great news: Amazon Prime video is planning to bring the Kratos' Saga to a live-action series, with the support of PlayStation Productions and Sony Pictures Television.
God of War Series Live-Action Series on Amazon Prime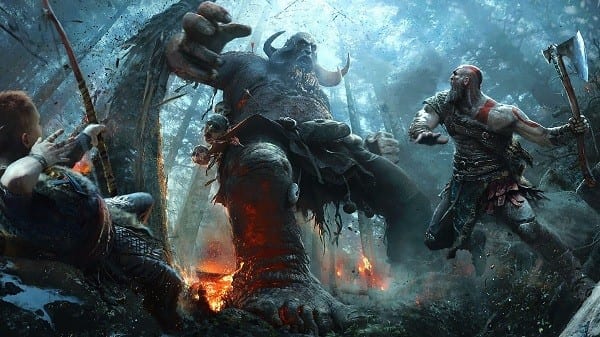 Image via Santa Monica Studio
The negotiations to turn this famous video game into live-action are happening right now. The producers and executives leading this project will be Hawk Ostby and Mark Fergus from The Expanse, and Rafe Judkins, the executive producer of The Wheel of Time. Even though there are no details regarding the plot for this TV series, the chances are that it will follow the same line as the first video games and be set in Norse mythology. Amazon Studios could co-produce this show, but they haven't made any official comments.
PlayStation Is Turning Video Games Into Live-Action Series
This 2022, we will see more series based on video games by PlayStation. HBO is turning the successful post-apocalyptic game The Last of Us into a live-action series starring Bella Ramsey and Pedro Pascal. On the other hand, Peacock is working on a series starring Anthony Mackie and based on the vehicular combat saga, Twisted Metal. Similarly, Amazon Studios is adapting the video game Fallout into a show starring Walton Goggins, recognized for 2018's Tomb Raider.
Amazon recently signed an agreement with dj2, specialists adapting video games to movies or series. It has not been revealed which titles they will adapt or if they will come to the Prime Video platform, but apparently, dj2 is working on different series for "Life is Strange", "Disco Elysium", and "It Takes Two".
God of War: Ragnarok, the Latest of the Epic Game Saga
The God of War saga began in 2005 and was produced by Santa Monica Studio for PlayStation 2. The game stars a former Spartan warrior named Kratos, who goes on a dangerous journey to avenge the god of war, Ares. Ares influences Kratos to murder his most beloved beings in the story, so Kratos constantly seeks to change his destiny.
Santa Monica Studio
In 2022, the story continues with a new game for PlayStation 4 and 5: God of War Ragnarok. This time, Kratos will deepen his role as Atreus' father, and we will continue to see clashes between the well-known mythological figures of Nordic folklore. The making of several sci-fi series and movies based on book sagas highlighted the past decade. The present seems to move towards a new wave in which streaming services get their inspiration from video games. To an extent, streaming services now capture products that used to be only for movie theaters, and are now gradually migrating to television.
2022 seems to be a fantastic year for live-action adaptations of video games, especially with the Halo series on the way. Let's hope that the next ones to come can replicate the success of shows like Netflix's The Witcher, starring Henry Cavill, which is currently on its second season.
Check Comic Years for more information on the God of War live-action series from Amazon Prime Video as we learn it.
Are you excited about this series? We already know about the positioning of this emblematic saga, so we are looking forward to the jump to the live-action world to come.
Featured image via Santa Monica Studios
h/t Deadline.com
Leave a comment