The Finals Game – The Brand New Game From Battlefield Alumni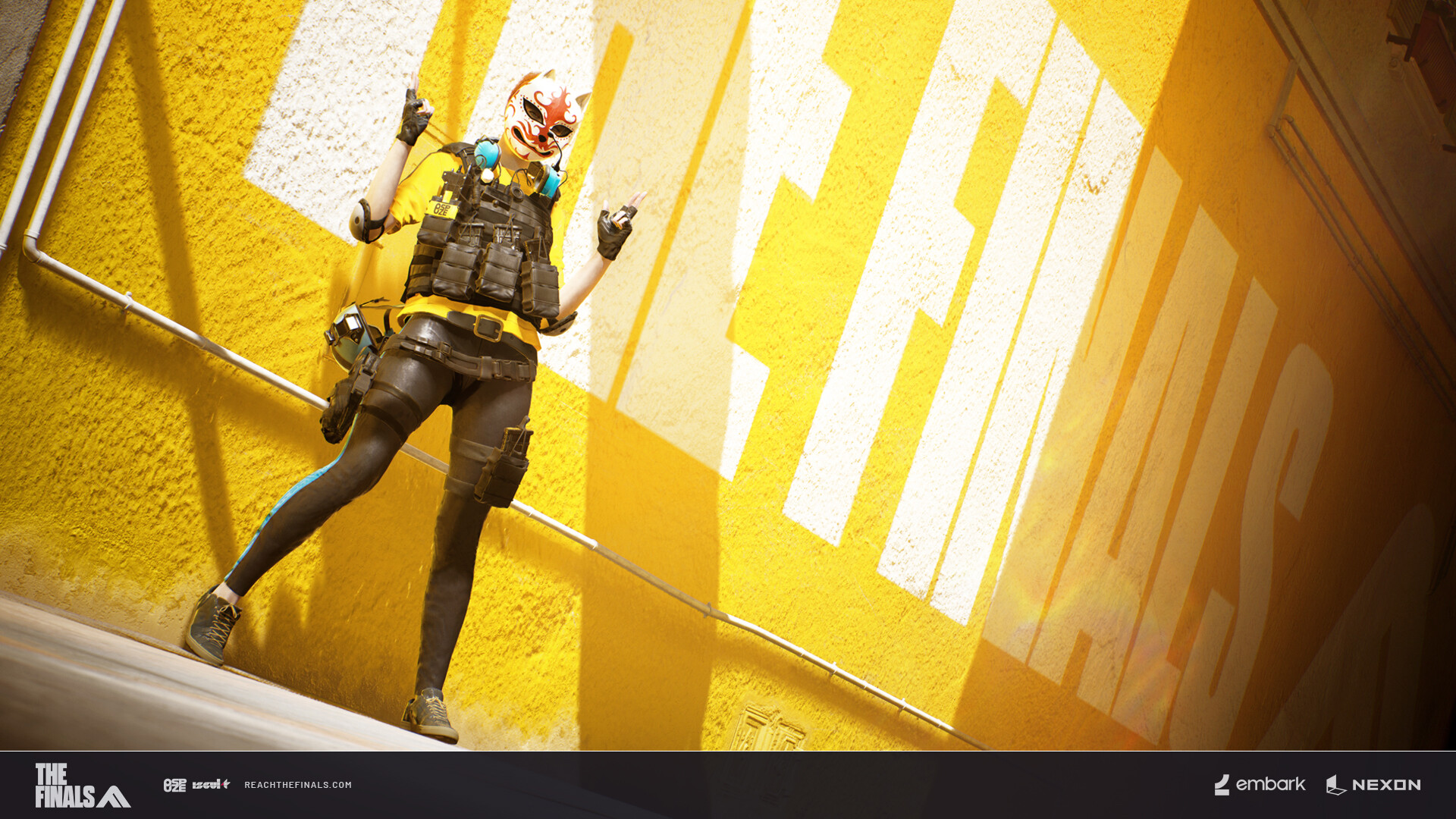 The Finals Game is accepting new contestants. At least, that's the first official statement on the game's Steam page. You can also sign up for the playtest right there! It looks like it's got everything you want. It's action-packed, fast-paced, and unique.
But, what exactly am I talking about?
I'm talking about the latest work by Embark Studios. It was announced during Gamescom 2022. And, it's being developed by ex-Battlefield developers. Despite its issues, the latest Battlefield is still unique. Can they replicate the experience?
It took a while for Battlefield 2042 to get where it needed to be. And, this new title adopts one of the series' most promising features. It's an action fest centered around customization, freedom, and destruction.
The game is set in a virtual reality game show. This time, it's a hyper realistic competitive arena. And, competitors will battle on maps based on famous real locations.
But, what can you expect from it? Let's find out.
The game generates hype with a brand-new trailer
The trailer offers a brief exposition of the game's universe. It's a competitive environment that pits cunning players against each other. As you can see, it has a "video game-y" feeling. You can see coins, acrobatics, and destruction around the place.
The Finals Game is a free-to-play combat game show. In lore, contestants plug into a virtual world and compete in team tournaments. Good aim and movement are crucial. But, there's a lot more than that.
One of the game's main features is its dynamic environments. The main goal is for players to add the entire arena to their arsenal. You can alter and destroy the arena to your liking. And, the trailer uses that as its main focus.
Embark isn't a big studio. However, it has a lot going for them. Firstly, it has several veterans from DICE. The studio comes from an interesting idea. They believe the industry keeps repeating the same games with different names.
Another advantage is the studio's technology. It's leaning into new tech to ensure this new game is exactly what they want. Also, it's fitting. They plan to change the industry by changing its backbone.
The trailer and statements do a lot to generate hype. If the game is anything like the trailer, it'll be a first. No games have embraced environmental destruction to this degree. So, I joined the playtest as soon as I could!
Creativity is the name of the game for players of The Finals
Yes, I'm talking about a first-person shooter. At least, that's the traditional category where this game fits. But, the game strives for more than that.
Firstly, the game lets you take your own approach. The loadouts include katanas, explosives, gadgets, and more. You can run around and destroy the environment to enforce your strategy.
As such, the arenas are more than just a location to fight in. The amount of destruction and alteration turns the environment into another weapon. Just keep in mind that others can use it against you.
Then, you can add avatar customization and unique gameplay. You could be playing an entirely different game than your opponent. Some might prefer to sit back and snipe their enemies. But, others will go running around guns blazing.
If everything else fails, you can destroy the whole building under your opponents.
Thus, it's not just a shooter. Its mechanics reward cunning players. You'll have an edge if you're good at solving problems creatively. It's not about having the best aim. It's about using every tool in your arsenal.
Shooting isn't the only mechanic in The Final game
So, as you might expect, it's a lot more than a shooter. You can even access tools that won't damage your enemies at all. For instance, the trailer shows a foam gun that you can use as cover or terrain.
As such, the game has a lot of shooting. Thus, aiming well is important. Yet, those skills will only get you so far. The developer wants to center the game around intuitiveness. And, you can develop a play style that doesn't rely on shooting.
You could go for a ninja-like character and take everyone down in melee combat. Or, you can gear up as a tank and provide support to your team.
So, don't be afraid if you're not an FPS machine. There's something for everyone.
Leave a comment