Escape From Tarkov Patch 13 Review – Everything New Here!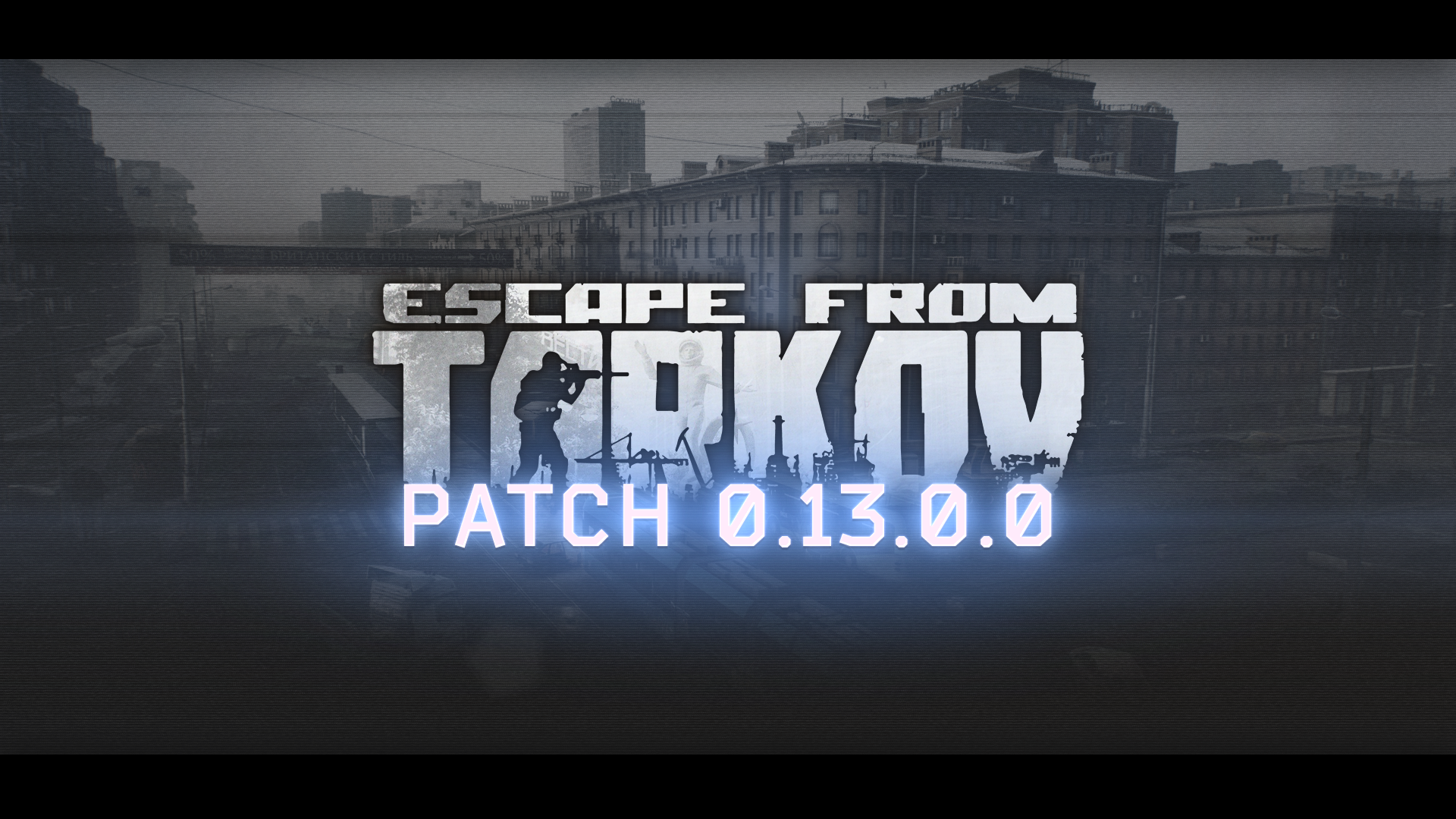 Call of Duty Warzone's DMZ revived my interest in one unique game. Yes, I'm talking about Escape From Tarkov. Wednesday 28th saw the release of Escape From Tarkov patch 13. This update is, by far, one of the largest releases for the game.
If you're interested in the Dune MMO, you might be aware of EFT. It's a survival, RPG, and military sim game. It combines realistic gunplay and RPG leveling-up elements for a unique experience.
Now, it's not the best title for casual gamers. In that case, you might prefer something like High on Life. On the other hand, it's the ideal title for hardcore gamers. If you're thinking about getting started, this might be the right time.
So, let's break down everything Battlestate Games added to their title. Also, I'll give you a few tips to survive this wipe.
The largest update in Escape From Tarkov patch 13: Streets of Tarkov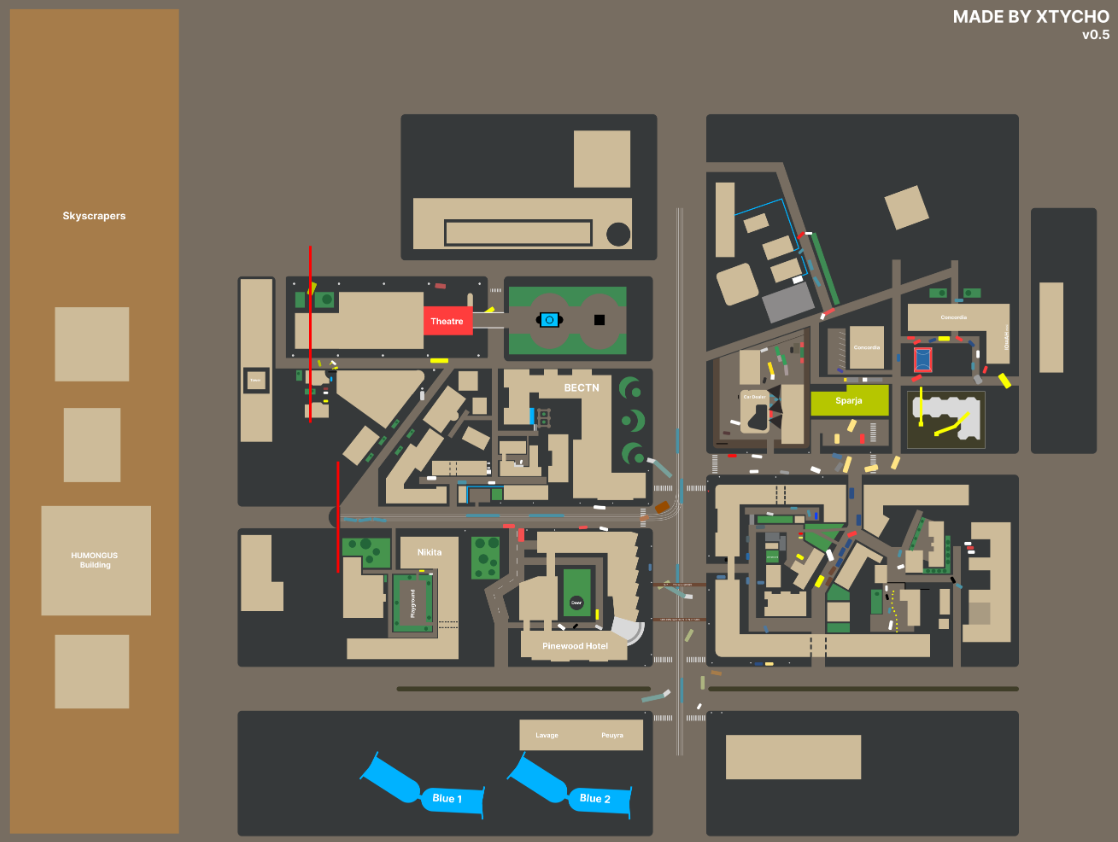 The interiors easily make it the largest map to date. (Image credit: Xtycho)
Firstly, we have to talk about Streets of Tarkov. This map is easily the largest addition to the game. It rivals even Woods, Shoreline, and Reserve. Sure, it doesn't cover the same area. But, all its intricacies make it a richer map than you might believe.
Streets of Tarkov is a look into the region's urban area. It has malls, supermarkets, apartment buildings, and more. It also houses the largest player count of the game. Up to 17 players can spawn and explore the streets.
The map itself offers a combination of long- and short-range encounters. You can take marksman positions on windows and roofs. Or, you can bring a shotgun and fight it out in the many interiors.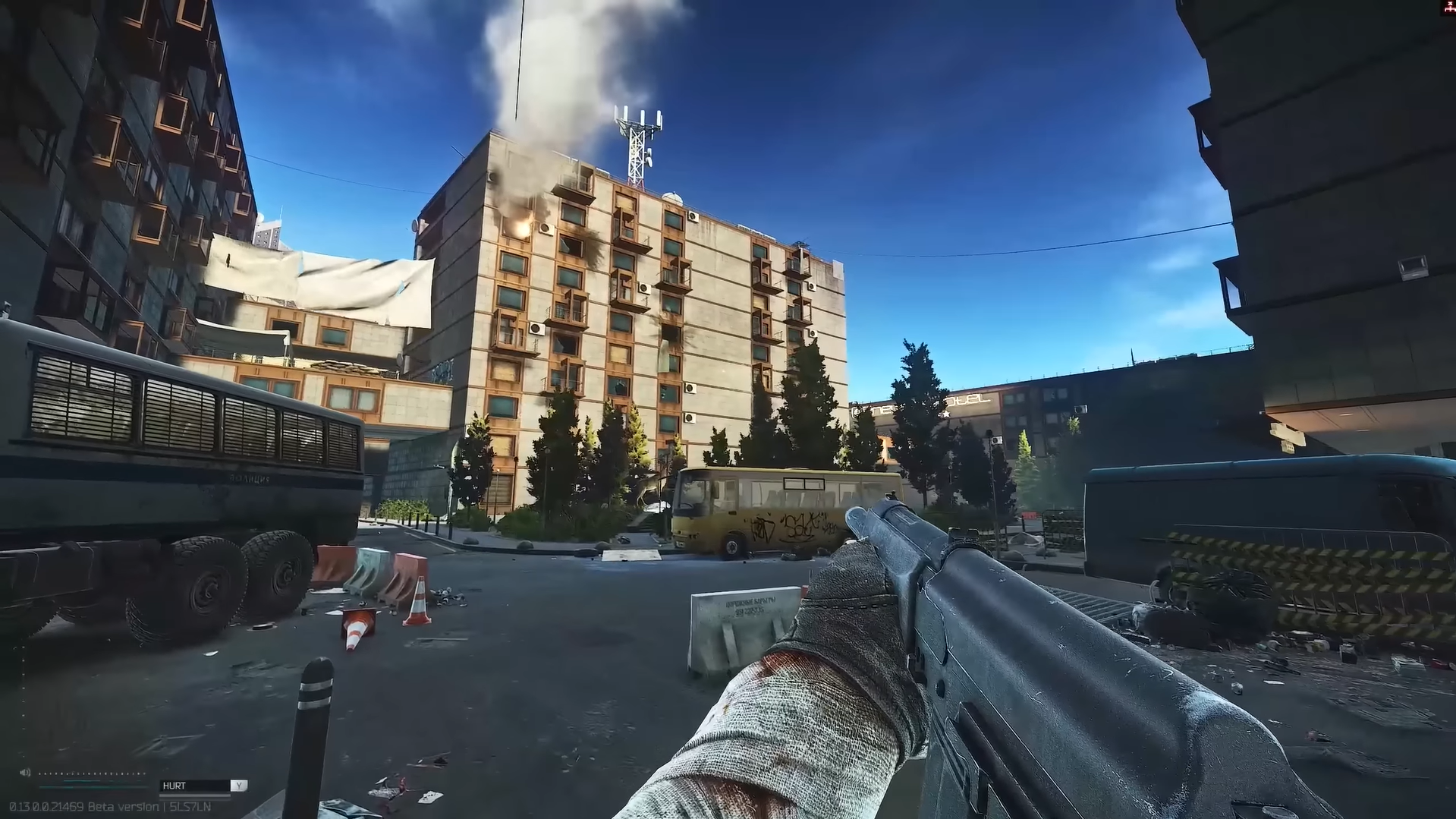 The city gives a very S.T.A.L.K.E.R feeling to the game. (Image credit: Tarkov News)
Moreover, the map is easily the most ambitious project for Battlestate Games. Streets of Tarkov has several landmarks. They feel like individual arenas. There's the Pinewood Hotel, a residential complex, and an abandoned factory.
Additionally, the developer plans to add several bosses. That's a significant step from previous maps. Before, there was only one boss per map. Now, we might face several at once.
Lastly, as Tarkov News states, there's a new type of extraction. Traditionally, extraction points just required you to stand in an area. The new type will have you fire a green flare while approaching it. Otherwise, AI snipers may take you out.
An expansion to the lore of Escape From Tarkov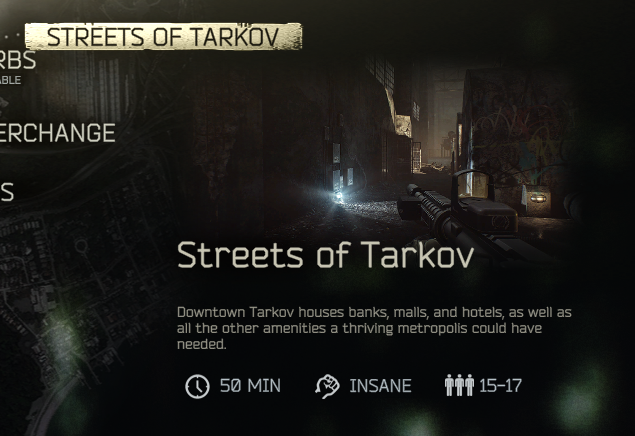 The largest map also brings a lot of insight into Tarkov's story.
You can check out the official post for the full story. But, I'll summarize it here. Essentially, Streets of Tarkov adds the beginning of the entire conflict. All other maps are ramifications of the conflict that started in these streets.
This map is the first iteration of the main city of Tarkov. TerraGroup invested heavily in the city. And, most enterprises in the region are connected to the organization.
Eventually, TerraGroup became the center of a huge corruption scandal. This event triggered an order for USEC operators to militarize the city. Not even government entities could access the company's facilities.
Everything took place in these streets. That's why everything looks damaged and abandoned. BEAR, another PMC, was created to counter USEC. Everything escalated into an armed conflict between both factions.
In the meantime, everyone evacuated the city. The only remainders were estranged operators and criminals profiting from the conflict.
As you can see, Streets of Tarkov is a crucial plot point for the game's universe. This is where the players' characters lost contact with command. And, all other maps revolve around the city.
As stated in the blog post, this map is only a part of the city. It's the first step in developing the city. And, players can expect further expansions to the location.
The new items added in the latest Escape From Tarkov update
As you can see in the trailer above, the map isn't the only addition. Escape From Tarkov patch 13 adds numerous weapons and items.
New weapons bring a bunch of new gameplay options for players.
As you can see above, both AK and AR-15 rifle families are receiving 40mm grenade launchers. That's a first for the game and could bring countless new strategies and tactics. Of course, you need the right parts to accommodate these attachments.
We're also getting three new "primary" weapons. The SR-2M submachine gun comes with its own upgrade kit, sight, and magazines. The 5.56×45 Steyr AUG A1 and A3 are other additions.
There's another Glock with the 19X model. It comes with three different magazines: 19, 24, and 31 rounds. There's also the RRH-12 assault revolver. However, I'm not the best gunslinger with them.
There are also new repair kits. These kits now do more than repair your armor and weapons. You can also use them to provide enhancements for your guns and armor. For armor, they can further reduce damage received. For guns, you can increase their accuracy or decrease their malfunction chances.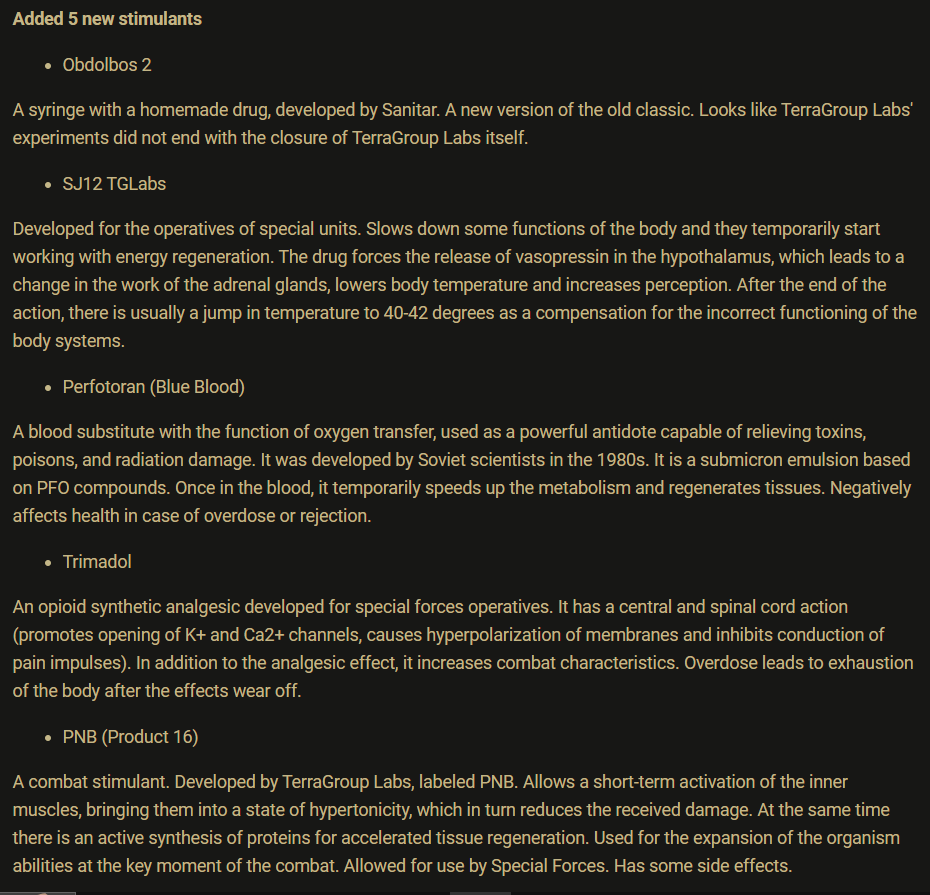 New stimulants can give you the edge you need in battle.
We're also getting five new stimulants to spice up your skills. The first one is a homemade version of the traditional Obdolbos. I haven't run into this one yet. But, the original iteration was a super drug for your stats. So, this might be a stronger or weaker version.
Then, we have several combat stimulants. The SJ12 improves your character's perception and lowers their body temperature. Trimadol boosts your combat characteristics, probably stamina and accuracy
Perfotoran and PNB appear to offer similar benefits. Both stimulants' descriptions focus on tissue regeneration. So, they're probably for accelerated healing.
Assorted changes in Escape From Tarkov patch 13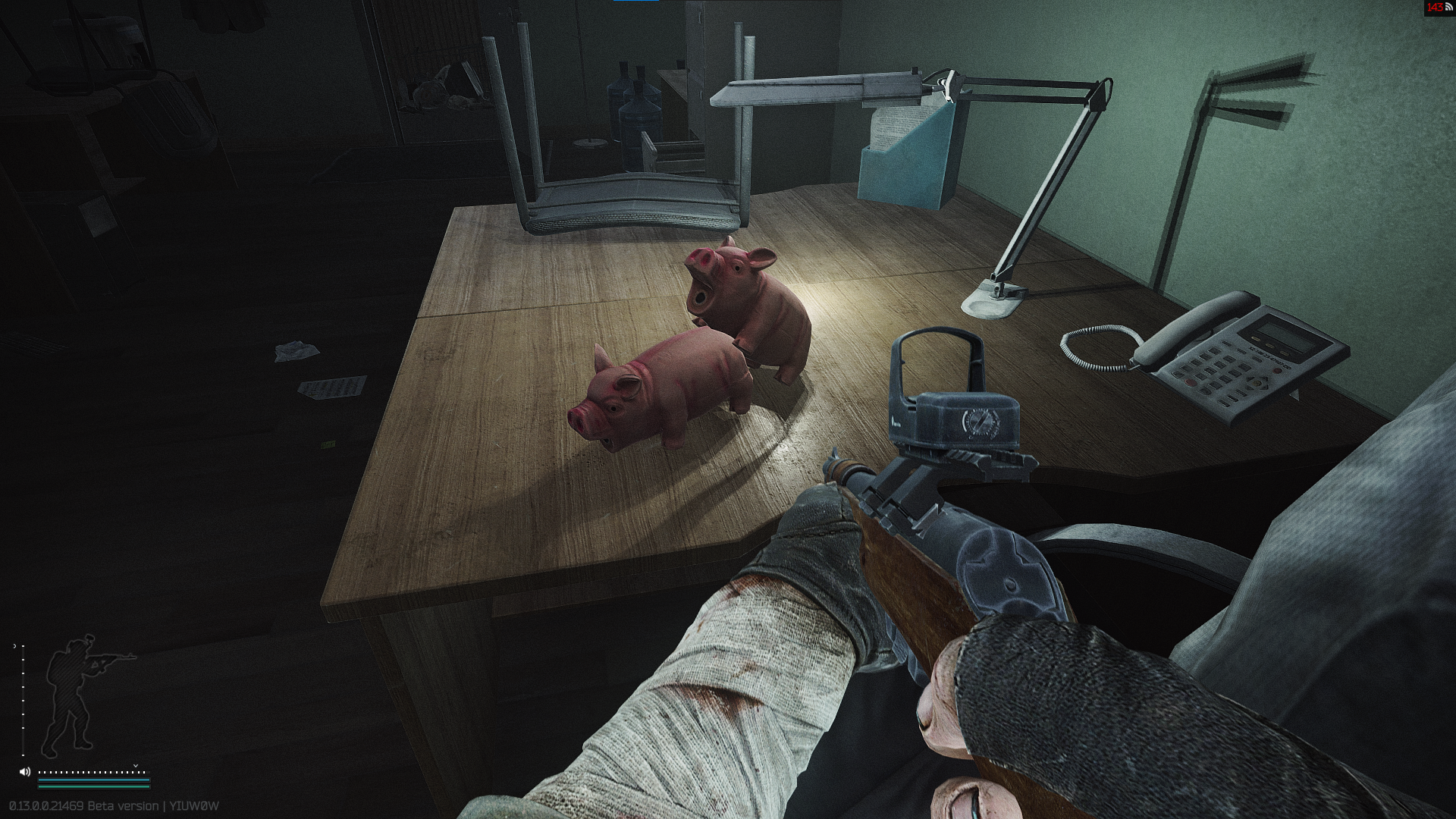 Nice… Just, nice.
Three changes are coming to the skill tree. Light and Heavy Armor are now separate skills. They reduce mobility and damage for their respective armor types. The Charisma skill also gets a rework. It basically improves prices for different services, like insurance and paid extracts.
Your Hideout's shooting range is also getting two new upgrade tiers. These upgrades let you add different types of targets, like moving ones. Plus, you can improve shooting accuracy with the training program.
Speaking of your hideout, some crafting recipes are now quest rewards.
Other changes include several rebalances: weapon mastering, trading, and quest conditions/rewards. The availability of some quests is also different. Bots can now suffer weapon malfunctions, too.
That said, the largest update in this category is easily the Co-Op PvE expansion.
You can now tweak more settings, like removing energy and water drain. You can also configure the bots for co-op raids. That includes the amount and difficulty. The same goes for choosing your raid's weather and time of day. You can even stop the time flow for the raid.
Curiously, you can also select different spawn point options. You can have all players spawn in the center of the map. The option to spawn randomly at the edges is also available. Plus, you can spawn two separate teams in different parts of the map.
Just remember that Co-Op PvE isn't available for all versions of the game. You'll need to be an Edge of Darkness user to access it. The same goes for everyone joining your session.
Technical updates added in this Escape From Tarkov patch
Now, let's summarize the technical side of things. Firstly, there's the addition of FSR 2.1. AMD's picture scaling to improve image resolution is now in the game. Additionally, the game optimized glass type draw distance, decal rendering, and long-distance tree rendering.
The sound mechanics also received a slight rework. Escape From Tarkov patch 13 removes Steam Audio completely. Instead, now we get Oculus Audio. Sound positioning also handles more conditions to position sound according to player position. Yet, this change is only for Factory, Customs, Woods, and Streets of Tarkov.
There are also a bunch of fixes, like memory leaks, softlocks, errors, and visual bugs.
How to master Escape From Tarkov patch 13 early in the wipe
Easily, my best tip for this new wipe is to get in as soon as you can. The difficulty curve becomes more noticeable with time. Gear is a huge deal in this game. So, you want to jump into it while everyone is on relatively similar footing.
However, that's a general tip for all wipes. But, how can you exploit patch 13's changes?
Firstly, don't fall for the shininess of new content. Stick to what you know if you want to progress faster. The new guns are interesting. But, they come with unique mechanics, recoil, and features. You'll have to get used to them. Thus, you might want to go for guns you're already familiar with.
That said, keep an eye out for the new stimulants. Stimulants are a common neglect for many players. Yet, they can bring unique advantages during combat. Don't ignore them if you find them. And, don't be afraid to use the as soon as you get them.
Also, the weapon and armor enhancements could reward specialization. Find gear that works for you for when you find the repair kits. From level 10, you can enhance your guns. That said, don't rely solely on those upgrades.
Finally, experiment with different armor types. The new armor skills reward sticking with one type of armor. With that in mind, you might benefit more from using light armor more often. That'll help you save money while optimizing results.
Lastly, play scav runs on Streets of Tarkov. A new map means new loot routes that no one has discovered. And, many players avoid the newer maps on release. As such, you could make a big bank with your scav. My brother found a GPU on his second scav raid there!
A few things to keep in mind before trying out Escape From Tarkov today
The technical issues have been resolved https://t.co/HbwArLPHpl

— Battlestate Games (@bstategames) December 28, 2022
Having said all that, not everything is good news. Wipe releases tend to be buggy and frustrating for many players. In my first couple of days, I experienced considerable technical issues. Lag and FPS drops were prominent sometimes.
As you can see above, Battlestate Games has already addressed this. In fact, the second day of the wipe saw a client update. It improved many issues. But, not everything is perfect yet.
Queue times are incredibly long sometimes. If you like to do scav runs, it's even worse. I've had to wait over 7 minutes for a scav run on Customs. And, PMC queue times can also be quite long. Just yesterday, I waited 5 minutes for a Factory raid.
Sadly, all these problems are more noticeable on Streets of Tarkov. The map is a mess most of the time. FPS drops are constant, and the lag isn't any better. Rubber-banding is awfully common. For instance, I've walked about 20 meters before teleporting back to my starting point.
Furthermore, the map can wreck your PC. Luckily, the worst I experienced was being kicked out of the raid after entering. Reconnecting used to work most of the time. But, my FPS count tanked in most of my raids. Usually, it got me killed.
Unfortunately, my friends didn't have that kind of fortune. Some experienced complete game crashes. One of them even had Discord crash during the game. With that in mind, the worst luck came during a test yesterday. A friend got a full-on blue screen just by loading the map.
You can also find many forum and Reddit discussions about poor performance on the map.
Featured Image Credit: Battlestate Games.
Leave a comment