Path Of Giants Review – Teamwork Makes The Dream Work
A lot of mobile games come to consoles or PC for the wrong reasons. A lot of publishers simply want their game in as many places as possible. Path of Giants is not one of those instances. The transfer from mobile devices to console is successful for this puzzle-platformer. The control of your three main characters might clearly be mobile-minded, but comfortable controls and fun, challenging levels help this game succeed. Here's my Path of Giants review for the Nintendo Switch.
Path of Giants – A Great Game for Puzzle Fanatics
Image Credit: Journey Bound Games
The concept behind Path of Giants is simple. Three explorers, Bern, Matchi and Totc, set out to find lost treasure in the icy mountains. The three can't do it alone, and the gameplay relies on your use of the three explorers to find gold. In reality, the concept isn't anything that hasn't been done before. What's refreshing this time around is the intuitive controls of managing all three explorers. We all know that things like Tri Force Heroes proved that managing the movements of three people at once can go terribly wrong. Path of Giants allows you to set the placement of each member seamlessly, allowing changes to one character while another gets into position.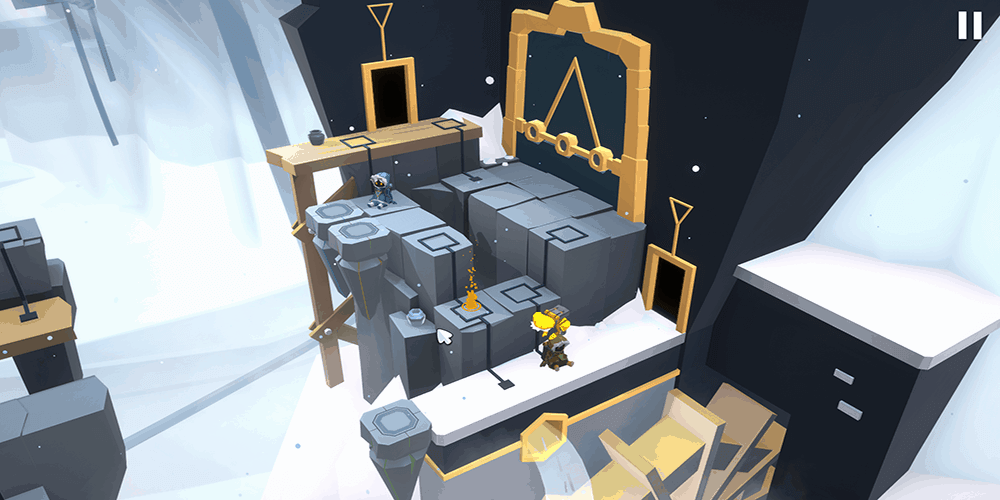 Image Credit: Journey Bound Games
Over the course of 80+ levels, the game also never loses its charm. The polygonic environment and characters don't lose an ounce of artistic value despite their blockish appearance. Much like other successful puzzle-platformers, the 3D element to solving tricky obstacles often forces you to appreciate everything that's going on in the level. There's a lot to love with Path of Giants and after completing the game, I found myself wanting more. 
Teamwork Reigns Supreme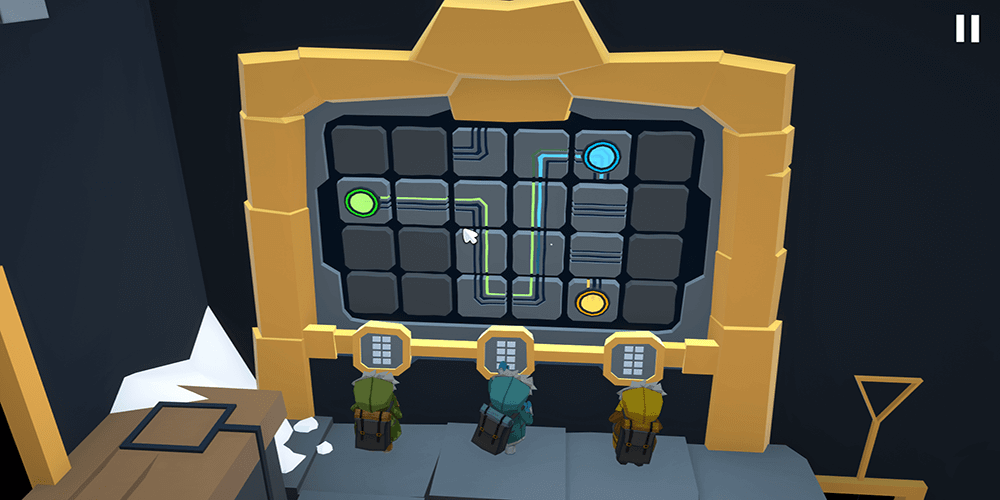 Image Credit: Journey Bound Games
The best part of any great puzzle game is the mystery of finding out how to navigate around blockages and other hurdles. In a lot of ways, Path of Giants forces the player to use all three climbers from the get-go. There's no period where you can get by with only two of the explorers. Some puzzle games ease you into things to the point where you can sort of manipulate the way the game is supposed to be played. These titles end up sabotaging novice players because they don't truly learn tactics and strategy that helps them later on. Path of Giants isn't necessarily difficult in the beginning but it does show you the importance of using the whole team. That's an underrated skill in developing a puzzle game.
The best moments I had during my time with Path of Giants involved getting lost in the challenges. I don't consider myself a puzzle-fanatic, but I love a good challenge. The late levels in the game are great at pushing you to use every ounce of your brain. There are many false moments of defeat, but when you push through and try new approaches, you feel great accomplishing the goal. That goes back to the control scheme. I think without great controls most people won't opt to play a puzzle game. The challenge isn't worth the constant fighting with the ability to move characters, let alone solve the challenges. Journey Bound Games knocked it out of the park in this sense, among every other element of the game.
Path of Giants
Review Rating
Image Credit: Journey Bound Games
I rate my game reviews on a scale of 1-10; Path of Giants is a strong 9. Overall, the game looks great, plays wonderfully, and challenges you the right amount to want to see these little explorers reach their riches. On the Nintendo eShop, you can grab this game for $8.99. That's honestly a steal for 80+ levels I think most people will enjoy.  The game is also available for PC and Mac via Steam if you prefer that platform. Path of Giants leads what should be a fairly strong Spring for Nintendo if the upcoming game releases announced on March 26 during Nintendo Direct play as great as they look. If you love puzzle games and are ready for a new challenge, then grab this one on the Switch.
Path of Giants is scheduled to release on the Nintendo Switch April 14, 2020. A digital copy of Path of Giants for Nintendo Switch was provided by Journey Bound Games for the purposes of this review.
Featured Image Credit: Journey Bound Games
Taylor is the Gaming Editor of Comic Years and a lifelong fan of video games. He holds two degrees in Political Communication and wrote a Master's Thesis on resistance movements, race, and the exploitation of college athletes. His wife and two Toy Australian Sheppards keep him sane.
Leave a comment