No Man's Sky New Update Introduces Game-Changer
Greetings, space enthusiasts! Here's some stellar news to brighten your day. The No Man's Sky new update is live. It marks the launch of the tenth expedition, dubbed Singularity. This exhilarating update is primed to take off on all platforms. Yes, every single one – PC, PlayStation, Microsoft Xbox, Nintendo Switch, Mac, and your VR devices too! You can even get it on Game Pass.
The Singularity update introduces an exciting element to our beloved spacefaring game – intelligent AI robots. And it's not a one-time show. These bots are woven into a compelling storyline that will unfurl over the following weeks, taking us on a journey of suspense and discovery.
This narrative style isn't entirely new to No Man's Sky, though. Recall the Interceptor update earlier this year? It introduced us to the concept of extended narratives. Singularity takes this trend forward, adding even more depth to our space exploration. The galaxy is now dotted with enigmatic robotic heads that hide cryptic clues. Deciphering these clues will lead us to the heart of Singularity's mystery. 
But remember, space comrades; you're not alone in this five-week-long Singularity expedition from the No Man's Sky new update. Of course, the diverse No Man's Sky community will team up with in-game allies Nada and Polo to unearth the truth. Hello Games, however, is keeping the plot details under wraps. So, we're certainly feeling the suspense with this mission! 
The climax of Singularity asks players to make a consequential choice. And by consequential, we mean "far-reaching consequences." Intriguing, right? This decision isn't a collective resolution but an individual one. As such, this adds a personal dimension to the shared narrative. The stakes are certainly high for this one!
What is the New Man's Sky new update?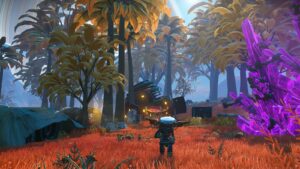 Image: PlayStation.com
Ever wondered what's on the horizon for No Man's Sky? Singularity gives us a glimpse! As the narrative evolves, we'll catch a sneak peek into the future of our favorite game. Hello Games is quite secretive about the specifics. However, they assure us that this No Man's Sky new update will give us a sense of what's coming up next. 
Singularity also comes bearing a plethora of rewards and mementos, redeemable across all your saved games. Not only that, but it also introduces a revolutionary robotic customization set, a first in many years for No Man's Sky, offering a fresh and thrilling gameplay experience.
Before we get carried away with the excitement of the Singularity, let's take a quick trip down memory lane. No Man's Sky has a rich history of groundbreaking updates. Remember the Beyond update? It introduced us to virtual reality, creating a truly immersive experience. Then came the Exo Mech update that added fully controllable mechanical walkers. The Desolation update made us explore haunted derelict freighters, and Origins gave us a universe refresh with more diverse, richer, and more interesting planets. Clearly, Hello Games has quite a record with delivering, and the No Man's Sky new update is no exception to this!
Each of these updates significantly enhanced our No Man's Sky experience, shaping the game into what it is today. And the No Man's Sky New Update promises to carry forward this legacy.
So, my fellow interstellar adventurers, gear up for a whole new chapter! The No Man's Sky New Update, Singularity, brings with it an exciting blend of mystery, suspense, decision-making, rewards, and a brand-new gaming experience. Are we ready to face the Singularity and embark on this thrilling journey? Let's dive in and continue our grand space exploration saga!
Hi! I'm Arvyn, and I'm an English teacher from the UK. I've been teaching English online for over 4 years to students from all across the world and all ages. Outside of work, I'm a huge fan of reading, video games, and playing with my adorable kitties. See ya!
Leave a comment