Nintendo Direct Rundown – Exciting News And Reveals For Gaming System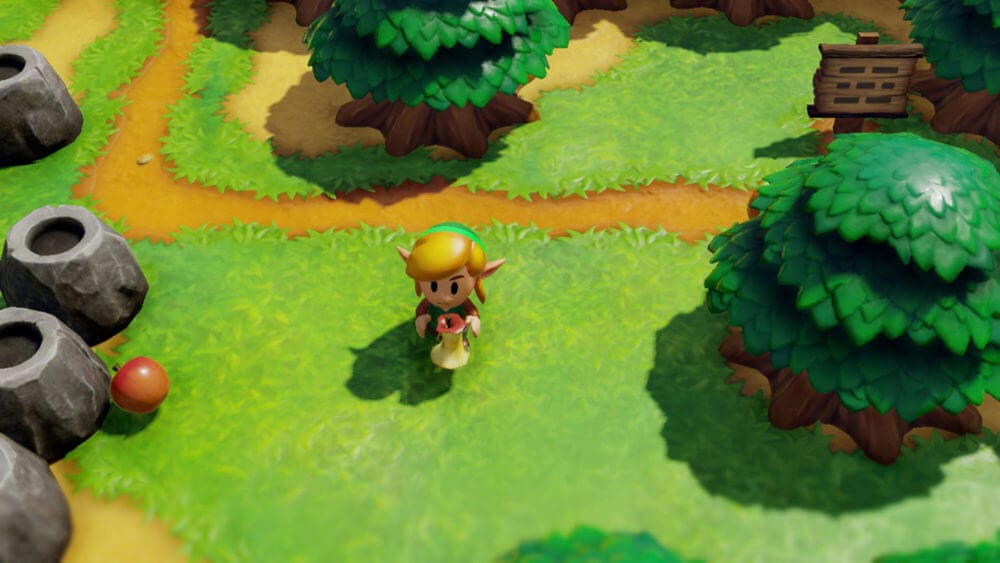 The latest Nintendo Direct showed a lot of very exciting upcoming games and features for Switch fans. Here's a breakdown on everything.
Nintendo Direct Rundown
Step by step, let's walk through news and reveals from the recent Nintendo Direct.
Overwatch Comes to Nintendo Switch
Blizzard's wildly popular multiplayer shooter is on its way to the Switch. The game releases October 15th, and digital gamers can pre-purchase the title now. 
Super Smash Bros. Ultimate DLC Fighter Announced
For its fourth DLC fighter, Super Smash Bros. Ultimate is releasing Terry Bogard from the series Fatal Fury. A pass of all DLC fighters, with one more yet to be announced, can be purchased for $25 USD. Each individual fighter is $6. A release date for Bogard is yet to be finalized, but will take place in November
Banjo Kazooie Release Date
The third DLC fighter, announced back at E3, is available starting today. Banjo Kazooie earned a ton of online petitioning to make it into the game, largely in part to the game's cult following since the Nintendo 64 days. 
Xenoblade Chronicles Gets Special Edition Port
The 2012 Wii game, and first entry in the Xenoblade series, Xenoblade Chronicles is being rereleased for the Switch. The game will come with all DLC, and release sometime in 2020.
Nintendo Switch Online Gets SNES Games at No Additional Cost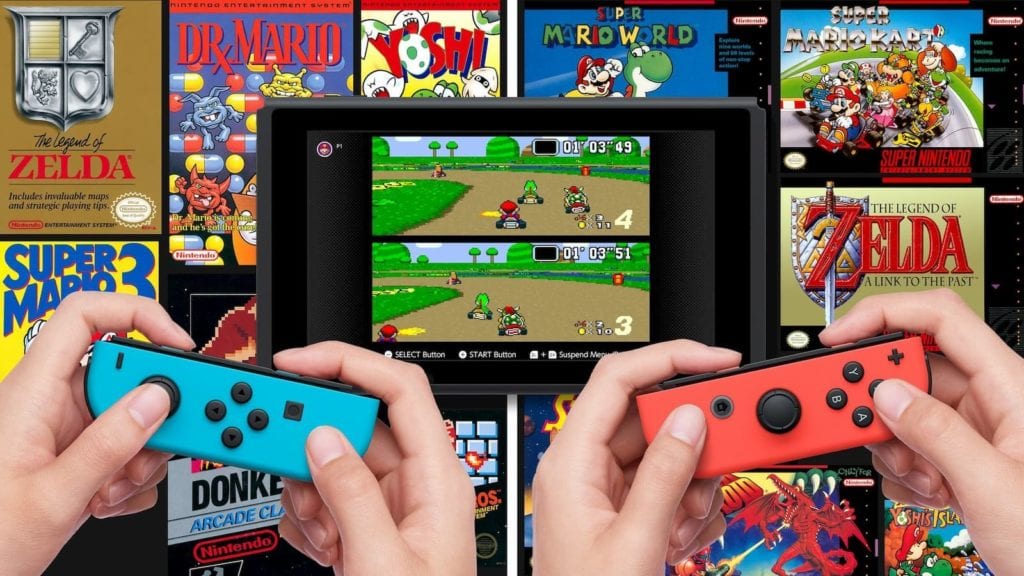 Image Credit: Nintendo
NES games released with the Nintendo Switch Online program, but now gamers can also play SNES games at no additional cost. Here's the full list of launch games, which are available for subscribers now:
Super Mario World

Super Mario Kart

The Legend of Zelda: A Link to the Past

Super Metroid

Stunt Race FX (Available for the first time since its original Super NES release!)

Kirby's Dream Land 3

Super Mario World 2: Yoshi's Island

Star Fox

F-ZERO

Pilotwings

Kirby's Dream Course

BRAWL BROTHERS

Breath of Fire

Demon's Crest

Joe & Mac 2: Lost in the Tropics

SUPER E.D.F. EARTH DEFENSE FORCE

Super Ghouls 'n Ghosts

Super Puyo Puyo 2 (Available for the first time in the U.S.!)

Available for the first time since its original Super NES release, Super Soccer

Available for the first time since its original Super NES release, Super Tennis
More game will release monthly, just like the service's NES offerings. Additionally, a wireless SNES controller is going to release for subscribers. The listing will go live shortly, and be available here. 
Tokyo Mirage Sessions #FE Back for an Encore During Nintendo Direct
The Wii U's Shin Megami Tensei and Fire Emblem crossover game is getting a shot at the Switch's much larger audience. Tokyo Mirage Sessions #FE Encore is set to release on January 17th, 2020, and might get a good boost from fans who enjoyed Fire Emblem: Three Houses earlier this year.
Tetris 99 Version 2.0 Revealed at Nintendo Direct
In version 2.0 of Tetris 99, the game is getting a new Invictus Mode, which isn't unlocked until players hit first place in the standard online mode. It comes with daily missions, as well as 2P sharing battle mode and  paid DLC for local arena matches. A physical edition of the game also releases September 6th. 
Pokémon Sword and Shield Updates
Two new Pokémon are revealed, including the teapot ghost-type Polteageist and flying-water swallow Cramorant. New costumes and style pieces revealed as well, and the Wild Area, in which players can visit each other and battle. 
The Legend of Zelda: Link's Awakening Gets Amiibo Figure, Plus More Smash Figures
Amiibo seemed all but dead and gone from Nintendo's product list, but a new figure is coming out alongside The Legend of Zelda: Link's Awakening. The game and amiibo launch September 20th. Super Smash Bros. Ultimate is also getting new amiibo for Incineroar, Chrom and Simon Belmont, releasing November 15th. 
Daemon X Machina Demo Is Announced and Available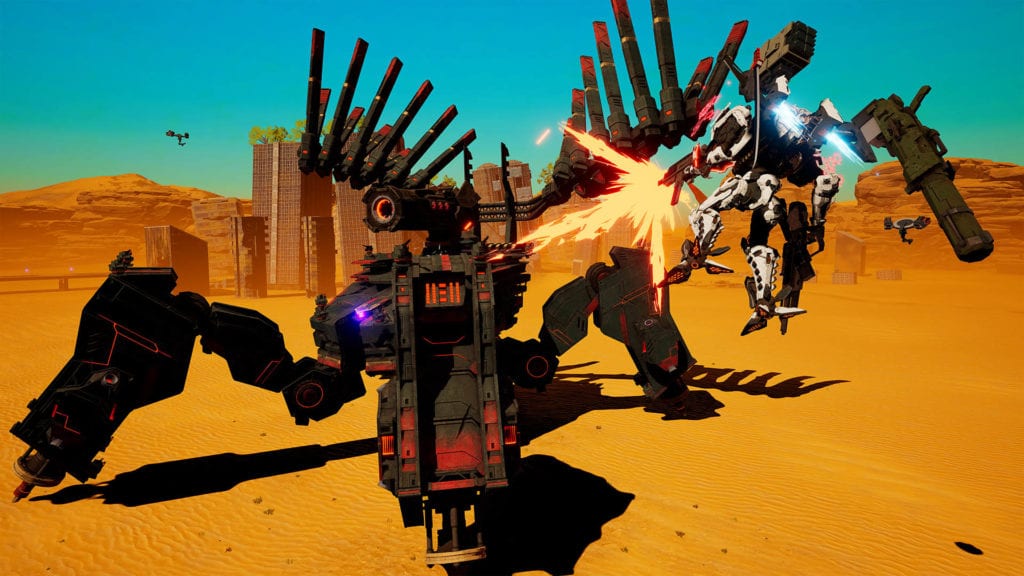 Image Credit: Nintendo
The mech fighter Daemon X Machina releases September 13th, but a demo is out now. Featuring the full prelude, the demo hopefully draws in those who don't know what to think of the mysterious action title. 
Super Kirby Clash on Nintendo Switch Now
A multiplayer action fighter, friends can craft weapons and fight one another in this Kirbyverse title out now. 
Divinity: Original Sin 2 Upgrade Released
The critic and fan favorite Divinity: Original Sin 2 is coming to the Switch. Actually, surprise: it's already ready to purchase and download. Much like The Witcher 3, the port is slightly downgraded in graphical quality, but it's still amazing to be able to have it on a Nintendo console! Witcher 3, of course, is coming October 15th with all DLC included.
Return of the Obra Dinn Coming to Nintendo As Well
Another critic favorite, indie darling Return of the Obra Dawn is coming to the Switch as well. The game features an exotic setting, very subtle power plays in the form of puzzles and struggles for answers, and a very great experience overall.
Pokémon Devs Show New Game During Nintendo Direct
The team behind Pokémon, Game Freak, revealed their new title Little Town Hero. In the game, you battle monsters and gather allies all within the confines of a single town. Sound vaguely familiar? The game releases October 16th, and is available for digital pre-purchase now on the eShop. 
Deadly Premonition Sequel Surprises Nintendo Direct Viewers 
Deadly Premonition 2: A Blessing in Disguise caught everyone off-guard. The cult series is all about FBI investigations, and the new game is coming in 2020. The original is now available as well on the eShop.
New 5v5 Online Shooter from Hi-Rez Studios Released During Nintendo Direct
Hi-Rez Studios unveiled a new 5v5 online shooter called Rouge Company. The new IP features objective based gameplay, as well as customizable characters. You can play with friends, or join a lobby for instant matchmaking.
Star Wars: Jedi Knight II Throws us Back from 2019 to 2002
The old Star Wars video games are certainly on our list for an upcoming History of Gaming (check out our Gears of War Post too!) piece, and 2002's Star Wars: Jedi Knight II: Jedi Outcast is one of the games that'd be worth discussing. The title is going to be playable on the Switch and PS4 September 24th. 
DOOM 64 – Yes, You Read that Right
DOOM 64, the classic hellish shooter, is coming to the Nintendo Switch on November 22nd. Sign me up, and probably many others too.
New Assassin's Creed Collection Incoming
Play Assassin's Creed IV: Black Flag and Assassin's Creed: Rogue, along with all their DLC, in the upcoming Assassin's Creed: The Rebel Collection. The collection is going to also feature touch controls and motion aiming. Catch these two classic Ubisoft titles on December 6th.
Free to Play Action RPG Seems Promising       
Dauntless looks like a game any RPG veteran would love. If you love RPGs, then this is something worth checking out. With action elements and cross-play with PC and consoles, Nintendo Switch players can start gaming with everyone else now that the game is out for the console. 
Other Nintendo Direct Release Dates
Image Credit: Nintendo
We have a handful of other titles coming for the Switch as well, including:

Devil May Cry 2 – September 19th

GRID Autosport – September 19th

Ni no Kuni: Wrath of the White Witch Remastered – September 20th

Call of Cthulhu – October 8th

Vampyr – October 19th

Just Dance 2020 – November 5th

Farming Simulator 20 – This Winter

Trials of Mana Remastered – April 24, 2020

The Outer World – Pending
Biggest Surprises in the Nintendo Direct
Hands down, the Direct sort of surprised everyone. The news of the 4th DLC character for Super Smash Bros. Ultimate did not excite, but after that, a number of announcements came out of nowhere. An early 2000s Star Wars video game and DOOM 64 are going to be on my Nintendo Switch in 2019. Totally crazy that the ports are happening at all, but handheld play continues to be the console's biggest perk. 
Biggest Games Upcoming for the Nintendo Switch
Despite all these announcements, two huge games dominate the upcoming season. First, Luigi's Mansion 3 releases October 31st, and has the potential to be a dark horse for critical and fan acclaim. The series is popular, but a bit like a cult following. A Switch release could be a transforming moment for the series, given the console's popularity and sales numbers. 
Sword and Shield are also huge releases, although not coming until November. The lasting impact of Pokémon is never going to fade, but fans are a little troubled that you cannot transfer non-Sword and Shield catches into the game. This eliminates the ability to allow for any combination of rosters, and that's upsetting to those who love the freedom. 
September Nintendo Direct – Hit or Miss?
I think by all accounts, the September Nintendo Direct can be considered a huge hit. The surprises are welcomed, especially those that weren't even in anyone's wildest imaginations. Plus, all the ports make the Switch even more dynamic thanks to its portability. 
Comic Years is the place to go for gaming news, comic book reviews, and all things pop culture. Let us know what you think of the Nintendo Direct in the comments, and feel free to share on any of your favorite social media channels.
Taylor is the Gaming Editor of Comic Years and a lifelong fan of video games. He holds two degrees in Political Communication and wrote a Master's Thesis on resistance movements, race, and the exploitation of college athletes. His wife and two Toy Australian Sheppards keep him sane.
Leave a comment