Neon Abyss Review – 2020 GOTY Contender?
I don't want to get going on this review without making something clear. That title you clicked? The one that mentioned that Neon Abyss is a possible GOTY contender? That's not clickbait or some ruse to get you to read. That's my genuine impression of spending some serious time with the latest game from Veewo Games and publisher Team 17. Roguelike titles and dungeon shooters are growingly common in gaming for the past few years. This renewed interest in this once niche genre occurred thanks to Enter the Gungeon and other similar titles. Why do these games offer so much to the player? Because they offer hundreds of hours of gameplay within a simple set of controls and tons of items and unlockables. For games to be successful in this feat, they have to be addicting and dynamic enough to keep your attention. Here's my Neon Abyss review.
Neon Abyss Gameplay and Visuals
Image Credit: Veewo Games and Team 17
Neon Abyss follows a similar pattern of other roguelikes. The game allows players to enter a run and never see the same dungeon twice. The layout and enemies you encounter change every single time. Likewise, you'll have various challenges to complete that help change the experience as well. Overall, the perk of a game like this is that you'll play for 100 hours and never have the same experience. As you make more runs at the game, you'll gain new upgrades. The upgrades are used to reveal new items and abilities on the upgrade path. Each additional perk you unlock helps you increase your ability to proceed further in the game. It's a creative and addicting way to challenge players to get further and further into the game.
Image Credit: Veewo Games and Team 17
The title says it all: this is not some bland dungeon shooter. You'll explore the underworld of the Neon Abyss which is covered in vibrant colors, neat enemies, and great pixel-like visuals. The map is dynamically generated each time you boot up a new run. Likewise, over 400 items make each run a little different. It took me over 15 runs to even find a single item more than once. That's the sort of gameplay depth I love. Another element I love is the pet element of the game. When you're exploring, you'll come across eggs. Nurture these eggs and they turn into random pets. Each pet can help you get further in the game, so it helps to find and nurture as many eggs as possible. It's a nice element that really makes the game feel innovative.
Controls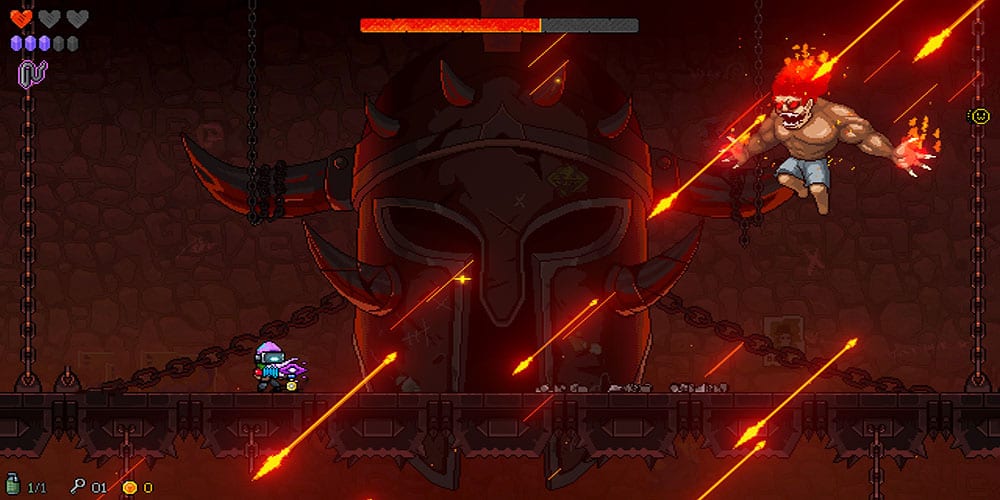 Image Credit: Veewo Games and Team 17
Something I really love in Neon Abyss is the experience of roguelike gameplay with stick-shooter controls. It's a scheme we saw in Enter the Gungeon that I think works even better here. On consoles, you jump with the left trigger and shoot with the right stick. This feel is a bit tough to adapt to at first, but then I found myself realizing how intuitive this layout is. As far as these types of games go, the controls are always going to be simple.
What I find especially intuitive about the Neon Abyss approach is the left trigger jump option. By placing that essential move away from the controller's face, you feel like you have a full area to focus your shooting. It might not be some major element of the game, but it's something I personally really liked. Where other 2020 games (read our Wake review for a good example) seem to stress simplicity and fail to offer dynamic experiences, Neon Abyss is fun and fairly easy to pick up.
Neon Abyss Review Score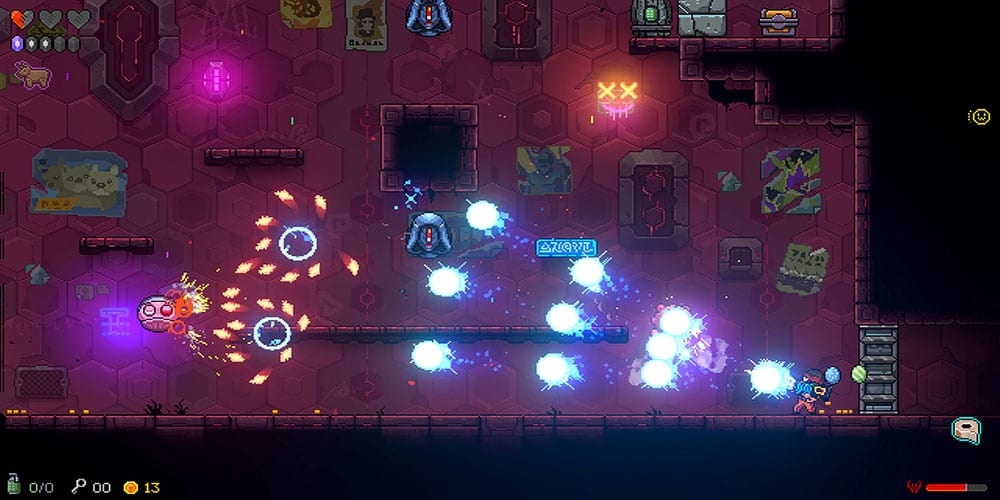 Image Credit: Veewo Games and Team 17
I review games on a scale of 1-10; Neon Abyss is a 10 for me. I think as far as roguelikes go, this game has everything you could want. Overall, I feel like fans of The Binding of Issac or Enter the Gungeon are going to love the randomized experiences of the dungeons. In short, I also think gamers who enjoy unique progression systems and flashy pixel-like visuals are going to have a lot to enjoy here as well. I find myself over 25 hours into this game and I have no plans of stopping. It's easily a top 5 game for me in 2020. While other titles might offer a more memorable experience, few have provided me this much entertainment in such a finely packaged title.
If you liked this Neon Abyss review, be sure to explore more gaming content on Comic Years! You can grab Neon Abyss today on Nintendo Switch, Xbox One, PS4, and PC. A digital review code was provided by the publisher for the purposes of this review.
Featured Image Credit: Veewo Games and Team 17
Taylor is the Gaming Editor of Comic Years and a lifelong fan of video games. He holds two degrees in Political Communication and wrote a Master's Thesis on resistance movements, race, and the exploitation of college athletes. His wife and two Toy Australian Sheppards keep him sane.
Leave a comment