Mortal Kombat 12 Characters: Peacemaker Rumored 
Guess what? A juicy rumor is swirling around the gaming world, and it's about Peacemaker potentially joining the roster of Mortal Kombat 12 characters! Can you believe it? This all began when Greg Miller expressed his admiration for Peacemaker as the best character to emerge from the DCEU. Jez Corden responded with a cryptic tweet: "Would be cool if he was playable in an upcoming fighting game." So, we're almost certain he's hinting at Mortal Kombat 12!
In case you're a bit behind on Mortal Kombat news and characters, let's catch you up. Mortal Kombat 12 is the upcoming entry in the legendary fighting game series. Naturally, fans have been eagerly waiting for news on the game's roster. Jez Corden's tweet has definitely sparked some excitement! You can check out the tweets below:
Would be cool if he was playable in an upcoming fighting game.

— Jez 💀 (@JezCorden) May 8, 2023
Hmm. (: pic.twitter.com/P8c2IuGQkr

— Jez 💀 (@JezCorden) May 8, 2023
Now, let's dive into why Peacemaker would be an amazing addition to the Mortal Kombat 12 characters list. First off, he's an incredible DCEU character who balances humor and violence. He's also got his own HBO Peacemaker series! Just think about the insane fatalities and brutalities he could unleash in Mortal Kombat 12! We're stoked to see what the developers might create for him.
Plus, the Mortal Kombat games have a tradition of featuring guest characters from various franchises. We've enjoyed the presence of Freddy Krueger, Jason Voorhees, and even the Predator in past Mortal Kombat games. So, adding Peacemaker, a DCEU character, isn't too far from reality.
Mortal Kombat 12 Characters Rumors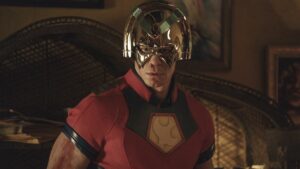 Image: HBO
But hold your horses! We need to remember that this is still just a rumor. NetherRealm Studios and Warner Bros. Interactive Entertainment haven't confirmed Peacemaker's presence in the game. And we don't think that they will anytime soon! However, it's fun to dream and speculate – right?
Besides Peacemaker, we're also eager to learn about other Mortal Kombat 12 characters. The series has introduced new fighters with each installment, and we can't wait to see who'll join the roster. We know some of the fan favorites are already coming. But what about some possible fresh faces entering the Mortal Kombat universe?
So, the prospect of Peacemaker joining the Mortal Kombat 12 characters is something to get excited about. We hope this rumor becomes a reality because it'd be a fantastic addition to an already iconic game series. Let's cross our fingers and hope we receive official news soon!
Keep your eyes on our blog for more updates on Mortal Kombat 12. Don't hesitate to share your thoughts on the possibility of Peacemaker entering the fray. Until next time, stay safe, and game on!
Hi! I'm Arvyn, and I'm an English teacher from the UK. I've been teaching English online for over 4 years to students from all across the world and all ages. Outside of work, I'm a huge fan of reading, video games, and playing with my adorable kitties. See ya!
Leave a comment