Mario Golf Super Rush Could Be Nintendo's 2021 Hidden Gem
The 2021 lineup for Nintendo is a bit strange. Fans hope that a Breath of the Wild 2 reveal might still take place. In all honesty, that seems far from plausible at this point. The latest Nintendo Direct provided the best opportunity to make an announcement of that caliber. Instead, we got a mix of niche games and 2022 release previews. If you're someone who is a bit disappointed, then give me a chance to make a weird argument. Of all the games that Nintendo showcased in their Direct, Mario Golf Super Rush holds the best chances of being a hidden gem in 2021. I'm a huge fan of the series and can't quite explain how much I'm looking forward to this game. Let's talk about why Mario Golf is one of the longest-running side series Nintendo consistently produces.
The History of Mario Golf
Image Credit: Camelot/Nintendo
Sports games featuring the Mushroom Kingdom crew aren't anything new. Back in 1999, Mario Golf released for the Nintendo 64. The game was wildly celebrated by critics and fans who didn't even like golf as a sport. The game's easy-to-follow mechanics made it like an arcade game. Plus, you could play as a number of characters well-known to fans at this point. Oddly enough, however, this was not the first time Mario showed up in a golfing game on Nintendo consoles.
While not technically a Mario Golf game, Mario is a player in NES Open Tournament Golf. Released for the Famicom in 1987 and the NES in 1991, the game is fairly limited in its scope. With a tiny view of your character in the bottom-left and the hole map on the right, there isn't a ton of fun to be had here. The Nintendo 64 game that truly kicked off the series offers much more in terms of enjoyment. Following the Nintendo 64 release, a limited Japan release called Mobile Golf hit the Game Boy Advance. The next big release, however, would come to the Nintendo GameCube.
Mario Golf: Toadstool Tour is my most-played game on the GameCube. That's not a joke; I loved this game. Released in 2003, the game looks great, features fun minigames, and a lot of great course designs. Next up was a true Game Boy Advance release for the world titled Mario Golf: Advance Tour. Released in 2004, the game wasn't great, but I spent quite a bit of time with this one as well. 2014's Mario Golf: World Tour arrived on the 3DS with a lot of fun modes, including a career mode of sorts. Since then, we haven't had a new release in the series, until now.
What We Know About Mario Golf Super Rush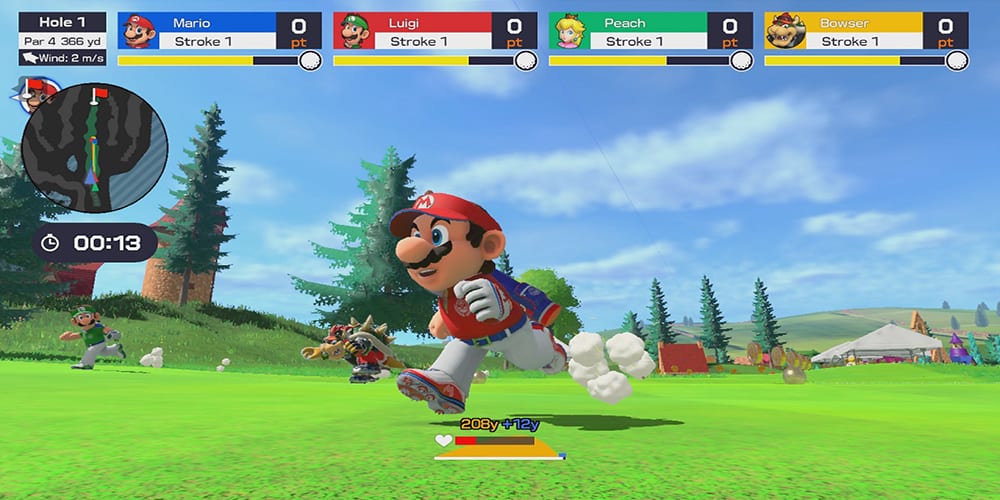 Image Credit: Camelot/Nintendo
The reveal for Mario Golf Super Rush is probably the top highlight in the February 17 Nintendo Direct for me. The game, which releases on June 25, will feature four-player golf in split-screen or online. The game will bring the same fun elements of Mario Golf games as well as new features and modes. The feature everyone seems very excited about is Speed Golf. In this game mode, you tee off at the same time as your opponents and race to finish the hole first. To trip each other up, you can interrupt opponents with dashes, special shots, and other decoys. Each character will have a special move to disrupt players. Mario, for example, blows players' balls away from the fairway.
The other major game mode will bring back Mii Characters into the mainstream for Nintendo. As your Mii character, you can rise the ranks of the Mushroom Kingdom's golf circuit in Story Mode. You'll have a skill tree to shape your game how you like to play. For example, if you love a great drive to start a hole, you can boost your power stat. There will be a ton of customization options as well to help nail the look of your character. This was somewhat fleshed out in 2014's Mario Golf: World Tour, but never quite felt impactful to the game.
Motion Controls Make a Big Return
Much like another Switch release, Mario Tennis Aces, motion controls are an option for Mario Golf Super Rush. In the announcement trailer, we see some of the motion controls at work. They look to be effective, but the Joy-Cons are not as motion-focused as the Wii-motes. Hopefully, things feel natural when playing the game this way. In all honesty, seeing motion controls included in the game left me wondering why we still don't have a Wii Sports successor on the Switch. Anyway, that rant can occur in another article.
Overall, the game's easy-to-play mechanics and fun game modes could make this a hidden gem. Toadstool Tour, as I mentioned, is my most-played GameCube game for the same reasons. I loved playing the game to sort of "chill out" and not feel a ton of pressure or competition. That said, Speed Golf is poised to bring out the worst in friends and family sort of like Mario Party. Nintendo knows how to make players turn on their loved ones like no other games company.
You can pre-order Mario Golf Super Rush for the Nintendo Switch on the eShop. If you're excited about this game, then let us know in the comments!
Featured Image Credit: Camelot/Nintendo
Taylor is the Gaming Editor of Comic Years and a lifelong fan of video games. He holds two degrees in Political Communication and wrote a Master's Thesis on resistance movements, race, and the exploitation of college athletes. His wife and two Toy Australian Sheppards keep him sane.
Leave a comment