KOTOR Remake For Newcomers – Does the Game Fit In 2021?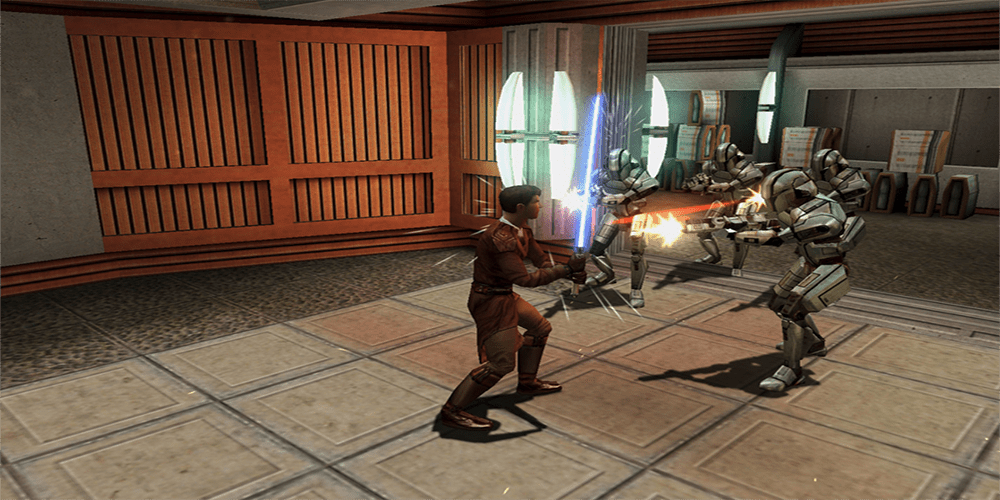 One of the most exciting announcements as of late was the confirmation of a KOTOR remake. KOTOR, or Knights of the Old Republic, is a stellar RPG. Its fondness in players' minds has continued to keep it alive to this day. We've had mobile ports, a fairly large mods community on PC, and countless inquiries into when a new game might come. When it comes to nostalgia, some lesser games don't stand the test of time. KOTOR does in my opinion. That said, are new generations of gamers going to love it as much as those who originally played it on Xbox in 2003? I think the answer might be trickier than we think. Here's a bit of a rundown of the KOTOR remake for newcomers that might help you decide if it's worth playing. 
KOTOR
Remake for Newcomers – Will New Players Enjoy this Game?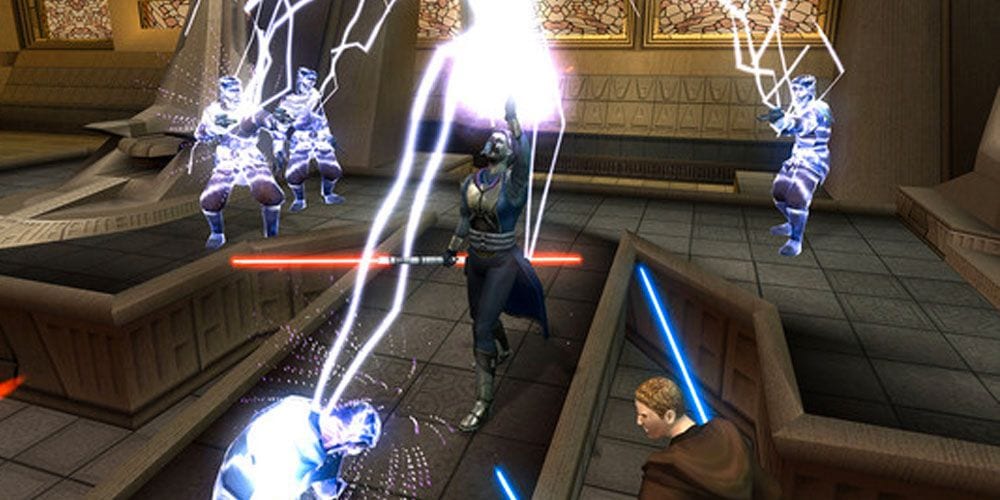 Image Credit: LucasArts
I think it's worth looking inward when discussing our favorite games. Dive deeper than what you love, and consider a younger player. Will a KOTOR remake really resonate with new players? The RPG genre changed a lot since 2003. These old-school-style RPGs are a bit tough to get into. In 2003, I was in third grade. I can tell you honestly I had little understanding of what was happening in my first playthrough of Knights of the Old Republic. That said, I found my way around the bugs and clunky movements and loved it. Other newcomers to the KOTOR remake confirmed to be in development in this Jason Schreier interview will certainly do the same.
That said, plenty will come into the game expecting an RPG by 2021's standards. For many console gamers, the likes of Skyrim and The Witcher 3 changed how they think of RPGs. The action RPG is more popular than the turn-based RPG. The round-based combat of KOTOR for example might seem archaic to newer gamers. In a game like Xenoblade Chronicles, I've heard similar complaints from younger gamers in my extended family. Plenty of more experienced gamers dislike the gameplay style as well. The real question is what level of a remake could entice players to try KOTOR out for the first time? 
If someone hasn't played KOTOR yet, then they likely fall into three categories. Firstly, the player might not have a console to play it on. Secondly, the player might not have an interest. Lastly, the player might have known that a beloved game like this might get the remake treatment. Holding out might offer the best way to play this game, but what could it improve upon to make it more welcoming to newcomers?
Five Changes That Could Make
KOTOR
Better for a Modern Playthrough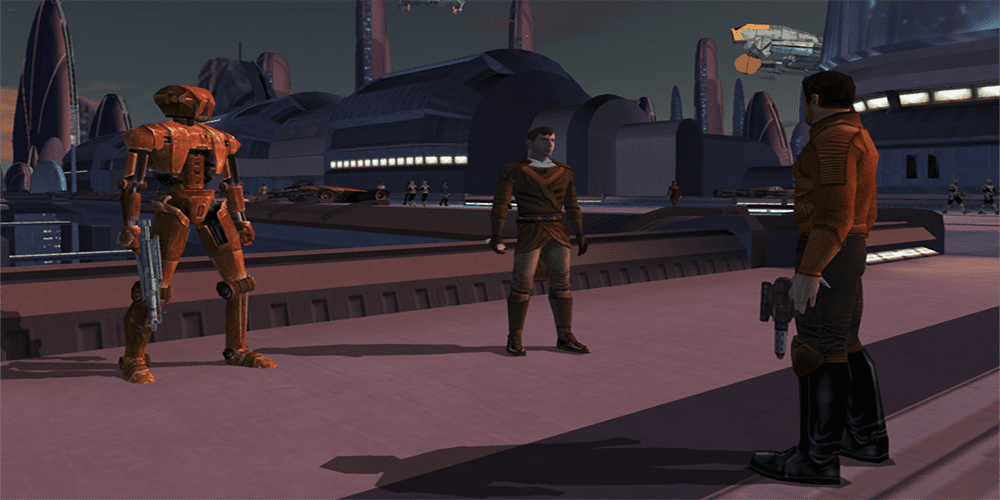 Image Credit: LucasArts
There are five things that I think need to happen for newcomers to get on board with a KOTOR remake. Firstly, the bugs and little glitches that persisted through to the mobile versions need smoothing out. They date the game greatly and could absolutely keep some from enjoying the story and experience. Secondly, there will need to be a bit more of a walkthrough in the beginning to introduce the game's mechanics. I think a revamped game, in general, is necessary. It might taint the memories we have of the original but it feels necessary. Give us more time on the Endar Spire to get our footing and then send us off. For those who are wildly unfamiliar with the d20 system, give them some time to understand it. 
Thirdly, I think a huge boost in the game's longevity as a new remake could come from crisper audio. If that means re-recording some characters, then so be it. As much as I hate to say it, the game's iconic voice acting cast should not make the game sound like it's a 2003 release. Keep essential character the same if possible, but otherwise, give it new life in the audio department. Next, I'd definitely recommend ensuring players that a remake of Knights of the Old Republic II will come with a successful launch of the KOTOR remake. If you remake one, then it's preferable to give both the treatment. The game flopping would warrant a canceled sequel, but I can't see that happening. 
Lastly, I hope the developers aren't afraid to let the game feel more like other RPGs of late. Give us some new camera angles, expanded accessibility options, and provide us with the best possible way to play this game. That might mean small things like expanded character creator options and big things like rethinking the way the game fits into the greater Canon of Star Wars. If you're going to do this, then let's do it right. 
Final Thoughts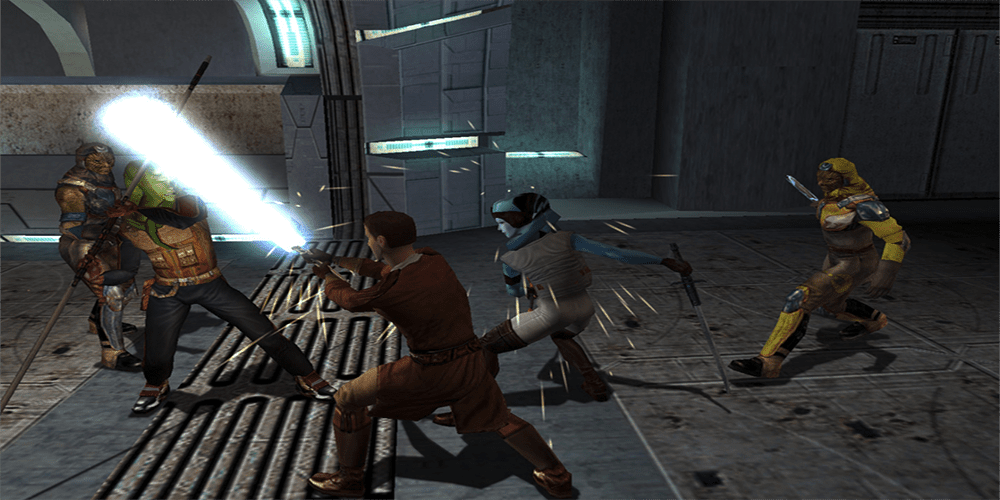 Image Credit: LucasArts
The gaming industry and this KOTOR remake are certainly not beholden to newcomers for the game's development. They're also not only keeping in mind younger players either. That said, I wonder who this remake is really going to make happy. Given all that could go wrong, I wonder if there's a reality where we get the remake and don't like it. "Not enough changed." "Too much changed." The toxicity around what should be a simple exchange of opinions could doom this game before we even get to play it. 
All in all, Aspyr is one of my favorite studios because they do great work. They've made a lot of older games make sense on newer consoles. Most notably, their work on Episode 1 Racer and Republic Commando for the Switch earned them love with Star Wars fans. The real trick here is that those are more of a remaster experience. Instead of remaking the game into something new, they're modernizing it. I think given the gameplay and mechanics, simply modernizing how things look might not click as well as some might think. 
The real challenge with a game of this magnitude is expectations. I know what I want from a KOTOR remake. I also know many of those things are not likely to happen. When the game finally releases somewhere down the line, then we'll know if each of us individually is satisfied. What largely happens, however, is so many people get upset that the game's reputation is tainted before launch. Aspyr is up for the challenge in my eyes, but I think this remake might only have an impact on players who loved the game already. Let me know your thoughts in the comments.
Featured Image Credit: LucasArts
Taylor is the Gaming Editor of Comic Years and a lifelong fan of video games. He holds two degrees in Political Communication and wrote a Master's Thesis on resistance movements, race, and the exploitation of college athletes. His wife and two Toy Australian Sheppards keep him sane.
Leave a comment