KOTOR Game Remake Delayed Infinitely
It's time for some bad news, Star Wars fans. Aspyr Media has indefinitely delayed the Knights of the Old Republic, a KOTOR game remake, after firing two directors for the game earlier this month. This included the director for the game's art and the director for design. It's not clear why Aspyr fired these two, but the consequences of it are pretty significant.
KOTOR Game Remake Information
Image: Bioware
For a while now, we've known that a KOTOR game remake was in the works, but it wasn't until September last year that Aspyr officially announced it was coming. Originally, this remake was set to build the whole game, which Aspyr released in 2003, from the ground up, including full reworks of the characters and environments. Bioware released the original game and quickly became a fan-favourite, so many people were excited to hear the news of a KOTOR game remake.
The game was going to be a faithful remake, including updated graphics and game mechanics. In September 2021, Aspyr dropped a teaser trailer for the PS5 version of the game, and it was also going to launch on PC. Orion Kellog, the executive producer for Lucasfilm, had this to say about the KOTOR game remake last year:
"We know that KOTOR is one of the most beloved Star Wars stories ever told. We appreciate the stature it has with all of the fans out there. As hardware advances and as our game-making prowess advances, and as storytelling advance, what better time to allow players to re-experience this great story with all of those lessons learned and bring it back to modern platforms using modern methods? That's something I've wanted to do personally for a very long time, and I think everybody involved with Star Wars games has wanted to do for a very long time."
Evidently, the team had lots of high hopes for this game! Additionally, the KOTOR game remake would be the first Star Wars video game that EA didn't create since their deal began with Disney. Unfortunately, it appears that Aspyr has dashed these dreams for now.
KOTOR Game Remake Delay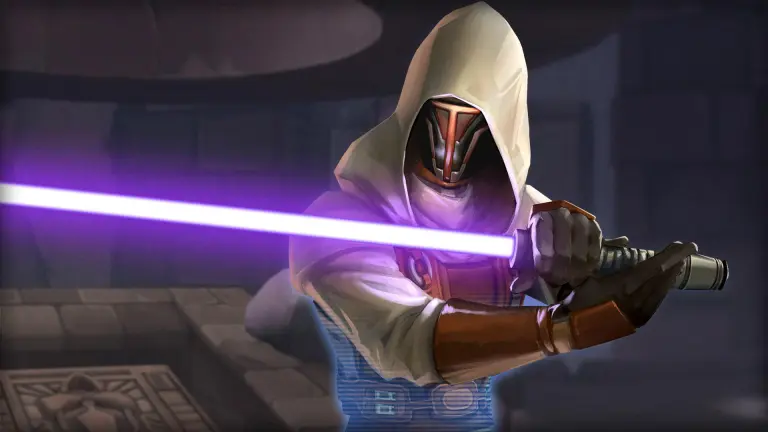 Image: BioWare
As we mentioned earlier, Aspyr has now put the brakes on the KOTOR game remake. According to reports from Bloomberg, the game is in "serious trouble" after Aspyr fired two leading directors. In this report, Aspyr told the employees that they were stopping all work on the game. In fact, Aspyr told the team that they should look for contract development work elsewhere, which seems to show that the future of the KOTOR game remake is uncertain.
This latest setback follows other delays in the video game's development. Originally, when they first began making the game, the team aimed to release it in 2022. However, this changed to 2025, then "beyond" this point. According to the Bloomberg report, the developers were excited about a "vertical slice" they'd created for the KOTOR game remake. This gave them hope for the game. Additionally, the developers were planning to change the game from turn-based combat to something more accessible.
However, the higher-ups apparently thought Aspyr had wasted too much money on the playable demo. They felt that the final result would use too much time and money, arguing this development model is unsustainable.
Further in Bloomberg's reporting, they discuss a vertical slice finished for the game, so the developers were excited. However, some believed that too much time and money were spent on the playable demo, and it could not be sustained to see the project through. So, it's clear these latest delays to the KOTOR game remake are part of a few other issues.
Star Wars: Knights of the Old Republic Video Game
Image: BioWare
All hope is not lost, though. Recently, Saber Interactive joined Aspyr to help with the game's development, but maybe they'll take the reins. They could take full control of the game and potentially pull it out of "development hell." Additionally, this delayed title isn't the only Star Wars video game coming out. We already know that Star Wars: Eclipse is coming, along with another title from Ubisoft. There's also the sequel to Jedi: Fallen Order.
What are your thoughts on this news? Were you looking forward to the KOTOR game remake? Here is an update for Star Wars: Knights of the Old Republic from Gamerant.com
Hi! I'm Arvyn, and I'm an English teacher from the UK. I've been teaching English online for over 4 years to students from all across the world and all ages. Outside of work, I'm a huge fan of reading, video games, and playing with my adorable kitties. See ya!
Leave a comment