KFC Game Console Leaves Us Confused And…Hungry?
I woke up today with the prevailing anxiety that I still haven't secured a next-gen console. Thankfully, the things in life we worry about sometimes turn out to be blessings in disguise. If I bought a PS5 or Xbox Series X, then I might not have the money ready to pick up the new KFC game console. Aptly named the KFConsole, the specs on this thing are the second most impressive element of the hardware. Overall, the included, built-in chicken chamber is a game-changer. You know how you sometimes worry that if you eat and game you might get your controller greasy or dirty? Well, worry no longer, because when you're gaming with the KFConsole, finger-lickin' fun is dependent on the presence of fried chicken.
The KFC Game Console – One More Reason to Say "Sure, Why Not?" in 2020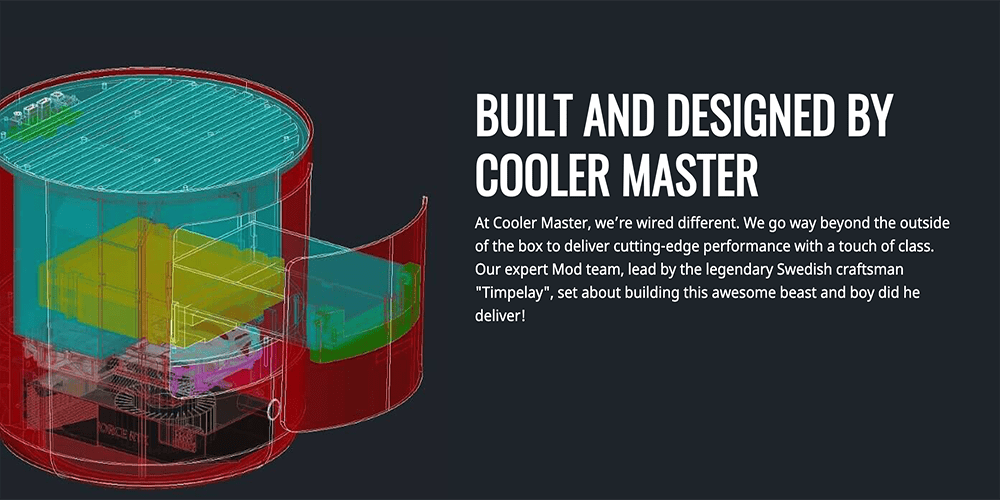 Image Credit: Master Cooler/KFC
If you think this is a joke, then there's a slight chance you might be right. There's no price or release date set for the KFConsole. There is, however, a real website detailing specs inside the console. Cooler Master, ASOS, and Seagate are partnering with KFC Gaming (which exists apparently) to create a next-gen gaming console that packs an actual punch.
Utilizing a Seagate BarraCuda 1TB SSD, customer Cooler Master NC100 chassis, and first-of-its-kind hot-swappable GPU slot, the KFConsole is legit. That is if it actually exists. The specs on this allow for 24oFPS gaming as well as 4K resolutions at 240Hz output. But who cares about gaming parts when you have the first-ever Chicken Chamber. According to Cooler Master, warm chicken while gaming is possible by "utilizing the systems natural heat and airflow system." They go on to add that "you can now focus on your gameplay and enjoy hot, crispy chicken between rounds."
Could This Console Actually Get Released?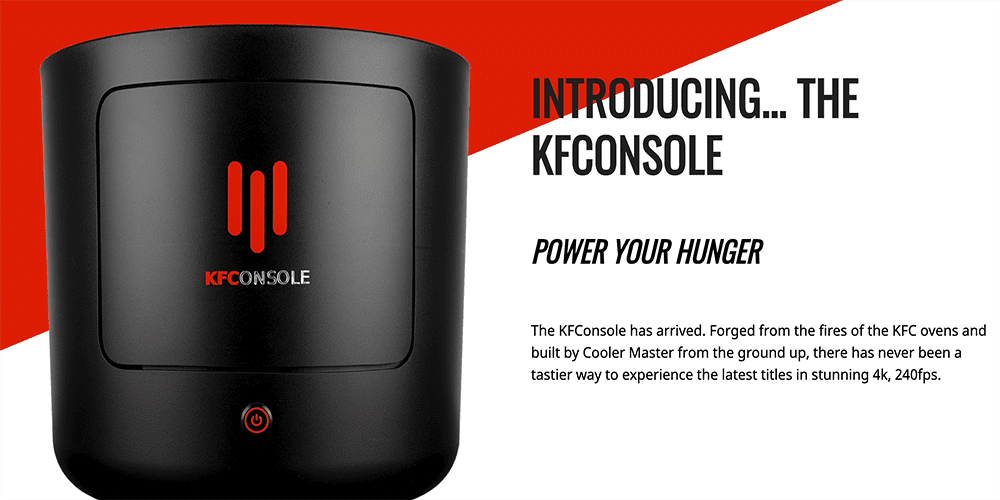 Image Credit: Master Cooler/KFC
Honestly, yes. If the chassis is actually able to keep a hardware-protecting heat chamber from dropping coding and grease into other parts of the console, then this could be real. For those who have struggled with next-gen console availability, this might seem tempting. The only problem is we don't know how much it costs or when it releases. If this is real, then it could become quite the hot commodity for odds and ends collectors. If this essentially plays like a computer that you can hook up to your TV, then people will probably be interested. Let's say they sell this for cheaper than some other PC-console hybrids. Who wouldn't mind having a KFConsole if they can play new games on the cheap?
That said, it's likely this never actually releases. If it does, then we might only see something like a limited quantity hit online stores via raffle systems. Whether it's true or not, someone at KFC is killing the viral marketing game. I'm not even sad I can't get a next-gen console now. Come to think of it, do we have confirmation that an Xbox Series X can't keep chicken warm? It's kind of shaped like a vertical oven. Nobody test that out please, we'll just assume it's a hard no.
Featured Image Credit: Master Cooler/KFC
Taylor is the Gaming Editor of Comic Years and a lifelong fan of video games. He holds two degrees in Political Communication and wrote a Master's Thesis on resistance movements, race, and the exploitation of college athletes. His wife and two Toy Australian Sheppards keep him sane.
Leave a comment