Jurassic World Evolution 2 Review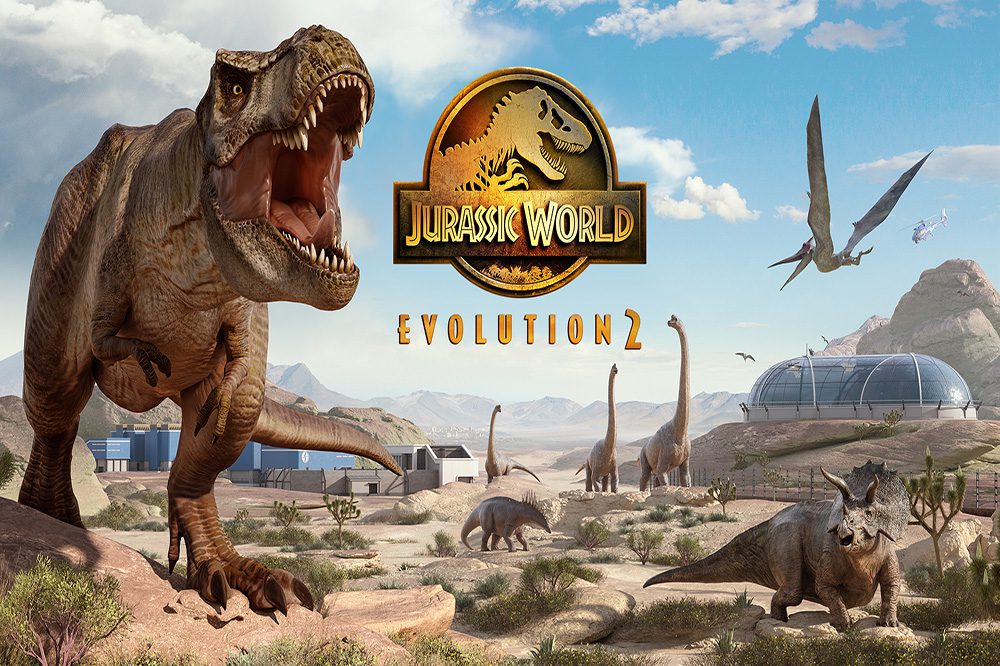 Most movies that delve into fantasy and science fiction seem to leave audiences wanting to step into that world. I can't say I ever actually wanted to live in a reality where Jurassic World is possible. I mean, what part of those movies makes you think "I'd love to be hunted by dinosaurs?" That said, enjoying the world and lore of the book and film universe is enough to make me want to try a game about it. Back in the OG Xbox days, I loved the Jurassic Park park simulator Operation Genesis. Of course, as a child at the time, I'd just let the dinosaurs lose and watch them cause destruction. I'm mature now, and a game like Jurassic World Evolution 2 offers something different to me now. As a major fan of park management games and real time simulation titles, this game could be a sleeper favorite of mine in 2021. Let's dive into my review of Jurassic World Evolution 2 to see if this game lives up to its predecessor.
Big Improvements This Time Around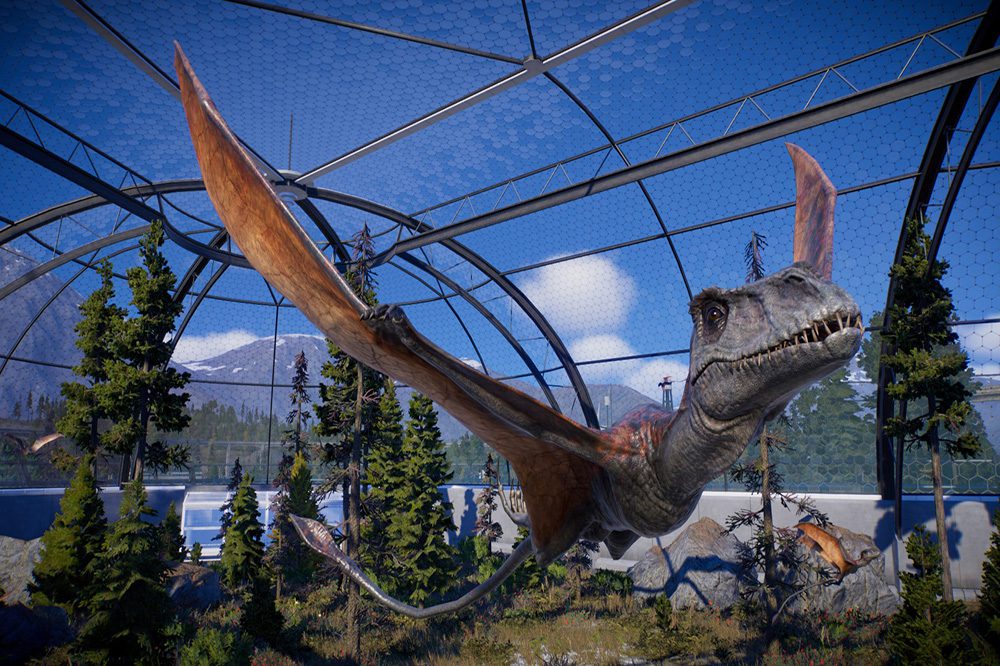 Image Credit: Frontier Developments
Jurassic World Evolution released in 2018 to mixed feedback at launch. The game first excited fans after a reveal at Gamescom 2017; 14 years after the release of a similar title, Jurassic Park: Operation Genesis. Many saw potential in the game but critics and fans felt the experience was half-baked at best. Through updates, the game eventually became a really great park management simulation title. I didn't get a chance to play the game until DLC and updates made the game a much fuller experience. Still, it felt like Frontier Developments had room to grow the gameplay and improve on some promising details and features tied to the game's core focus: creating your own Jurassic Park attraction.
In Jurassic World Evolution 2, everything is bigger and better. Firstly, one thing matters to almost everyone playing the game regardless of their park simulation preferences and previous experience. Yes, there are some really cool dinosaurs in this game and they look fantastic. The developer included over 75 dinosaurs, including requested creatures from the past game and returning favorites. On new-gen consoles, the dinosaurs look really spectacular. You can hop into Sandbox Mode and begin trying to add them all to your park, but there's an easier way to learn the ropes of the game for newcomers and those in need of a refresh.
Gameplay Features and New Additions to Jurassic World Evolution 2
Image Credit: Frontier Developments
Campaign Mode walks you through some great tutorials disguised as a short story mode. It's not bad, but it certainly isn't the in-depth narrative experience fans might want. Those are actually more focused on in the new Chaos Theory game mode. Here, you can relive the films up to Jurassic World franchise and actually see what things would be like if certain events occurred differently. Actors lend their voices to the game as well, including Bryce Dallas Howard, Jeff Goldblum, and BD Wong. Somewhat hilariously, Owen Grady makes an appearance but does not feature the voice of actor Chris Pratt. He might be off preparing for the newly announced roles of Nintendo character Mario and Garfield.
Jurrasic World Evolution 2 offers some great gameplay mechanics, including capturing wild dinosaurs for exhibits and creating environment in which they can live comfortably. You can send crews on expeditions to find new dinosaur DNA and even assign teams to perform status checks on captured Dinos to ensure they're not nearing a chaotic outburst that might threaten your park. All of these features and presentation elements really lead to a great time to be had for fans of Jurassic World and management simulation games.
Jurassic World Evolution 2 Review Score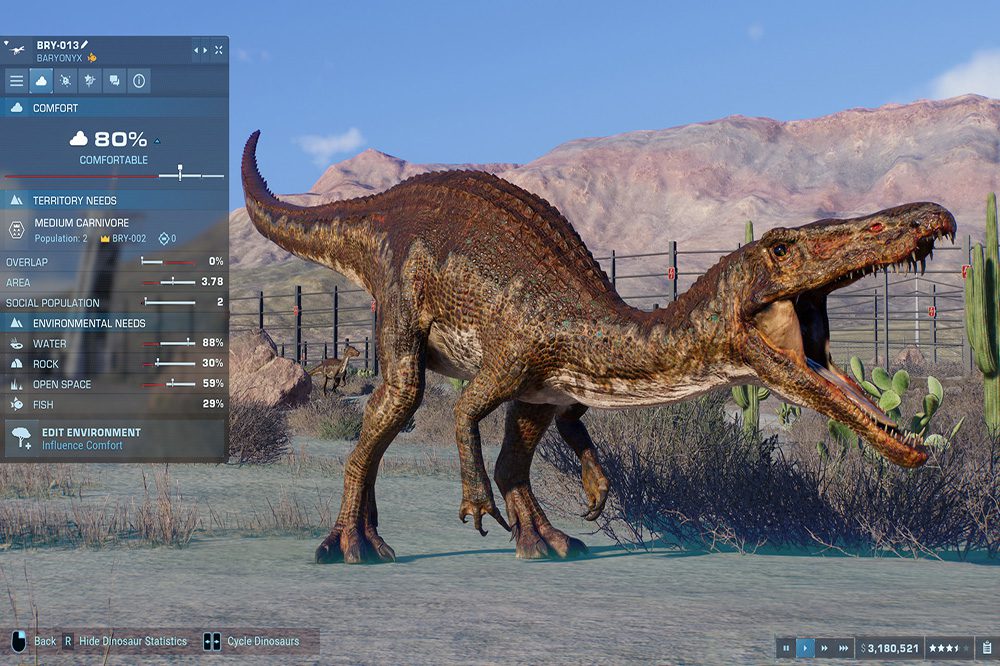 Image Credit: Frontier Developments
I review games on a scale of 1-10; Jurassic World Evolution 2 is an 8 to me. I think the simplicity in maintenance of the management simulation gameplay here is a tricky balance that might turn some players off. I think the needs to support a park are fairly simple and straightforward. That said, there are a ton of things to keep an eye on, especially with new elements to hiring staff and scientists. Overall, some players might be too overwhelmed with the number of things taking place to feel like they can just relax and enjoy the experience. However, I'm happy the developer decided to dive into deeper levels of park management sim elements rather than dumb down the gameplay.
With major improvements in visuals this time around and all of the gameplay content that eventually ended up making the first game worthwhile, Jurassic World Evolution 2 is a wonderful follow-up and I'll play the game well beyond finishing this review. There's something here for anyone who might be into this sort of game. If you're a Jurassic World fan, then this is the best gaming experience we've seen for the franchise so far. Likewise, fans of management simulations and RTS titles have a lot to sink their teeth into. A game like this isn't for everyone, but those who find it compelling will be happy with what they find. Fans of the first game, no matter what stage it eventually found its footing, will love this sequel.
Jurassic World Evolution 2 is Available Now for Consoles and PC
Overall, I love the game at launch. With all-but-certain DLC coming too, the game will likely grow with time. There's a lot to explore and dive into simply as a way to unwind with some sandbox mode action. Of course, the challenges and Chaos Theory mode should provide a decent challenge to keep you busy as well. If you're interested in taking on your own park, then you're clear for operations! Jurassic World Evolution 2 released earlier this month and is available now for Xbox and PlayStation consoles as well as PC. If you get a chance to play it, then come back and give us your 3-sentence review in the comments! You can also ask some questions there about my time with the game if you're curious about more insights and impressions!
Thanks for reading Comic Years for all things gaming, comics, and pop culture.
A digital review code was provided by the publisher for the purposes of this review.
Featured Image Credit: Frontier Developments
Taylor is the Gaming Editor of Comic Years and a lifelong fan of video games. He holds two degrees in Political Communication and wrote a Master's Thesis on resistance movements, race, and the exploitation of college athletes. His wife and two Toy Australian Sheppards keep him sane.
Leave a comment