John Cena In Fortnite – Coming REAL Soon!
Soon, we'll see John Cena in Fortnite. One of the most popular wrestlers is joining the largest battle royale. It's another appearance of the wrestler-turned-movie-star. And, it's another surprising addition to the Fortnite universe.
Just a few months ago, Fortnite street fighters debuted on the title. And, it's only been part of a barrage of new content. Of course, none of that will be as expensive as this rare emote.
It comes as part of Epic Game's Epic SummerSlam. It'll also bring two cosmetics for Cena, a unique taunt, and more.
Moreover, Rocket League and Fall Guys also get their own updates. The SummerSlam brings the WWE into three of Epic Game's largest games.
Wrestling star joins the famous battle royale
The legendary wrestler and 16 times WWE champion joins the Item Shop. Players will soon be able to don John Cena's outfit. It comes with the "Never Give Up" shirt. But, that's not all players are getting.
The outfit comes in two styles. The Entrance Gear Style brings his full costume with the shirt. Plus, there's the Ring Gear Style. It strips Cena's shirt off. As the name suggests, it's his "ready for action" outfit.
Still, the bundle goes beyond two costumes. There's a full John Cena set.
Firstly, players get the WWE Championship Black Bling. They can wear it on any of their characters while fighting others.
Then, we have the Five Digit Slapper Pickaxe. It's a green, hand-shaped pickaxe. It also sports the "U Can't C Me" motif.
Finally, John Cena in Fortnite brings a brand-new emote. The "U Can't C Me" emote lets players celebrate their victories.
With this kit, everyone will know that the champion is on the battlefield. And, he'll probably start reaping victories here as well.
We must also remember that Dwayne "The Rock" Johnson is also part of the Fortnite universe. So, perhaps we'll see some interesting encounters in the future.
John Cena in Fortnite is part of the Epic SummerSlam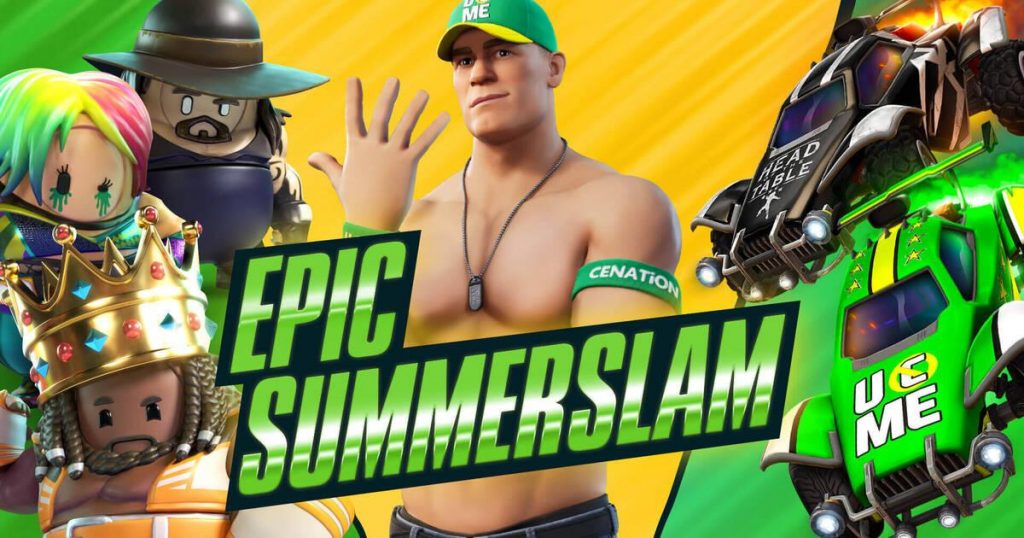 Image Credit: Epic Games
Fortnite isn't the only game getting WWE-themed content. And, it won't be the only appearance by John Cena.
Rocket League also receives two wrestling stars. The SummerSlam brings a John Cena decal for your vehicle. And, Roman Reigns joins him.
Reigns' decal brings the "Head of the Table" tag. It celebrates the current universal champion of the WWE. And, he's also been world champion six times. For Cena, the decal dons his "U Can't C Me" motif.
For Fall Guys, three unique characters are joining the roster. Players will have access to Xavier Woods, Asuka, and The Undertaker. It's a unique addition to Fall Guys, which rarely sees these kinds of events.
The SummerSlam Set for fall guys brings these characters as costume bundles. Players can pick them up from the Item Shop. And, there's a bonus for picking up the complete bundle. You can get a Xavier Woods emote and a victory celebration from The Undertaker.
When can you get your hands on it?
Live fast, fight hard, no regrets!

John Cena will be making his debut in the Item Shop on July 28 at 8PM ET. Until then, check out our blog to see everything that will be available in his set.

🔗: https://t.co/FRalWzz93L pic.twitter.com/oLtSKEtrro

— Fortnite (@FortniteGame) July 26, 2022
Luckily, players won't need to wait too long before the set hits the item shop. The full release will take place on the 28th of July, at 9 PM EST. It'll come just before this weekend. So, players get plenty of time to try out the new cosmetics.
As for the price, we still don't know what to expect. The official channels haven't said anything. But, we can infer some numbers.
It's far from the first Icon Series cosmetic to be released. So, we can expect the price to be around the 2,000 V-Bucks mark. We also don't know how long he'll last in the store. Thus, make sure you get him before it's too late!
Leave a comment