Jedi Survivor Gameplay Improvements Revealed 
After what has felt like a very long time, we're only a short while away from Jedi: Survivor. Of course, it's not coming as soon as we originally hoped. After all, EA announced just a week ago that they're delaying the game to April 28th. Even so, there is some good news ahead. Respawn, one of the teams working on the game, recently spoke about some of the features. In fact, the director for Respawn revealed some of the Jedi Survivor gameplay improvements. From what they said, it's clear that Respawn listened to fans and included some vital features in this sequel. But what could these features be? Read on to find out.
Earlier, Stig Asmussen, Respawn Entertainment's director, spoke about the creation process for this video game. Most importantly, he revealed that the team included fast travel abilities. This is something that fans have asked for a while, ever since EA released Jedi: Fallen Order. 
Previously, fans criticized having to traverse across the worlds in this game instead of being able to jump to places they've already explored. One large part of the game was exploration, but being unable to fast travel frustrated many players. If you wanted to explore a world, you'd have to go back to its start. That's pretty annoying if you just wanted to explore something near the end of that world!
In an interview, Stig Asmussen specifically addressed fast travel, amongst other Jedi Survivor gameplay improvements. Apparently, it won't just be fast travel – fans can also ride mounts to get around the areas in this game. Here's what he said exactly about these features.
What are the Jedi Survivor gameplay improvements?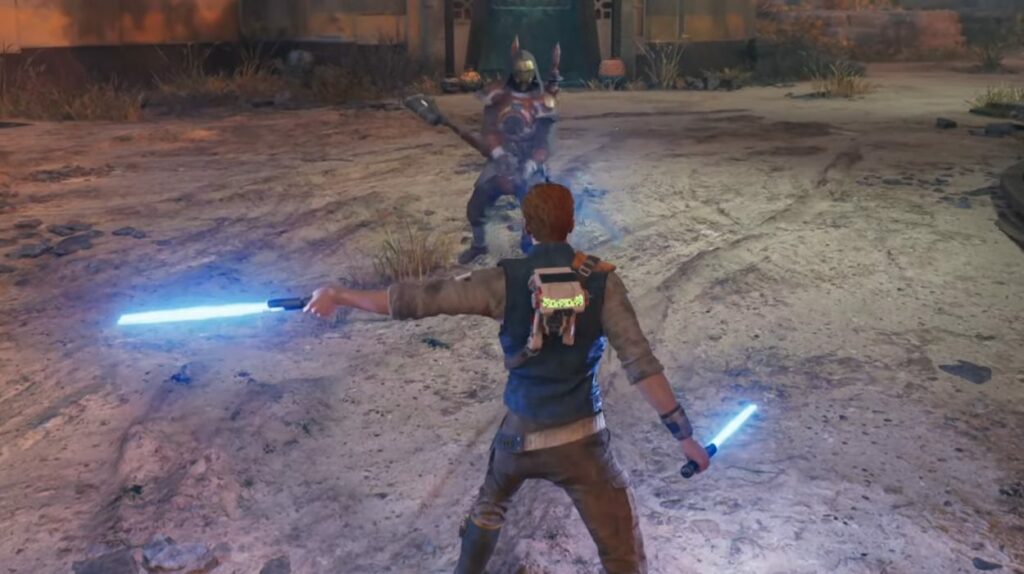 Image: EA/Lucasfilm
"We will feature both fast travel and rideable creatures to help players quickly get from point A to B, and back to A. The fast-travel is point to point, and the rideable creatures offer a way to quickly negotiate between points and explore what is in between."
So, it seems pretty clear that both Respawn and EA are keen to please fans with this entry. After all, they've directly addressed one of the major criticisms fans had about the previous game. However, this isn't one of the only Jedi Survivor gameplay improvements. 
In fact, voice actor Cameron Monaghan described some of the other developments. He spoke about how Cal Kestis, the series' hero and Monaghan's character, has changed with this entry. In his own words:
" more matured, he's more rugged, and he's been weathered by time and by situation." 
Clearly, this game is going to change things in multiple ways. We're not sure what the other Jedi Survivor gameplay improvements could be. However, we'll likely hear more about them shortly. You can expect that these will include graphics improvements in particular. After all, EA released the previous game in 2019; there have been many graphic developments since then!
Jedi Fallen Order 2 Release Date
Image: EA/Lucasfilm
Of course, this recent news about the Jedi Survivor gameplay improvements is probably the only good news about the Jedi: Fallen Order sequel. Just last week, Respawn announced that they were pushing the game back to April 28th. As such, this represents a delay of approximately six weeks. 
In a statement, Respawn said they were "now focused entirely on the final stage: bug fixes to enhance performance, stability, polish, and most importantly, the player experience." However, they also clarified that:
"In order for the team to hit the Respawn quality bar, povide the team the time they need, and achieve the level of polish our fans deserve, we have added six crucial weeks to our release schedule – Star Wars Jedi: will now launch globally on April 28th."
Regardless, with the Jedi Survivor gameplay improvements we've already seen so far, this delay can only be a good thing!
Hi! I'm Arvyn, and I'm an English teacher from the UK. I've been teaching English online for over 4 years to students from all across the world and all ages. Outside of work, I'm a huge fan of reading, video games, and playing with my adorable kitties. See ya!
Leave a comment