James Gunn Superman Game Hinted By Warner CEO
So, guess what? Warner Bros. Discovery CEO David Zaslav just dropped a major hint about a possible James Gunn Superman game! This was during their Q1 2023 earnings call. Now, if you're a fan of both DC superheroes and video games, you'll definitely want to hear this.
Firstly, Zaslav praised the company's gaming business. He mentioned their 11 different studios and very talented capability. Then, he emphasised how owning their IP sets them apart from other media companies. In fact, he gave examples of the DC Universe and Harry Potter. He cited Hogwarts Legacy's massive billion-dollar success as a prime example of blending movies and games.
Now, here's the juicy part: Zaslav talked about the upcoming Superman: Legacy film, which James Gunn will direct. Interestingly, he hinted at how technology could make it possible for a game to accompany the movie's launch. Potentially, this could tie into a James Gunn Superman game. In his own words:
"It may be in the next couple of years that we launch a Superman movie and…people spend more time, and there's more economics of people just hanging out in the Superman world and universe."
Furthermore, Zaslav believes that owning the IP for these worlds will be crucial for the company moving forward. He sees a future where people can "hang out" in these worlds, making them pretty profitable!
Also, since Zaslav mentioned the James Gunn Superman game idea, he also said they "may choose to develop it with a third-party game technology company." How exciting is that?!
Is there a James Gunn Superman game?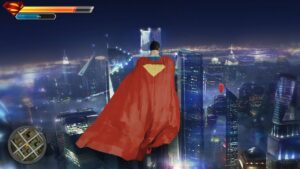 Image: AListProductions (Youtube)
Now, what could a James Gunn Superman game look like? Well, we can imagine an open-world game, for starters. It could be one where players can explore the Superman universe, engage in exciting missions, and interact with other characters from the DC universe. Just picture the scale of Hogwarts Legacy but with a Superman twist!
Of course, we can't forget about the potential multiplayer aspect. With the rise of the metaverse and people spending more time in virtual worlds, a multiplayer Superman game would be a perfect fit. Players could team up, take on epic challenges, and even compete against each other!
In fact, Zaslav even spoke about this:
"The fact that we own all of that is something that I think is going to be really important as we look forward–as technology develops, and given the amount of time that people spend on gaming, we don't want to be in the motion picture and long-form storytelling business and have somebody else in the business of hanging out in those worlds. Those worlds are going to be quite profitable in the years ahead."
Ultimately, while there's no official confirmation yet, the idea of a James Gunn Superman game is undoubtedly exciting. For now, we'll just have to wait and see what Warner Bros. has in store for us. But let's be honest – who wouldn't want to dive into the thrilling world of Superman and experience it firsthand?
Hi! I'm Arvyn, and I'm an English teacher from the UK. I've been teaching English online for over 4 years to students from all across the world and all ages. Outside of work, I'm a huge fan of reading, video games, and playing with my adorable kitties. See ya!
Leave a comment