How Many of the Top 10 Best-Selling Star Wars Games Have You Played?
I liked the Star Wars movies a lot as a kid. The video games, however, really hooked me to the franchise. As someone who always loved video games, the feeling of being in the Star Wars universe really came alive via games. From the movie adaptation games to the one-offs and cult classics, Star Wars games get a lot of love. Even the not-so-good ones are now fan favorites to revisit. A recently released list of the top 10 best-selling Star Wars games is out. How many of these top titles have you played before? The good news: if you missed any, most are still accessible on PC and via backwards compatibility. Let's talk about the list!
Here's the Top 10 Best-Selling Star Wars Games Since 1995
Image Credit: Lucasfilm Games/LucasArts
The NDP Group put out a new ranking of the top 10 best-selling Star Wars games since 1995 via their Executive Director Mat Piscatella. The full list goes as follows:
Star Wars: Battlefront (2015)
Star Wars Jedi: Fallen Order
Star Wars: Battlefront 2 (2017)
LEGO Star Wars: The Complete Saga
Star Wars: The Force Unleashed
Star Wars: Battlefront 2 (2005)
LEGO Star Wars II: The Original Trilogy
LEGO Star Wars
Star Wars: Battlefront (2004)
Star Wars: Shadow of the Empire
A few initial thoughts: is anyone surprised that Knights of the Old Republic didn't make the top 10? That's one of the reasons I think that the KOTOR remake confirmed to be underway at a non-EA studio might not be as groundbreaking as we all think. It's surely not as popular as the more recent games. As we can see, the newest original Star Wars games sit atop the list. It's also interesting to see three LEGO Star Wars titles included in the top 10. One day we'll get an update on that LEGO Star Wars: The Skywalker Saga game forthcoming.
Which Games on the Top 10 are Mandatory Must-Plays?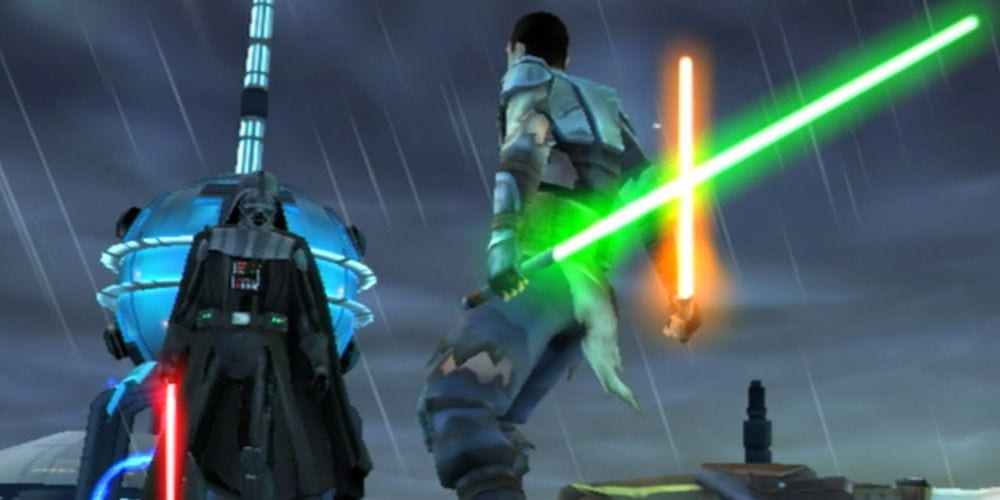 Image Credit: Lucasfilm Games/LucasArts
Let's say you've never played a Star Wars game that made the top 10 list. Where do you start? I think most of us can agree that LEGO Star Wars is a fun experience. That said, the series is not quite the authentic Star Wars experience I'd point people towards to begin this journey. Three games on this list fit the mandatory must-play criteria in my mind.
Firstly, Jedi Fallen Order is the single-player Star Wars experience we craved for years. It's an incredible journey that I hope we see expanded upon in the semi-confirmed Jedi Fallen Order sequel. Secondly, I sing the praises of Battlefront 2 as often as I can. What started as a huge mess of a project filled with pay-to-win mechanisms turned out to be a ton of fun. I still revisit the game at least once a week when I want to kill a few hours. Lastly, I'm proud to say that Star Wars: The Force Unleashed still holds up today. Via backwards compatibility on Xbox, I replayed the game last year. It isn't quite as dated as Shadow of the Empire, and plays wonderfully. Plus, it was an expansion of the Vader story that we all wanted before the expansive comics series.
Let us know which games on this top 10 you love or want to play! If you have a game you consider your favorite Star Wars game of all-time, then let us know in the comments! And again, shoutout to the NDP Group for putting this list together!
Featured Image Credit: Lucasfilm Games/LucasArts
Taylor is the Gaming Editor of Comic Years and a lifelong fan of video games. He holds two degrees in Political Communication and wrote a Master's Thesis on resistance movements, race, and the exploitation of college athletes. His wife and two Toy Australian Sheppards keep him sane.
Leave a comment