History Of Mario – Side Series Games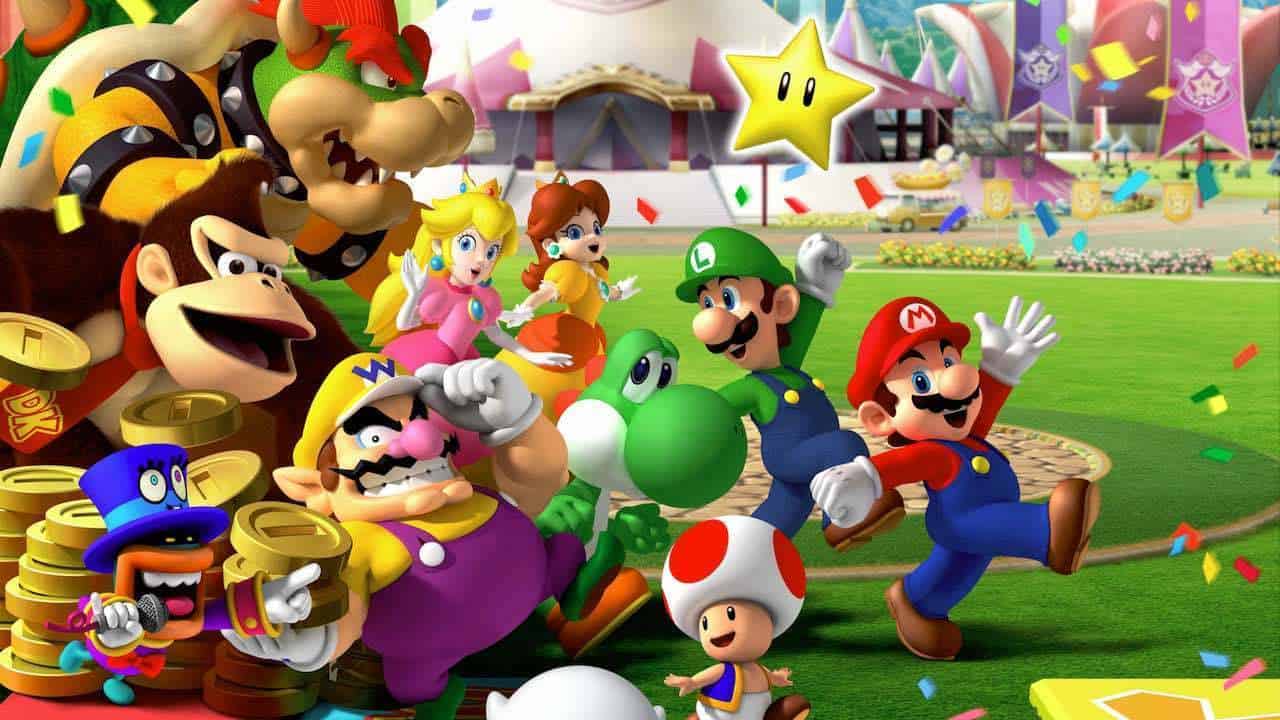 Mario is a busy dude. He's constantly fighting off Bowser, and his 7+ kids, as he defends the Mushroom Kingdom from evil. What about his other adventures? It's obvious that the mainline Mario games are a huge part of the iconic plumber. That being said, what happens in Mario's other adventures? The History of Mario is much deeper than just the Super Mario side scrollers and 3D epics. To really get to the heart of Mario's cultural impact, you have to dive into side series titles.
If you haven't had a chance to review our History of Super Mario piece, it's a great way to get to know Mario's origins. Not long after the first three Super Mario Bros. games, the mustachioed man and his Mushroom Kingdom friends started off on some side adventures. We'll break down Mario's adventures into puzzle games, racing games, role-playing games, party games, and sports games. Yes, Mario does have a few adventures outside of the Nintendo umbrella. In the words of Mario himself, let's a-go!
History of Mario – Puzzle Games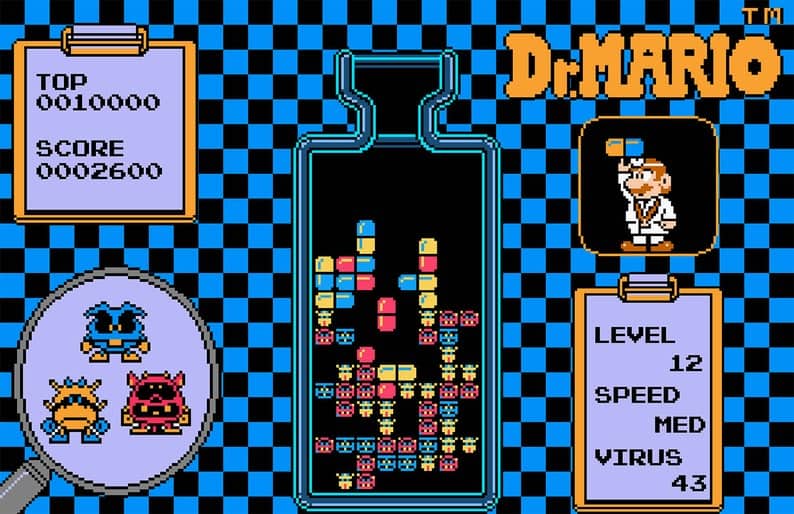 Image Credit: Nintendo
The Super Mario series itself is very puzzle-centric. Things like certain item boxes or enemies require a bit of creativity to traverse. Well, a natural follow up to the first few Super Mario Bros. games was a puzzle game. With the success of Tetris evident, the goal was to try and find a way to mend the two together: drop down puzzle solving and Mario. 
Dr. Mario
In 1990, Dr. Mario launched on the NES and Game Boy. With deadly viruses threatening the Kingdom, Mario throws on the head mirror and plays doctor. Falling colored pill capsules need to be matched in order to clear matching viruses. It was a huge hit, as were other Tetris clones. Dr. Mario 64 introduced Story, high score, and marathon game modes. The 2001 release also brought 4 player multiplayer. On the Nintendo DS, the DSi Ware service introduced Dr. Mario Express, followed by Dr. Mario Online Rx for the WiiWare shop in 2008. Most recently, Dr. Luigi released for the Wii U in 2013. Mobile users can also play a mobile version of the game, called Dr. Mario World, released in 2019. 
Mario Picross 
For those who look for a different kind of puzzle, Picross is very popular. Simply put, a grid of numbers hides the key to numeric puzzles in a variety of level-based challenges. Picross games often feature a number of Nintendo characters, including Link, and yes, Mario. Three titles of Mario-themed Picross released in the 1990s. The first two, Mario's Picross and Picross 2, came out for the Game Boy in 1995. The third, a Super Famicom exclusive to Japan, is called Mario's Super Picross. While these didn't garnish the following that Dr. Mario did, they still feature great gameplay and short bursts of action.
Mario vs. Donkey Kong
Mario vs. Donkey Kong is a series series centered on platform puzzles. Mario needs to find keys to rescue mini-Marios, often in toy form or robotic bodies. The first title, Mario vs. Donkey Kong released in 2004 for the Game Boy Advance, and serves as a spiritual successor to the original Donkey Kong. The plot is simple: Donkey Kong wants a Mario toy, so he steals a ton of them from the Toad Toy Factory. Mario chases Donkey Kong down to get the mini-Marios back in a number of puzzles. The following releases, March of the Minis! for the Nintendo DS in 2006, Minis March Again! in 2009 for the DSi, Mini-Land Mayhem! in 2010 for the DS, and Minis on the Move in 2013 for the 3DS, follow a similar plot and gameplay.
History of Mario –
Racing Games
Mario Kart deserves a ton of attention and adoration. The series single handedly introduced a new audience to gaming, and is still to this day one of the most played games around the world. Rather than dive into the series here, check out the History of Mario Kart piece on Comic Years!
For the purposes of this article, Mario Kart is the single largest non-mainline series featuring Mario. The game releases regularly for every Nintendo console, and gets better each time. While Dr. Mario and other releases have sold well, Mario Kart rivals the mainline Super Mario series in terms of popularity. 
History of Mario –
Role Playing Games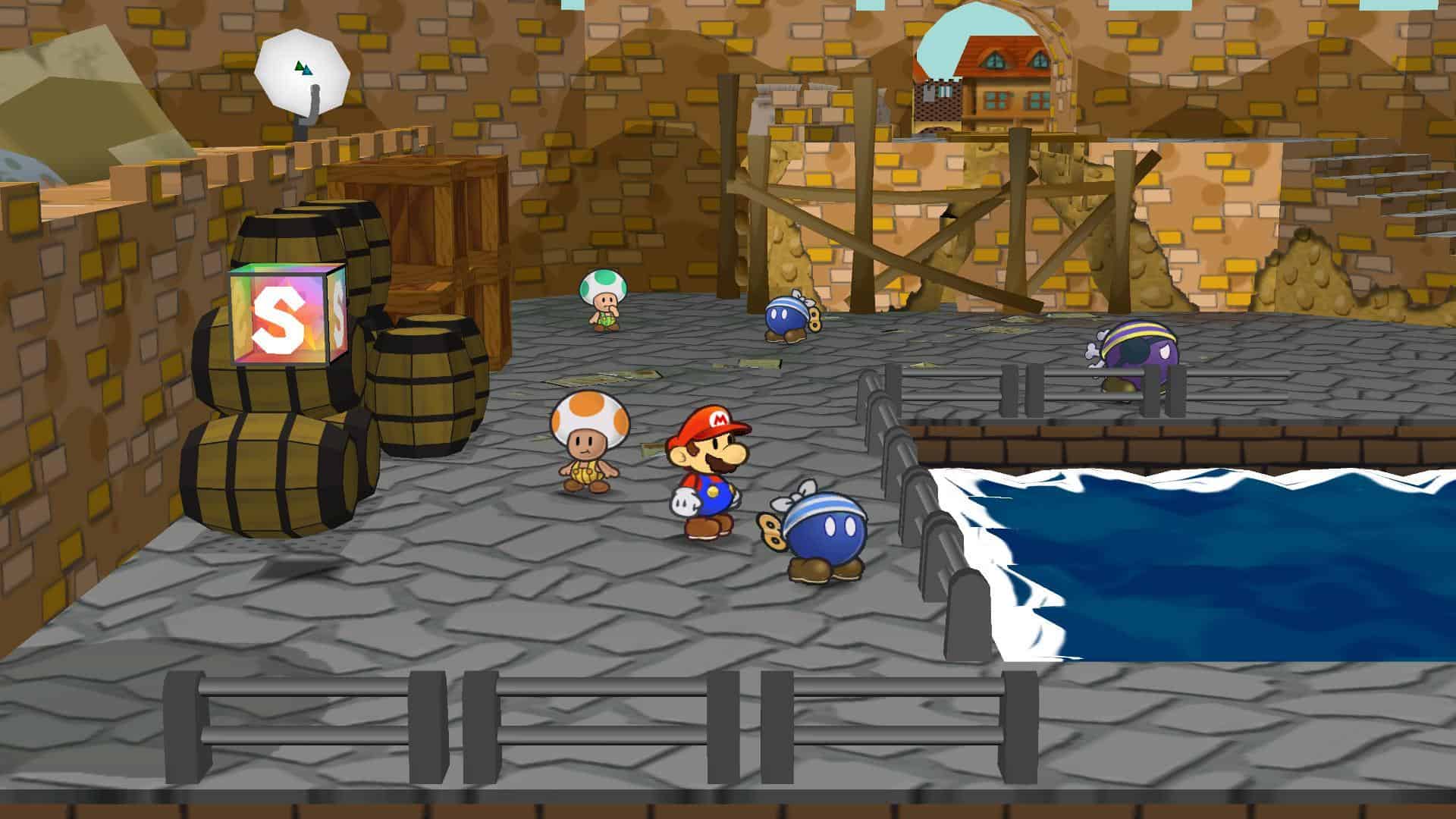 Image Credit: Nintendo
There are three main types of Mario role playing games. The first released, Super Mario RPG, stands alone in style and format. Next, the Paper Mario series has its own unique set of rules and gameplay. Lastly, the Mario and Luigi series is a more silly take on RPGs, featuring turn-based comment reliant on timing and power ups. To discuss, let's start with the very first role playing game Mario ever starred in: Super Mario RPG: Legend of the Seven Stars.
Super Mario RPG: Legend of the Seven Stars
It's 1996. Nintendo is all about Mario on its newest console, the Nintendo 64. Meanwhile, another game titan is killing it in the RPG world. Square Soft makes Final Fantasy titles, as well as other massive international hits like Dragon Quest, the Chrono series, and the Mana series. Well, Square works with Nintendo to create a Mario RPG. The game is essentially a Final Fantasy game in a Mario skin, and it's fantastic. Unfortunately, a sequel transformed into Paper Mario, and Square never developed another Mario RPG. For collectors and retro fans, however, Super Mario RPG is a must play.
Paper Mario
When a sequel to Super Mario RPG didn't work out, Nintendo turned to Intelligent Systems, makers of the Fire Emblem series. Desiring a more Mario style in terms of art and gameplay, 2001's Paper Mario for the Nintendo 64 was brighter, easier to play, and more light hearted. The game featured collectible items that could charge attacks. It was a great game, and only got better in the next title.
Paper Mario: The Thousand-Year Door released in 2004 for the Nintendo Gamecube. Considered the strongest Paper Mario game, The Thousand-Year Door featured an incredible story and amazing turn based combat. Next, the Wii game Super Paper Mario released in 2007, but had a weaker story and not too much to add. The 3DS game Paper Mario: Sticker Star released in 2012 and really upset a lot of Paper Mario fans. Attacks are only available via stickers, and the collection of the stickers is not necessarily easy. The Wii U game Paper Mario: Color Splash followed in 2016, and despite better visuals and the use of the Wii U Gamepad, fans and critics didn't love the experience. 
Mario and Luigi RPG Titles
The Mario and Luigi RPG titles are developed by AlphaDream, and is an exclusively handheld series. Of course, with the hybrid home-handheld style of the Switch, that could change in the future. In 2003, Superstar Saga released, and proved to be a more silly version of other Mario RPG titles, with an emphasis on funny dialogue and simple movement between battles and worlds. The game returned in a remaster in 2017 as Superstar Saga + Bowser's Minions for the Nintendo 3DS, adding a Minion Quest where you control Bowser instead of the Mario Bros. 2005 brought Partners in Time to the Nintendo DS, featuring the baby versions of Mario, Luigi, Toadsworth, Peach, and Bowser. 
2009 brings Bowser's Inside Story, also on the DS, taking place inside Bowser's body. Yeah, a weird turn of events to say the least. 2013's Dream Team takes place entirely in Luigi's dreams. As you can see, seriousness is not necessarily welcome to the Mario and Luigi RPG titles. In 2015, Paper Jam crossed over the Paper Mario world with Mario and Luigi RPGs, leading to the brothers from this series. 
History of Mario –
Party Games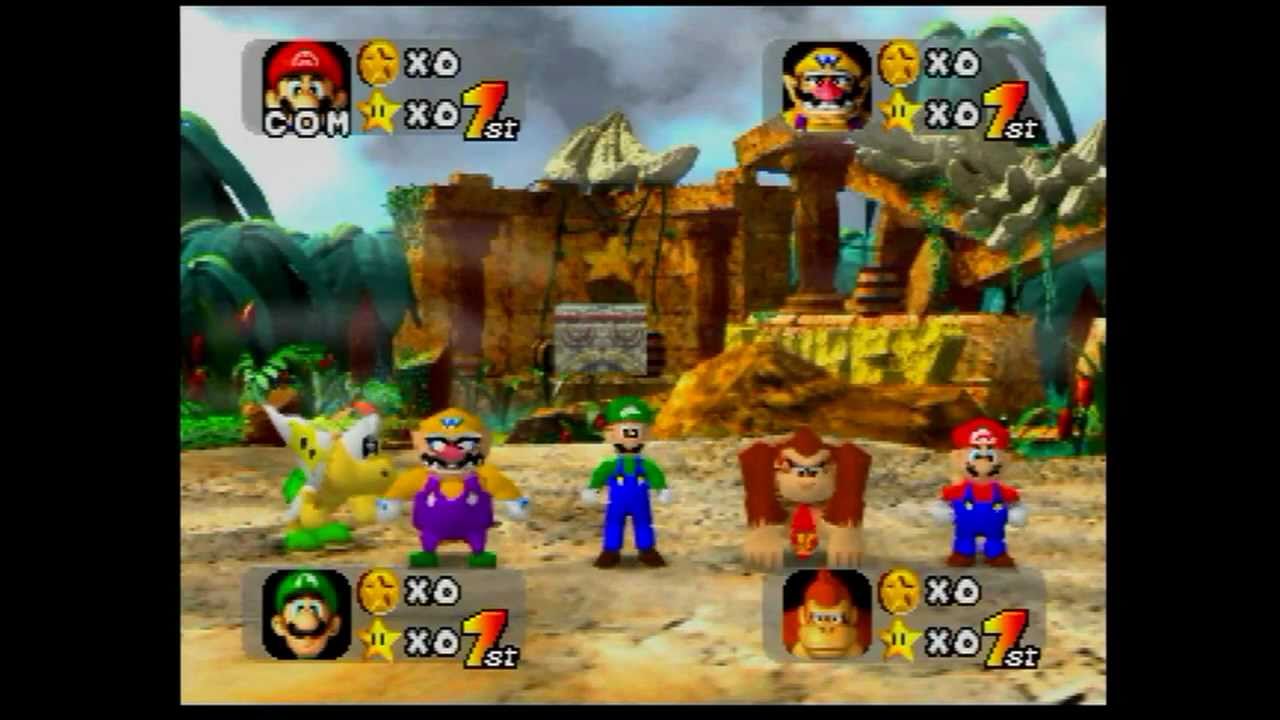 Image Credit: Nintendo
When it comes to Mario themed party games, do we even have to say what we're talking about? Mario Party, of course!
Mario Party
One of the best party games, Mario Party launched in 1999, featuring Mario, Luigi, Peach, DK, Yoshi, and Wario. Originally launching with 50 mini games, each match is like a board game at hyper speed. The first game featured 8 different boards, with Toad serving as the host of the game. Players could play against others, or hit a single player mode where you try and take on all 50 mini games. You get four lives, and hope to complete all 50 mini games. Other game modes allowed players to just play the mini games, forgoing the actual board game style presentation. 
From there on out, Mario Party became a staple for Nintendo. Next, Mario Party 2 released in 1999, with Mario Party 3 following in 2000. Following this, Mario Party 3 would be the last game to come to the Nintendo 64; next up was Mario Party 4 in 2001 for the Gamecube. The range of mini games increased each entry, dipping back down in Mario Party 5 for the Gamecube, released in 2002. In this game, DK would be left out of the character list, and not return for over a decade. 
The Decline of Mario Party
After Mario Party 5, the series starts to get quite questionable. Some even argue that the Gamecube transition marks the end of the "good" Mario Party games. Mario Party 6 released in 2005, with Mario Party 7 following in 2006. It's fair to say that releasing a Mario Party game every year was problematic. The bigger issue, however, is the stagnation in experience. More mini games came with 6 and 7, but nothing else had changed. Herein lies the issue with Mario Party; the board game style play is limited. They'd try to mix things up, and it did little good. 
Mario Party 8 was released in 2008 for the Wii, and other than motion controls, nothing really changed. Mario Party 9 in 2013 brought even fewer changes, and fans despised the new style of game's car mechanic. Instead of moving freely on your own, each character is riding in the same car. Why this was thought to be a helpful change is beyond fans and critics. Mario Party 10 for the Wii U in 2015 also featured the car mechanic, and got universal criticism. Super Mario Party for the Switch released in 2018, and despite ditching the car and adding more characters than ever, the experience is unchanged.
Handheld Mario Party
Mario Party also made its way to handheld consoles. The Game Boy Advance received Mario Party Advance in 2005, followed by Mario Party DS in 2007. Mario Party: Island Tour released in 2014 for the 3DS, again receiving criticism for the same bland presentation. Mario Party: Star Rush in 2017 added amiibo support, but not much else. Lastly, Mario Party: The 100 released for 3DS in 2017, compiling 100 mini games from all Mario Party games over the years. Thanks to the lack of a main game mode and limited additions, it's the poorest rated Mario Party game in the series' history. 
History of Mario –
Sports Games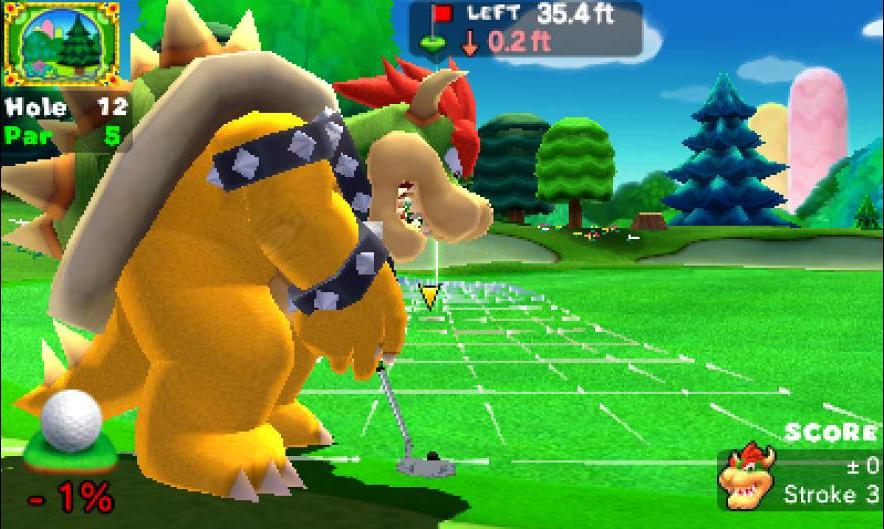 Image Credit: Nintendo
A number of sports games feature Mario and his pals. Let's break down which sports you can play with the Mushroom Kingdom squad. 
Mario Tennis
Mario Tennis dates back to Tennis on the NES and Game Boy. Go back and play those games, and the referee will look oddly familiar. In fact, it's Mario himself! Finally, Mario got his own tennis game on the Nintendo 64 in 2000, followed by a Game Boy Advance version in 2001. The game feature arcade style gameplay, and a great cast of Mario world characters. After that, Mario Power Tennis released for the Gamecube and Wii, using the better systems and their output for superior graphics to the Nintendo 64. Mario Tennis Open featured a full fledged world in which you could explore and train. Mario Tennis Ultra Smash for the Wii U dialed things back with simple matchmaking and tournaments. Most recently, Mario Tennis Aces features a story mode, online matchmaking, and tournaments in which you can earn new character skins and outfits. 
Mario Golf 
On the NES, Mario also made a cameo as the golfer in Golf. The character used Mario's likeness, donning the mustache and overalls combo. NES Open Tournament Golf later featured Mario and Luigi themselves, with Peach and Daisy as caddies. Mario Golf on the Nintendo 64 took things to the next level, with great arcade golf gameplay. Mario Golf: Toadstool Tour took things up a notch on the Gamecube, and Mario Golf Advance pushed the experience to handheld. Most recently, Mario Golf: World Tour brought the experience to the 3DS, featuring a club house, items to upgrade your character, and the ability to golf as your Mii avatar. 
Mario Baseball
There haven't been many games where Mario and his friends take to the baseball diamond. That being said, Baseball for the Game Boy did feature Mario and Luigi as team captains. On the Gamecube, Mario Superstar Baseball added fun power ups to the traditional baseball experience. A lot of characters could be chosen for your team, adding to the fun. Next, Mario Super Sluggers on the Wii added better graphics, more baseball stadiums, and a season style mode that allowed you to play against a slew of teams for the best record in Mushroom Kingdom. 
Mario Soccer
Soccer is a featured mini game in Mario Party 4. From there, Mario Strikers debuted on the GameCube, featuring fun power-up filled soccer action. Later on, the game being a major hit, also got ported to the Wii for a wider audience. Among the Mario sports games, this is probably the most in-demand title for the Switch currently. 
Mario at the Olympics
Mario and his friends partner with Sonic and his friends in a lot of Olympic style sports games. Often coinciding with the actual Olympics, Mario and Sonic at the Olympics is a long running series developed by Sega. The first entry came in 2008 for the Wii, followed by 2009's Olympic Winter games, and the 2012 London Olympic Games title for the 3DS. In 2013, a sequel called Sochi 2014 Olympic Winter Games released for the WII U, followed by the Rio 2016 Olympic Winter Games for Wii U and 3DS in 2016. A new sequel, Mario and Sonic at the Olympic Games Tokyo 2020 is set to come out November of 2019. 
History of Mario –
Long Term Impact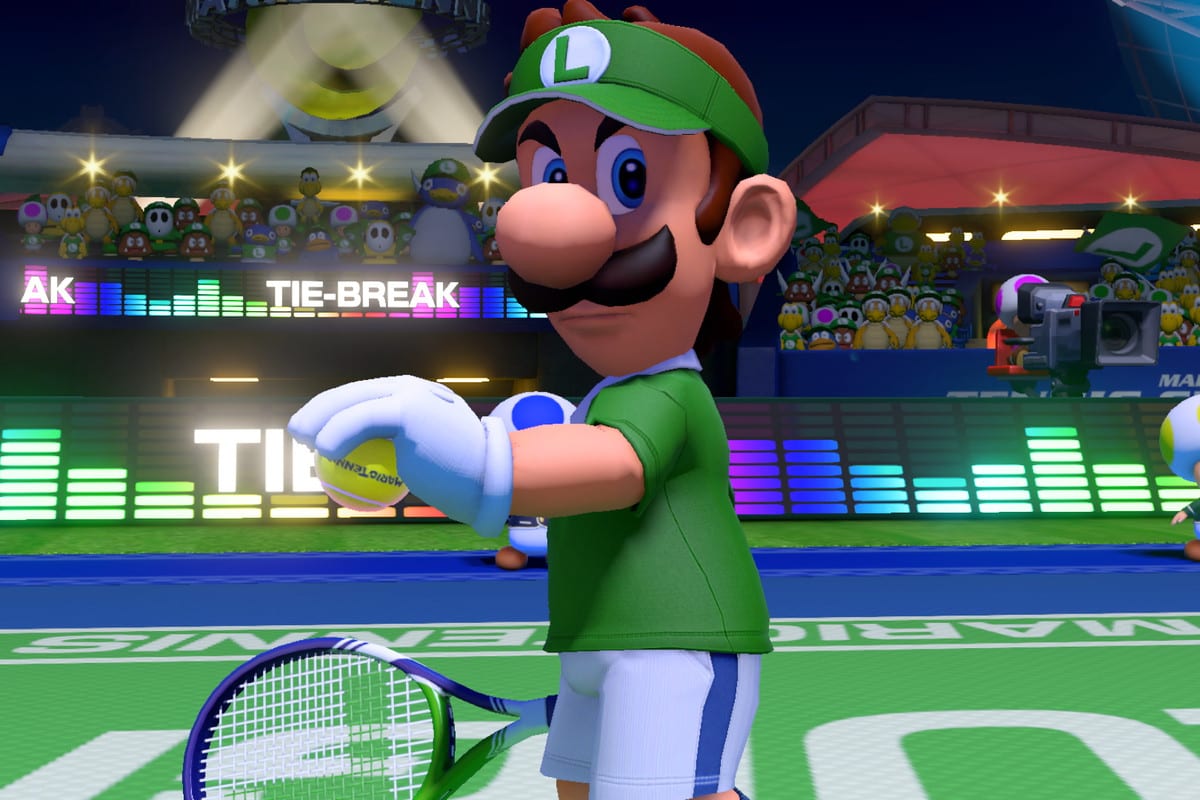 Image Credit: Nintendo
Without a doubt, Mario is the most recognizable character in all of video games. Between the Super Mario series and these side series games, Mario has done it all. Notably, even non-Nintendo games feature Mario. For example, EA got the rights to Mario, Luigi, and Princess Peach for NBA Street Vol. 3 and SSX 3 in the Gamecube days. Likewise, Ubisoft's Mario + Rabbids Kingdom Battle seemed cringeworthy after its announcement. In actuality, the game is a great XCOM clone, featuring turn by turn strategic combat. Overall, the greatest parts of Mario games, for most, are the fun you have while playing them. If you love a good time, then you love what Mario brings.
Mario is an icon, and even recent releases continue to boost his influence in pop culture. Hopefully you enjoyed learning more about the history of Mario side series games. We're asking you, is there another History Of piece you'd like to see? Let us know in the comments! As always, keep reading Comic Years for everything gaming, comic books, and pop culture.
Featured image via Nintendo
Taylor is the Gaming Editor of Comic Years and a lifelong fan of video games. He holds two degrees in Political Communication and wrote a Master's Thesis on resistance movements, race, and the exploitation of college athletes. His wife and two Toy Australian Sheppards keep him sane.
Leave a comment