Guitar Hero 15th Anniversary – Remembering a Cultural Phenomenon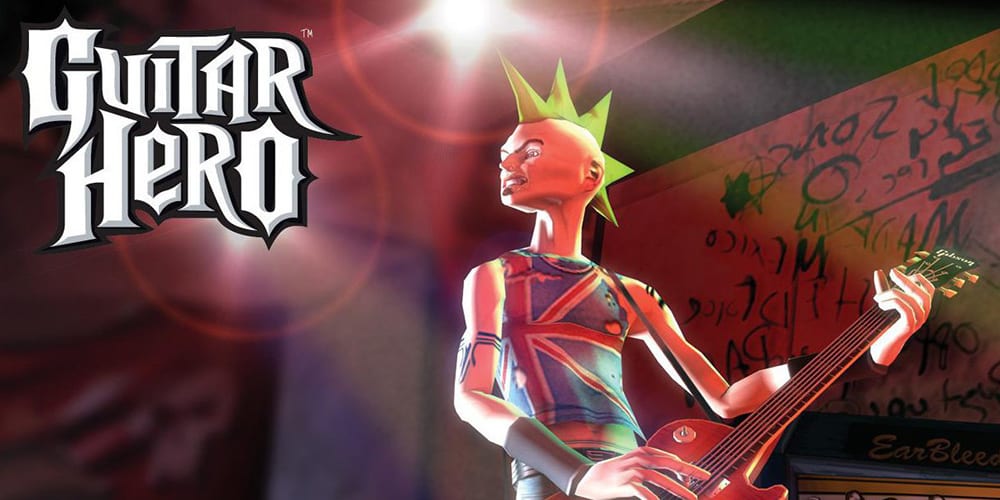 Yesterday, November 8, Guitar Hero turned 15. Obviously, our minds in the U.S. occupied topics and news outside of rhythm-based video games. Still, let's give the game its due. It's hard to argue that any music-based game other than Guitar Hero influenced more people. Hell, forget people; this game influenced culture. Just a few years ago, you could find the game at bars taking the place of karaoke. It's in arcades still in places that, well, still have arcades. The successor to the game, Rock Band, is still adding new songs and offering next-gen console support. It all started in 2005 and owes quite a bit to another music game many never heard of in the West. Let's take a look back at this iconic game for the Guitar Hero 15th Anniversary.
Guitar Hero 15th Anniversary – How the Popular Game Came to Be
Image Credit: Activision
In Japan, Guitar Hero didn't seem like that revolutionary of a concept. That's because Konami already mastered the guitar video game with its arcade title, Guitar Freaks. With no plans to come to the West, Rob Kay, lead designer of Guitar Hero chose to look to developer Harmonix to work on an American version of the guitar arcade experience. Rather than work towards an arcade game, Harmonix would focus on an at-home experience much like their other games Amplitude and Karaoke Revolution. The budget of $1 million was quite small and Harmonix had little hope after getting passed on by Microsoft on a recent project.
Once the controller came together, the challenge of picking music proved to be quite tough to pinpoint. The licensing was important and crucial; you essentially have to get the rights to a song to use it in a game like this. The goal was to focus on guitar-driven tracks, obviously. Older, classic rock songs would make the bulk of tracklist. At this point, however, many songs wouldn't clear their licensing. An example is the heavily popular "Iron Man" by Black Sabbath. Instead of getting the rights to the song, WaveGroup Sound would record covers and credits to Sabbath would display on the game with "as made famous by" to give credit.
An Immediate Impact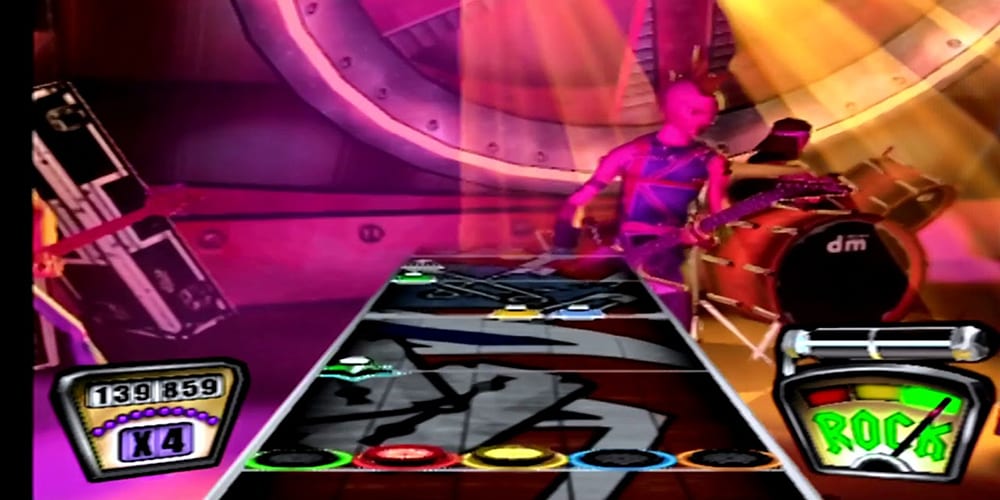 Image Credit: Activision
Reviews for Guitar Hero immediately praised the game's design and gameplay. From more modern groups like Sum 41 to classics from Pantera and Cream, the 47-song setlist offered something for everyone. With five buttons and four difficulty levels, the game could easily turn anyone into a rockstar. Tilting the guitar up triggered Star Power, which helped earn the player bonus points and, let's be honest, feel pretty damn cool. Looking back for the Guitar Hero 15th anniversary, this game seems like a complete revelation. People love music and general gaming audiences love a gimmick. The Wii reached millions (read our history post to see how) with its motion controls. Likewise, Guitar Hero reached millions with familiar songs and an easy-to-use peripheral.
Follow-ups in the series added more songs and better guitar controllers. Eventually, Harmonix would develop Rock Band for EA which featured other instruments. There would be returns to the original series, but the lasting impact matters more than what name graces the cover. The simplicity of the guitar controller spread to a bass, drums, and microphone. Personally, fond memories of all of these games are some of the most formative gaming experiences I had in the 2000s. I soaked up all of them from mainline games to the Metallica and Aerosmith variants.
While a relaunch of the games seems unlikely, next-gen support for Rock Band peripherals hint that something might still come. Let's hope for the best, and until then, give this classic game its dues. Happy 15th anniversary, Guitar Hero!
Image Credit: Activision
Taylor is the Gaming Editor of Comic Years and a lifelong fan of video games. He holds two degrees in Political Communication and wrote a Master's Thesis on resistance movements, race, and the exploitation of college athletes. His wife and two Toy Australian Sheppards keep him sane.
Leave a comment