Games Based On Comics You Forgot About
There are a lot of video games based on comics. It's a pretty easy connection to make. People who love reading about heroes taking on tons and tons of bad guys. They even most likely want to get in on the action themselves. While watching a TV show or movie based on comic books is fun, it's way more enjoyable to save the day yourself. Recent trailers and gameplay clips from Square Enix's Avengers game, and the recent Marvel Ultimate Alliance game for the Nintendo Switch, reignited a fire inside me. I love games based on my favorite heroes. Then, I realized something: there are a ton of comic book video games I had forgotten about. To make sure you don't do the same, let's talk about some games based on comics that will take you back down memory lane. 
Games Based on Comics Worth Revisiting – Recent Titles
The Punisher (2004 – PS2, Xbox, and PC)
THQ put out a ton of action titles in the 2000s, and for the most part, they were a lot of fun. I remember playing The Punisher having never heard of the hero before the game or the movie that released the same year. As a tie-in, the game features Thomas Jane as Frank Castle, and literally kicks off with you fighting a gang of Yakuza thugs from the first minute you have control. I'll be honest, the game also scared me a bit because I was somewhat young at the time, and suddenly I'm torturing bad guys and getting into bloody brawls like I've never seen before.
For a game marketed towards The Punisher franchise, it certainly holds up in terms of crazy amounts of violence. Maybe we'll see another Punisher game one day down the line, but for now, this one is all the right parts of a violent, mid 2000s video game to get your nostalgia going.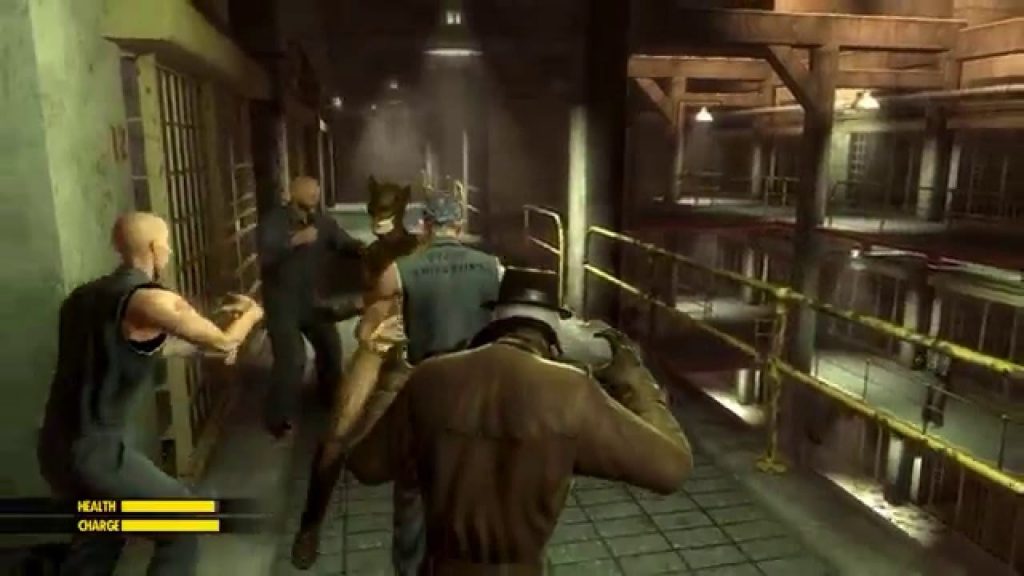 Image Credit: Warner Bros. Interactive Entertainment
Watchmen: The End is Nigh (2009 –  Microsoft Windows, PlayStation Network, and Xbox Live Arcade) 
Watchmen: The End is Nigh released in episodes, much like an actual comic. The game came at a time where Watchmen popularity was at its height. With a full featured film recently released and a new run of comics in the works, it was great timing. Single player and multiplayer options allow you to control either Night Hawk or Rorschach. Each of the six episodes feel true to the tone and feel of the original Watchmen story. Patrick Wilson and Jackie Earle Haley even offered their voice work for the game, although its storyline followed a new story. Xbox 360 and PS3 owners got a physical copy of the complete collection of "episodes" later in 2009 after the digital launch. 
Deadpool (2013 – Microsoft Windows, PlayStation 3 and Xbox 360)
The next entry I want to mention is a favorite of mine. It's one of the games that very much captured the essence of its source material. The beat them up style action game can sometimes feel stale, but being the Merc with the Mouth helps. As Deadpool, even a basic action fighting game suddenly becomes a blast and a half. The quippy style of Deadpool is true to form in this 2013 game, going so far to truly dig deep into the fourth wall breaking style of the comics. The game starts with Deadpool pitching a video game about himself, which is about as meta as you can get. Strangely, Deadpool the video game resulted in a very expensive bill. The game ran up a development bill of $100 million. Newer ports for PS4 and Xbox One are available, making it pretty easy to play this one!
Games Based on Comics Worth Revisiting – Retro Titles
The Incredible Hulk (1996 – PlayStation, Sega Saturn and MS-DOS)
Something really cool happen with 1996's The Incredible Hulk. The game, developed by Attention to Detail and published by Eidios made a video game tie-in, but not to any movie or TV show. A popular run of Hulk comics in which the not so jolly green giant crosses paths with the Pantheon gave this game its source material. Now, if you look up reviews of the game, it's nothing worth raving over in terms of gameplay. That being said, it was a vital moment in gaming history. Eidios, coming off Tomb Raider success, was given a chance at a major character in Hulk. By enlisting the likes of Piecemeal, Trauma, Lazarus, the U-Foes and the Maestro, the game's clunky gameplay was the first real taste of a true-to-the-comics gaming experience. 
Image Credit: Acclaim Entertainment
Spider-Man and Venom: Maximum Carnage (1994 –  Super Nintendo Entertainment System and Mega Drive/Genesis)
Last but not least, a lot of kids growing up in the 90s knew this game from its noteworthy cartridge. In spirit of the titular Carnage, the SNES cartridge for this game is bright red. It makes it easy to find now in discount retro bins. The game found Spider-Man and Venom taking on the red menace and his crew of bad guys in side-scrolling action. The game embodied things like Double Dragon and Final Fight. Plus, the Spider-Man characters involved in this title make it that much more enjoyable. Now, it's funny to go back and play this after Sony's Spider-Man hit for the PS4. Nevertheless, we worked with what we had in the 90s! Not to mention, the SNES controller worked wonderfully. It's likely one of thebest gaming controllers of all time.
Why We Love Games Based on Comics
Image Credit: Square Enix
If you think about it, then there are a ton of great video games based on comics. It's because one medium translates so well to the next. The experience is similar to the way that games like Mass Effect find footing in the comic book world. It's a vital way for two artforms to interact. With the Avengers game on the way from Square Enix, it's exciting to see the tradition continue.
Featured Image Credit: THQ
Taylor is the Gaming Editor of Comic Years and a lifelong fan of video games. He holds two degrees in Political Communication and wrote a Master's Thesis on resistance movements, race, and the exploitation of college athletes. His wife and two Toy Australian Sheppards keep him sane.
Leave a comment