Forza Motorsport Release Date Revealed 
Rev up your engines and mark your calendars, folks, because we've got some exciting news for all you racing game enthusiasts out there! Sources close to eXputer have spilled the beans about this next racing game. Recently, they confirmed the Forza Motorsport release date. It's the eighth installment in the beloved Forza franchise and will hit the gaming scene on October 10th.
Now, you might be wondering how reliable this information is. Well, let me tell you, this rumor comes straight from the horse's mouth. During the Rand al Thor podcast live, the man himself confirmed the October release date. He even mentioned that he's been aware of it for quite some time. So, get ready to buckle up and experience the thrill of high-speed racing like never before!
Originally, the studio officially announced Forza Motorsport back in 2020. Ever since then, fans of the franchise have been eagerly awaiting its arrival. And the best part? It's going to be available on day one on Xbox Game Pass for both Xbox Series X|S and PC. That means you won't have to wait a single second longer to dive into the heart-pounding action.
Now, let's talk a bit about what makes Forza Motorsport so special. This installment is not just another addition to the car racing franchise. It's a complete reboot designed to take the franchise to new heights. With cutting-edge graphics, realistic physics, and an extensive lineup of meticulously recreated cars, Forza Motorsport promises to deliver the ultimate racing experience. So, we can't wait for the Forza Motorsport release date to come around!
When is the Forza Motorsport release date?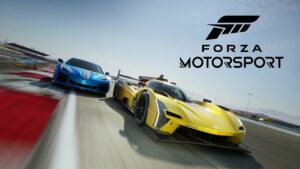 Image: Turn 10 Studios
Whether you're a casual gamer who enjoys a quick race every now and then or a hardcore racing enthusiast seeking the most authentic simulation possible, Forza Motorsport has got you covered. The game offers a wide range of customizable options, allowing you to fine-tune every aspect of your vehicle to suit your racing style. From engine modifications to tire pressure adjustments, you'll have full control over your racing destiny.
And let's not forget about the tracks. Forza Motorsport will feature a variety of meticulously crafted circuits, both real-world and fictional, spanning different locations around the globe. So, whether you prefer the tight corners of a city circuit or the sweeping curves of a countryside racetrack, there's something for everyone. 
With all these incredible features packed into one game, it's no wonder that fans are eagerly counting down the days until its release. And with the added bonus of being available on Xbox Game Pass, there's no excuse not to jump in and experience the thrill of the game firsthand. The Forza Motorsport release date is just around the corner!
So, make sure to mark October 10th on your calendar, folks, because that's when Forza Motorsport will be hitting the streets. Get ready to rev your engines, test your skills against the best, and leave your opponents in the dust. The countdown has begun, and the finish line is in sight. See you on the racetrack!
Hi! I'm Arvyn, and I'm an English teacher from the UK. I've been teaching English online for over 4 years to students from all across the world and all ages. Outside of work, I'm a huge fan of reading, video games, and playing with my adorable kitties. See ya!
Leave a comment