Dungeons & Dragons Dark Alliance Review
When I was a kid, I had no clue what Dungeons & Dragons was. What I did know is that I loved 2001's Baldur's Gate: Dark Alliance. Without any knowledge of the role-playing powerhouse, I tore through the game and its sequel. The more action-oriented games fit my personal preference for games at the time. To this day, I still love games that evoke similar experiences in gameplay and environment. There's an art to the hack-and-slash genre that can either go very well or reveal major flaws. Unfortunately, flaws take center stage in the newest release in the series. A reboot of the franchise leads us to this Dungeons & Dragons Dark Alliance review for a game that's imperfect but not without its symphonious moments.
Dark But Not Doomed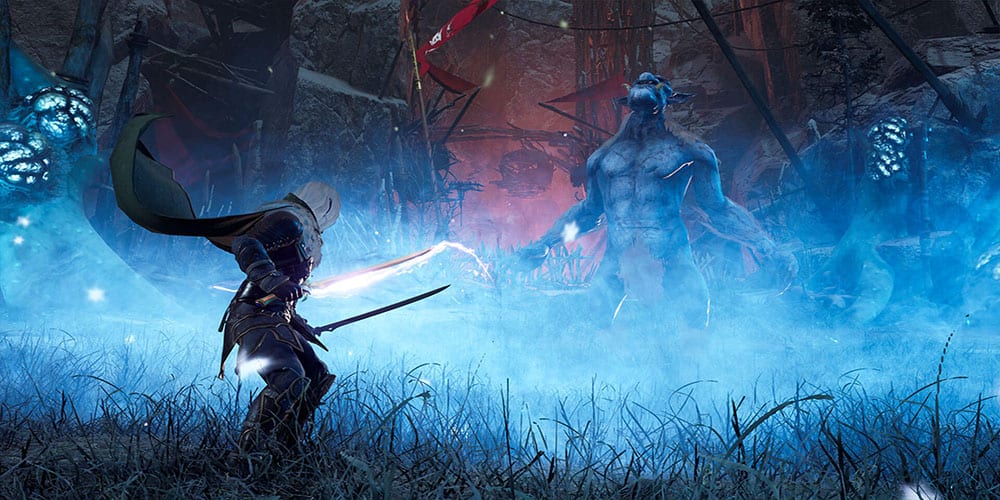 Image Credit: Wizards of the Coast
You don't need a dice set to enjoy Dungeons & Dragons Dark Alliance. The game's rich D&D lore is certainly a bonus. In short, the game focuses on four-player co-op and hack-and-slash combat. The great thing about the simplicity of the gameplay is that it's easy to learn. Now, here's the bad news: the game offers very little outside of its first 30 minutes in terms of new experiences, content, or strategies for combat. That's the real tale of the tape for Dark Alliance: there's not much here to dig your teeth into. Even worse, what is here feels incredibly clunky and features tons of gameplay bugs.
Controlling your character feels unnatural and unnecessarily difficult. In our Dark Alliance Game Preview, I talked about craving that same classic Dark Alliance experience on next-gen consoles. While the game looks fine in terms of modern graphics, it plays more rigidly than some PS3 and Xbox 360 titles. There's something here to enjoy if you're craving this sort of experience. D&D fans might even overlook the bugs and headaches to simply engage with the classic lineup of characters central to the game. Overall, you can play through Dark Alliance without pulling out all of your hair. It's just not going to be something that offers you much in terms of valuable gaming.
With the recent Baldur's Gate: Dark Alliance Re-Release readily available, fans of the series would be much better off heading back to the classics than trying this new one. I'd likely recommend a similar path for those who were intrigued by the new game's cinematic trailers and promotion. It's not the worst game you'll play all year, but its limitations are reflected in our review score.
Dungeons & Dragons Dark Alliance Review Score
Image Credit: Wizards of the Coast
I rate games on a scale of 1-10; Dungeons & Dragons Dark Alliance is a 5. Time spent playing the game solo felt incredibly hollow. Co-op gameplay is a bit more fun, but the game's own limited combat offerings really hold this game back. In the Dynasty Warriors franchise, you're just mowing down opponents hitting button-mashing combos. Compared to the slower, more inflexible combat in Dark Alliance, those games feel like masterpieces. I want to love this game but it's purely a matter of fun. I don't have fun playing this game, and I'm far from a snob when it comes to needing a game to be flawless to enjoy it.
Unfortunately, other reviews for this game were right. This is not worth your time or money in its current state. If you're incredibly curious and have Xbox Game Pass, then try out the title on that service. It won't cost you anything but a few hours to arrive at the same conclusion a lot of others, including myself, warned you about. There's a chance that updates and patches improve things, but I wouldn't hold your breath. There are worse things to spend a few hours playing, but anyone who values their time will likely set this one aside until things improve. Or, you know, go play the classic titles.
Dungeons & Dragons Dark Alliance is available now for PS4|PS5, Xbox Series X|S and One, and PC. If you've played the game, then drop your own three-sentence spoiler-free review in the comments.
Featured Image Credit: Wizards of the Coast
Taylor is the Gaming Editor of Comic Years and a lifelong fan of video games. He holds two degrees in Political Communication and wrote a Master's Thesis on resistance movements, race, and the exploitation of college athletes. His wife and two Toy Australian Sheppards keep him sane.
Leave a comment