Disney Lorcana Game Release Date Revealed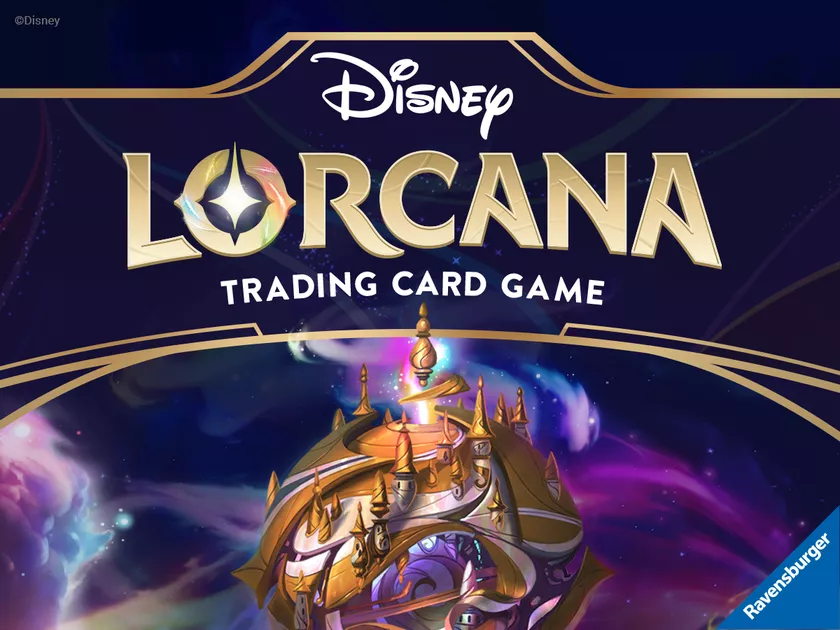 If you're a fan of Disney or card games, you'll probably know about the upcoming Disney Lorcana game. Ravensburger is creating it; today, they officially announced when it's coming. They'll release the first segment, titled Disney Lorcana: The First Chapter, in August 2023. Initially, it will be exclusively in the United States, United Kingdom, Canada, Germany, and France. The official release date is August 18th for local game stores. From September 1st, you can pick up the game from retail stores. Additionally, if you're attending Gen Con 2023, you can get some products from there.
One co-designer for the Disney Lorcana game, Ryan Miller, revealed some extra information about the title's release. Here's what he said:
"Players and the community is absolutely the most important component of a TCG. We are partnering with hobby and game stores to host our organized play programs as they bring people together to learn, play and trade and help welcome new players to the game.

We also want to make sure that hobby stores know how much we value them. As someone who has worked at a retail hobby store and run 100s of tournaments, I know firsthand how much effort, time and care goes into running in-store events."

Clearly, Disney and Ravensburger wanted to let hobby stores know how much the brands appreciate them by giving them a chance to sell the games first. 
Disney Lorcana Game Release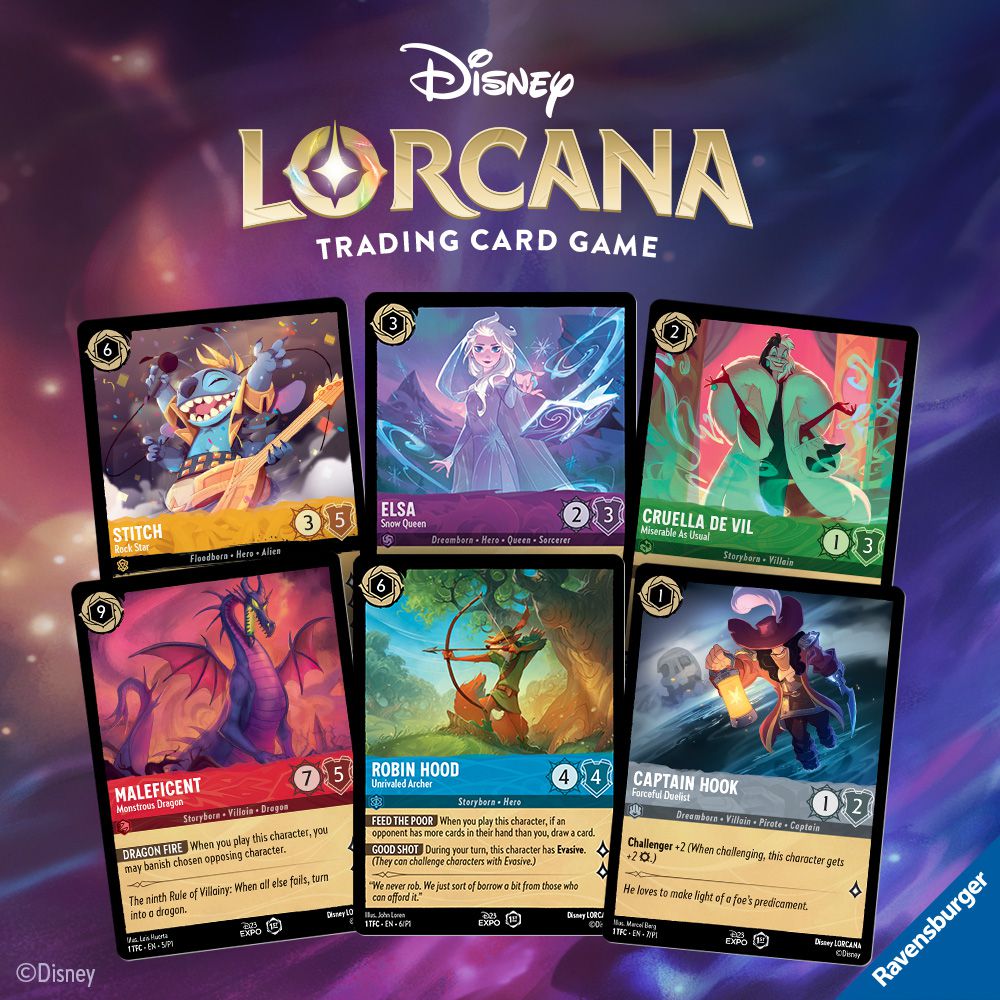 Image: Disney/Ravensburger
Currently, we know a few details about the Disney Lorcana game's launch, including what we'll get first. You can purchase over 2000 game cards at release, including starter packs, boosters cards, gift sets, and collectable sets. 
Initially, there will be three Starter packs to choose from, although we can expect more in the coming months and years. Each pack will have 60 specific cards, forming two of the six "inks." These pairs will be Steel and Sapphire, Amber and Amethyst, or Emerald and Ruby. If you've played other card games, like Magic: The Gathering, these inks are like the different colours in this game. Additionally, there'll also be 12 completely random cards in the starter packs. One of these will be a foil card, and two other cards will have some rarity: legendary, super rare, or rare.
Also, there's the collectable set titled "The Illumineer's Trove." When Disney releases this set, it'll be the biggest one available. It'll have eight booster sets, two deck boxes, a special storage box, and a player's guide. If you'd rather get the Disney Lorcana game gift set, this one includes two regular foil cards, two large foil cards, game tokens, and four booster sets. You'll also get Hades and Mulan in the pack.
Ravensburger Card Games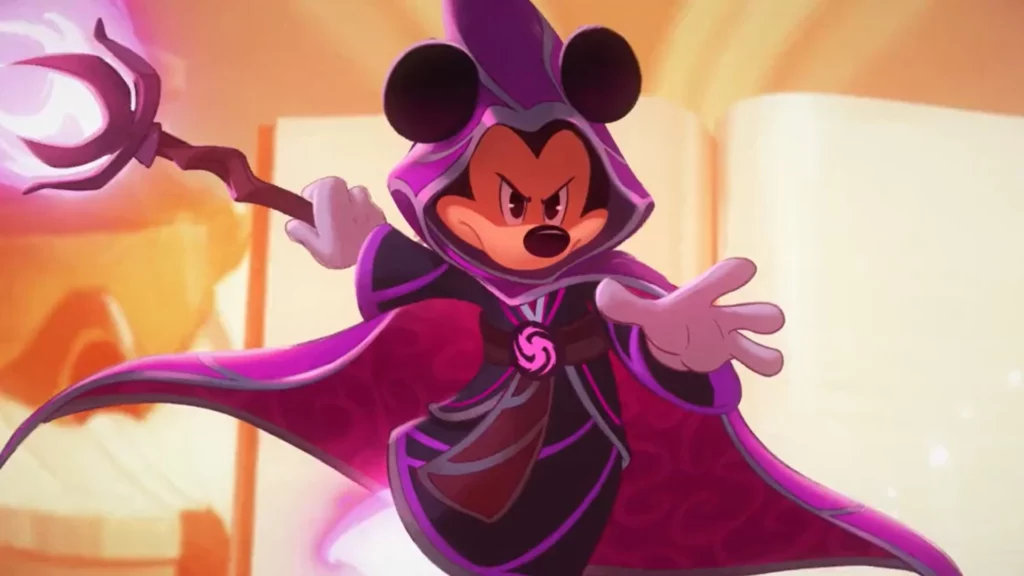 Image: Disney/Ravensburger
Ryan Miller also spoke about the creative process behind the Disney Lorcana game:
"We have put together a robust line of fun and exciting products for the first set of Disney Lorcana. Having a variety of products let's players engage at whatever level they would like to – be it pick up a starter set to get a taste of each ink color's gameplay and style or snag an Illumineer's Trove to experience as much of the game as possible. Also, we also want to show that we are serious and that we are here to stay."
Currently, we know that you can play the game in English, German, and French at launch. Ravensburger also announced they intend to release four new sets each year. If that wasn't enough, each set would be part of an unknown, ongoing storyline. We're not sure what this will include, but it will be exciting! As such, we can expect at least three more sets between The First Chapter and December 2023.
We also know about some of the characters in the Disney Lorcana game. At the moment, Ravensburger only focuses on Disney characters like Mickey Mouse, Cinderella, and Robin Hood. It's possible we'll get cards from other Disney franchises, like Marvel card games, Star Wars, and Pixar, later. However, Ravensburger hasn't confirmed this yet.
Hi! I'm Arvyn, and I'm an English teacher from the UK. I've been teaching English online for over 4 years to students from all across the world and all ages. Outside of work, I'm a huge fan of reading, video games, and playing with my adorable kitties. See ya!
Leave a comment