Disintegration Review – A Fresh Take On Strategy Shooters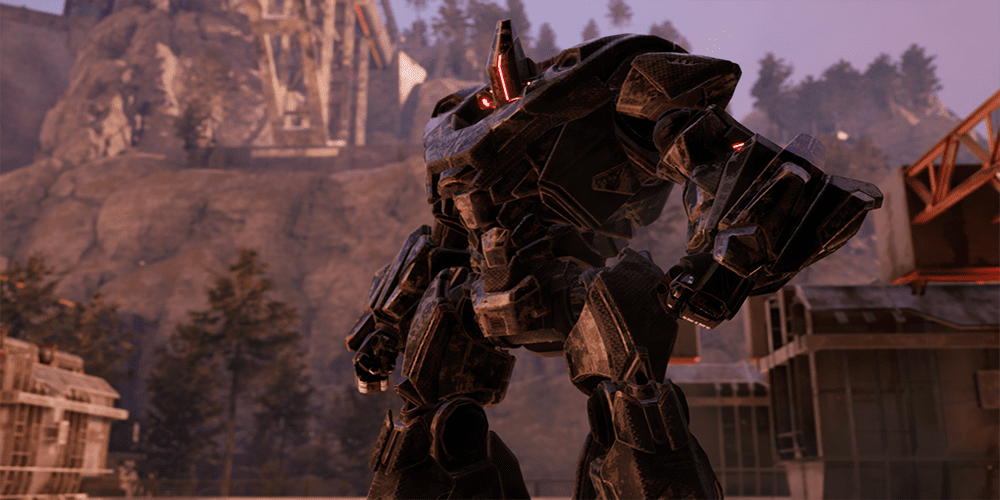 There are a lot of things I find stale in real-time strategy (RTS) gaming right now. I find myself a bit overwhelmed by the massive arsenal of actions some games offer. On the other hand, if a game offers too little to do, I grow bored pretty quickly. When it comes to an RTS game, I want to be in the action with easy control over my party. For the most part, my happy medium is here in Disintegration. Other than a few elements to gameplay I'd love to see tweaked, the game offers a lot to love. Let's dive into a Disintegration review and talk about this new title from V1 Interactive.
Disintegration Review
Image Credit: V1 Interactive
We're going to get something out of the way. I'm not going to go full soapbox on this one, but it needs to be said. V1 Interactive was founded by a co-creator of Halo (click here for more Halo history). That fact is noteworthy but completely irrelevant to Disintegration. I've been frustrated in how many people, particularly reviewers, feel the need to mention this over and over again in coverage of the game. That's wonderful that Marcus Lehto has an illustrious resume, but it can't become the focus of current projects. It's a pitfall to compare past works to new endeavors, and journalists fall into it all the time. So, there you have it. With Lehto's work on Halo aside, V1 Interactive is the independent studio behind Disintegration. That's why we're here, isn't it?
Story and Aesthetics
Image Credit: V1 Interactive
Disintegration takes place in a world where human brains integrate into robot bodies. This process offers a solution to growing pandemics like severe weather, viruses, and war. Eerily poignant at this point in time, huh? Obviously, some people might not want to take part in this experiment. Unfortunately, if you push back, a major military corporation will find you and integrate you. Essentially, you end up forced into a robot's body and thrown in prison camps. While the plot of a band of integrated robots fighting back isn't terribly original, it does make for a good narrative.
I found little I didn't like about the story. Voice actors and visuals made the game feel like a solid AAA title. There's nothing mindblowing here, but I don't need everything I play to be GOTY material. One thing immediately evident is the lack of diversity in environments. It's not to say they don't look good, but they do repeat the canyon to battle station pattern over and over. That said, it didn't ruin my experience, rather just left me focusing on the task at hand. Give me a fine story, a working game engine, and good gameplay and I'm happy. Luckily, we get all of these things to save for a few frustrating elements to combat.
Gameplay and A Few Frustrating Features
Image Credit: V1 Interactive
You guide your band of robot resistors in a vehicle known as a gravcycle. From this mini-Starfighter type hovercraft, you guide your companions in tactical combat against enemies. Unfortunately, it's incredibly tough to manage the zoom of your vehicle's weapon, and a lot of times you lose your team from either being too far away or too close. It's frustrating, and while you get used to it a bit, you shouldn't have to at all. Still, maneuvering around in a mech-like contraption and ordering members of your party is satisfying.
Each ally has a special attack you can choose to use. They all have cooldown times, as do your special abilities. While you don't necessarily need to be an RTS veteran to master this game, it does require some strategy. Most battles take a good amount of time even when there isn't a boss. This leaves you to choose where to attack first and how to move through the enemies. It's the perfect level of strategy for those who aren't great at RTS games. Similarly, the combat in which you engage is pretty bare-bones, which I think is actually good. The focus is more on maneuvering your team, and while you're helping, your role is to control, not dominate.
Disintegration Review Score
Image Credit: V1 Interactive
I review my games on a scale of 1-10; Disintegration is a solid 7. This title reminds me of a lot of those futuristic shooters that seemed very popular in the mid-2000s. I liked my time playing the title, even despite repeat environments and camera and control issues. There are good things in this game, especially if you just want a lite-strategy title where you can shoot robots. I find it satisfying and the story gets better as you play too. For those reasons, I think Disintegration is a great pick-up for those who enjoy the sci-fi shooter and real-time simulation genres. Plus, it's only $50; $10 less than most new releases.
Disintegration launches digitally today for PlayStation4, Xbox One, and PC (via Steam) for $49.99
A digital review copy of Disintegration was provided by V1 Interactive for the purposes of this review.
Featured Image Credit: V1 Interactive
Taylor is the Gaming Editor of Comic Years and a lifelong fan of video games. He holds two degrees in Political Communication and wrote a Master's Thesis on resistance movements, race, and the exploitation of college athletes. His wife and two Toy Australian Sheppards keep him sane.
Leave a comment