Diablo 4 Global Release Date Just Revealed!
There's been no shortage of good titles coming to us these months. We have Avatar: Frontiers of Pandora and the revival of The Witcher Project Sirius. However, few games have made as much noise as Diablo 4's global release date.
Now, as it turns out, it might come sooner than expected. Recently, GameSpot covered the announcement. We can expect a release date in June. Naturally, you might get it earlier or later. It all depends on which version you're preordering.
Moreover, Mike Ybarra, from Blizzard, revealed the exact time of release. So, when is that happening? How can you get it sooner? Let's find out.
The two Diablo 4 global release dates depending on the edition
Oops, I was wrong! Early access for Deluxe and Ultimate pre-orders in the US is Thursday 6/1 at 4PM, 6/2 at 12am in Europe, 6/2 at 8am in Asia. Regular launch 6/5 at 4pm, 6/6 at 12am Europe, and 6/6 8am Asia. https://t.co/ArlnmZE3AJ

— Mike Ybarra (@Qwik) April 5, 2023
The global release date for Diablo 4, and its time, comes in two forms. As you can see in the tweet above, there are two release dates. Funny enough, this came to light due to a mistake by Ybarra.
In the original tweet, he stated that the game would come out on June 6th. He mentioned that it would be for Deluxe and Ultimate buyers. However, he also mentioned that these buyers would get it on Friday 2nd.
So, what was the truth?
He just mixed the releases. As he mentions, June 6th is the release date "for all." Yet, Deluxe and Ultimate players get it on June 2nd. That's true for all presentations: PC and console.
Pacific.

— Mike Ybarra (@Qwik) April 5, 2023
The release date also depends on your time zone. Deluxe and Ultimate players can expect it between June 1st, 4 PM, and June 2nd, 9 AM. That's for PT and AEST, respectively. Standard players get the game between June 5th, 4 PM, to June 6th, 9 AM. That's, again, for PT and AEST.
The benefits of each Diablo 4 edition explained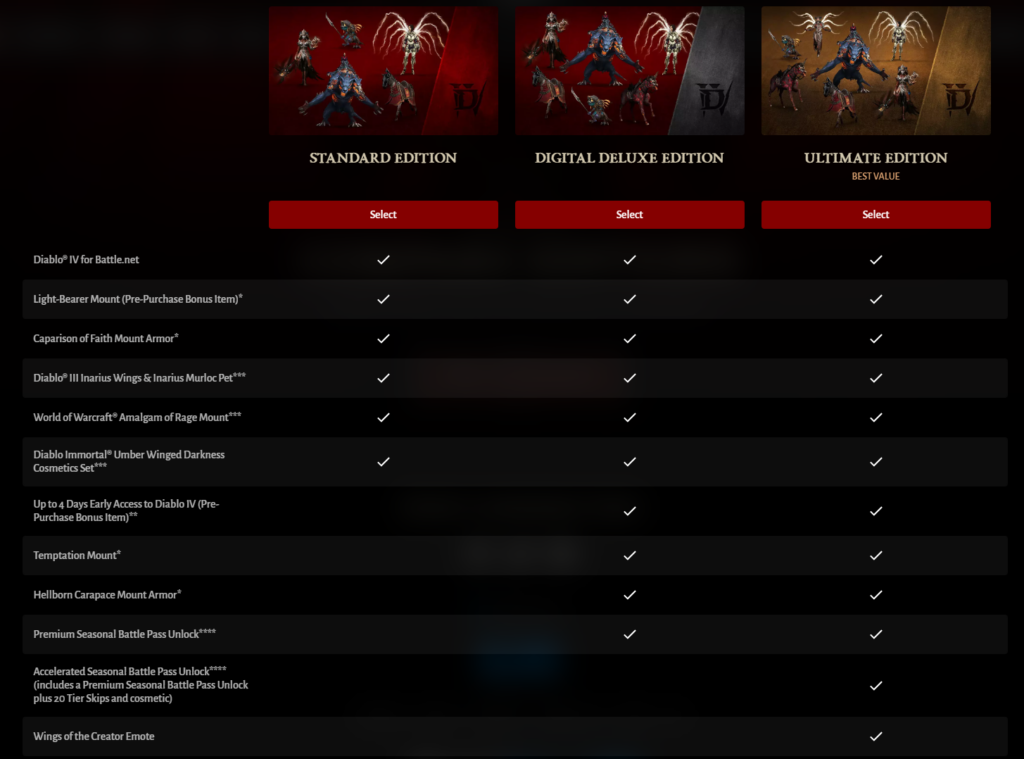 Naturally, the most expensive one offers the best value. (Image credit: Blizzard Entertainment)
As per standard practice today, preordering the game gives you several bonuses. You get a cosmetic and a pet for Diablo 3. You also get a mount for WoW and a cosmetic set for Diablo Immortal.
As for the editions, they have different benefits. But, we can exclude the Standard Edition. For that one, you just get the aforementioned bonuses. Of course, the other two are more generous.
First, we have the Diablo 4 Deluxe Edition. Its additional benefits include a battle pass and a couple of cosmetics. Of course, you also get the early Diablo 4 global release date.
Then, there's the Ultimate Edition. With it, you also get an accelerated battle pass. That includes 20 tier skips and a premium pass. Finally, you get an emote.
How to choose the right Diablo 4 edition to prepare for the release date
Choosing can get difficult with all the variety available. (Image credit: Blizzard Entertainment)
Well, it's kind of difficult if you start measuring value. Naturally, the Standard Edition is what I would get. But, I'm not the biggest Diablo fan. The main question here is whether you value the cosmetics and battle pass.
For $10, I'd argue that the Ultimate Edition is better than the Deluxe. You get the battle pass. And, you get to level it up faster. So, you're also getting more rewards without playing all day. In other words, you can skip a lot of the grind.
But, that's just my opinion, based on quick calculations. The emote isn't worth much to me. Yet, the battle pass acceleration also gives you a ton of content. Thus, that's the main attraction of the package.
Featured Image Credit: Blizzard Entertainment.
Leave a comment