Destroy All Humans Remastered Review for Nintendo Switch
There's a fun trend in gaming right now when it comes to the early 2000s. It feels like we're getting a lot of remasters of titles I loved during that era. Full transparency: I was in fifth grade when Destroy All Humans launched originally. My underdeveloped tastes for gaming simply saw alien chaos and in turn I craved alien chaos. I loved the game a lot and excitedly checked out the remastered version on Xbox when it launched last year. Like many AAA titles, a Switch arrival followed for this THQ Nordic title and I wanted to play that one too. To my approval, the Nintendo Switch version of Destroy All Humans plays well and is a blast to revisit on the TV or in handheld mode. For more on this wonderful alien adventure, let's dive into my review for Destroy All Humans Remastered on the Nintendo Switch.
UFOs Vs. Human Foes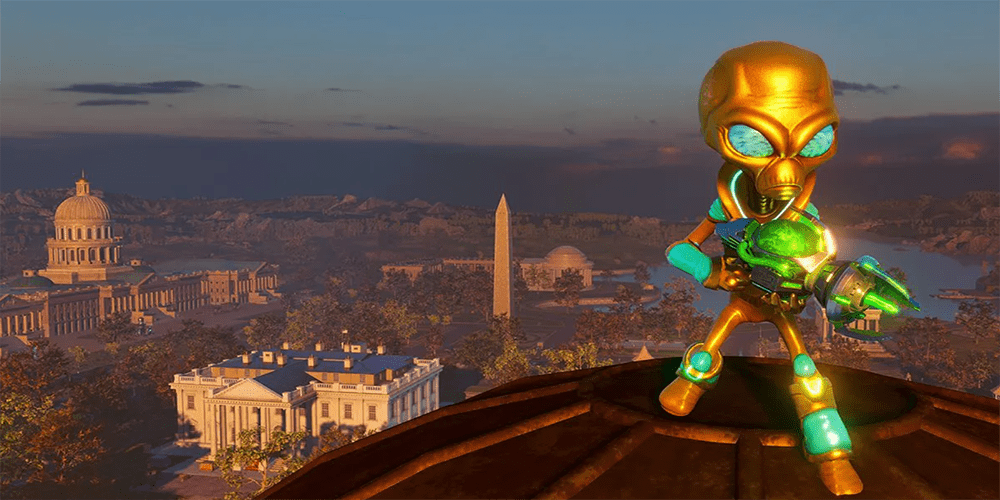 Image Credit: THQ Nordic
It's 1959 and aliens are on Earth. Cryptosporidium 137, a cloned alien, is on the third planet from the sun to investigate the disappearance of his predecessor, Cryptosporidium 136, years earlier. As he investigates the disappearance, he becomes aware of Majestic, a shadowy government organization led by the eerie leader Silhouette. Majestic knows why Crypto is here: the Furon alien species can harvest human brains to keep themselves from going extinct. The two collide in this campaign-focused game all the while leaving destruction and disorder in their path. Poor, humans: they just wanted to pool parties and county fairs!
The beauty of Destroy All Humans Remastered is that it offers modest improvements on an otherwise still-exciting game. Much like Stubbs The Zombie, revisiting this game isn't some glorious return to a hidden masterpiece. The franchise is a fan favorite nearing cult-like adoration because it's heavily stylized and entertaining. Games are allowed to just be fun, and Destroy All Humans holds up to this day.
That's not to say improvements aren't present. In the Xbox version, I was really taken by the graphical improvements and streamlined controls. THQ Nordic did some fine work here on the Switch version as well. It seems silly to state this, but I'm going to anyway: the Xbox version did look better. With that out of the way, the Switch version looks improved from the original and crisp as well. I loved the performance of the game on Switch and didn't feel any major slowdowns or sluggish passages in my playthrough. In handheld, the game runs well and really shines as a fun action title you can take with you wherever you want to play. Graphics-guided gamers might opt for the PlayStation and Xbox ports, but I suffered no diminished experience replaying the remaster on Switch.
The gameplay and visual improvements come with the new Lost Mission of Area 42 as well as the entire Skin Pack DLC. These are fun add-ons but the real joy here is just playing the title again. With smaller, more condensed mission maps than let's say a Saints Row or Biomutant, the scope of Destroy All Humans Remastered's offerings is more narrow. That said, they offer fun environments and witty writing that help to push you along the 7-8 hour campaign.
Destroy All Humans Remastered Review Score for Nintendo Switch
Image Credit: THQ Nordic
I review games on a scale of 1-10; Destroy All Humans Remastered for the Nintendo Switch is an 8. Overall, developer Black Forest Games nailed the Switch port. The game runs well on both TV mode and handheld. Likewise, the game's graphics don't match its Xbox or PlayStation counterparts, but nobody expects them to. Instead, they are a noticeable improvement from the original and look great on the Switch. If you're a fan of the Destroy All Humans franchise, this remaster is a great game to add to your Switch collection. For the graphics gang, you'll find a better experience on other consoles or PC.
I'd love to see this remaster lead to a new game in the franchise, but it's not likely. Activision recently tried the same thing with Crash Bandicoot 4 and the studio very quickly said they wouldn't be revisiting sequels in the future. That said, this journey back down to Earth for some good old-fashioned alien chaos was well worth my time. If you've played the game, then go ahead and let us know your thoughts in the comments!
Destroy All Humans Remastered is available for the Nintendo Switch, PC, PS4, and Xbox One.
A digital review copy of the game was provided by the publisher for the purposes of this review.
Featured Image Credit: THQ Nordic
Taylor is the Gaming Editor of Comic Years and a lifelong fan of video games. He holds two degrees in Political Communication and wrote a Master's Thesis on resistance movements, race, and the exploitation of college athletes. His wife and two Toy Australian Sheppards keep him sane.
Leave a comment