Dead by Daylight Stream Highlights and Surprises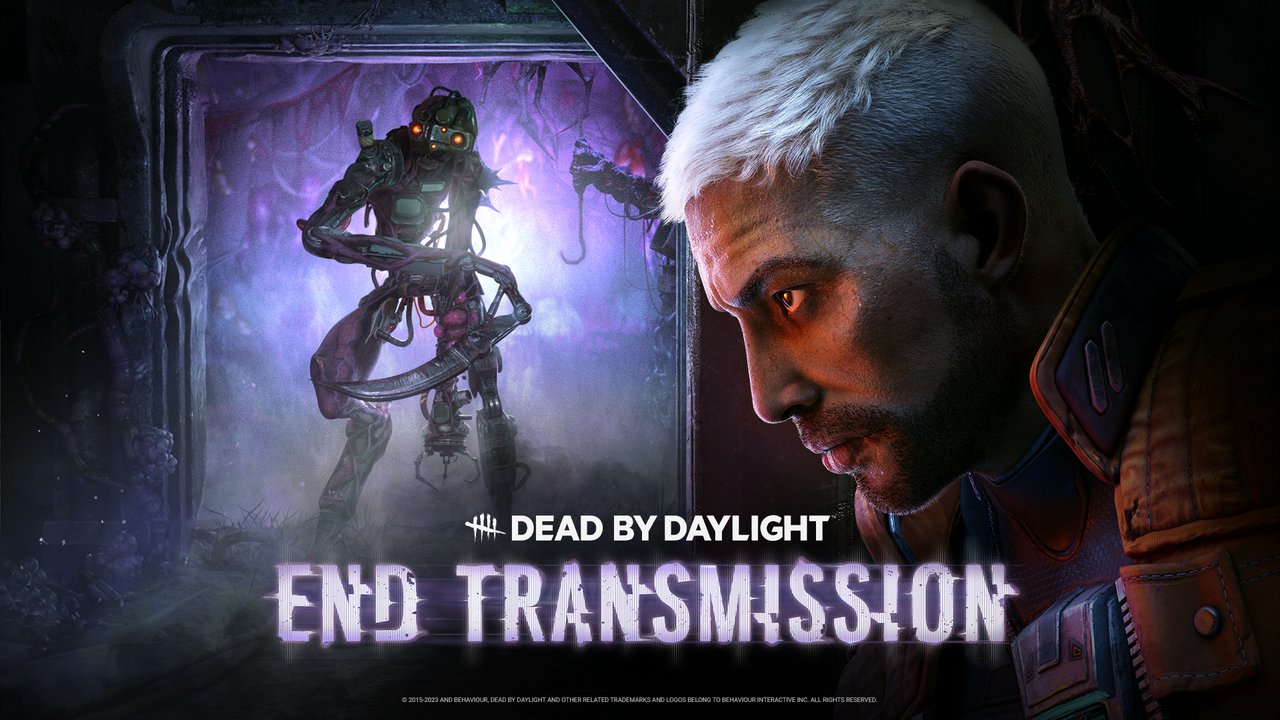 Ready or not, here we come! The much-awaited Dead by Daylight 7th anniversary stream delivered big time. We got a delicious heap of future goodies for this heart-racing horror game. There's so much to dive into with this Dead by Daylight stream. Let's dive right in!
First off, let's talk spin-offs. Yes, Behavior Interactive are about to expand the creepy universe of Dead by Daylight with two brand new games. Basically, Supermassive Games, the minds behind 'Until Dawn,' are crafting one of these thrilling expansions. Just envision a suspenseful narrative, full of life-or-death choices, all set within the eerie backdrop of Dead by Daylight. Oh, the anticipation!
While we're still in the dark about the release date or title, Behaviour Interactive promises more tidbits later this year. So keep your eyes peeled!
Also, the second spin-off is a multiplayer PvE extravaganza by Midwinter Entertainment. The game will dive into greed and power, as teams of up to four players venture into The Entity's Realm. Like the first, we're yet to get a title or release window. But it sure sounds exciting!
Next, hold on to your seats for the Dead by Daylight stream. The legendary Nicolas Cage is joining the Dead by Daylight line-up! Yes, you read it right. Cage is lending his voice and persona to the game, and we got a taste of it in the anniversary stream. This isn't just talk, folks. Every gasp, every yell – it's all Cage. Mark July 5th on your calendar for the full reveal!
Dead By Daylight Stream Announcements
Now, let's touch on the Dead by Daylight Year 8 roadmap. It promises four new chapters and two survivor-only additions. Plus, get ready for in-game events, new Tomes, and a bunch of quality improvements, including perk meta rework and map balancing. Year 8 is shaping up to be a rollercoaster!
Following this, prepare for 'End Transmission,' Dead by Daylight's first sci-fi adventure. Launching in June 2023, this chapter introduces a monstrous new killer, The Singularity. Imagine organic matter and machinery fused together, seeking to become the perfect lifeform. Creepy much?
In the Dead by Daylight stream, they revealed you'll face The Singularity on Toba Landing, a horrifyingly remote planet. Our new survivor, technician Gabriel Soma, is stuck here with a now-deceased crew. It's man versus machine, and we can't wait!
But wait, there's more! In the world of Dead by Daylight, looking good while escaping death is paramount. So, future cosmetics include collections inspired by Iron Maiden and Slipknot. Plus, 'Artists from The Fog Collection' brings us community-designed outfits. Oh, and fan-favorite Ikumi Nakamura has designed cosmetics for The Oni, The Legion, and Yui Kimura. Even Naughty Bear is joining the game with a unique outfit for The Trapper!
Lastly, the Dead by Daylight stream touched on the upcoming movie and comic. The film is in the works with Atomic Monster and Blumhouse, while the comic book, made with Titan Comics, hits stores in June. How exciting is that?!
DBD Year 8 Roadmap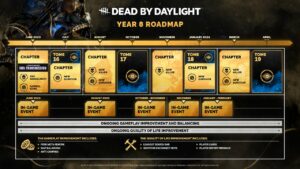 Image: Behaviour Interactive
Let's mull over the spin-off games a bit more. The idea of new games expanding the Dead by Daylight universe has us all buzzing. Supermassive Games and Midwinter Entertainment bring their unique flavor into the mix, promising an immersive narrative experience and a thrilling multiplayer adventure, respectively. They're still shrouded in mystery, but the Dead by Daylight stream hints at both games offering a unique and thrilling experience.
Furthermore, the Year 8 roadmap promises a wealth of content, keeping the game fresh and engaging. Moreover, we're talking about more chapters, more survivors, new killers, and a wealth of in-game improvements. This roadmap shows Behaviour Interactive's commitment to keeping Dead by Daylight at the forefront of the horror gaming scene.
The introduction of the first sci-fi chapter, 'End Transmission,' is another bold step. It demonstrates that Dead by Daylight is not afraid to step out of its comfort zone, exploring new themes and pushing the narrative in unexpected directions.
Regardless, the Dead by Daylight stream was a treat, providing a thrilling glimpse into the future of the game. There's so much to look forward to – new chapters, characters, cosmetics, and spin-offs. The world of Dead by Daylight is evolving, and we can't wait to see what's next. Fasten your seatbelts, folks. It's going to be one heck of a ride!
Hi! I'm Arvyn, and I'm an English teacher from the UK. I've been teaching English online for over 4 years to students from all across the world and all ages. Outside of work, I'm a huge fan of reading, video games, and playing with my adorable kitties. See ya!
Leave a comment