Sony Celebrates The 25th Anniversary Of Crash Bandicoot
The bandicoot is a small marsupial primarily found in Australia and New Guinea. They have v-shaped faces, are omnivorous, and 25 years ago, Doctor Neo Cortex did a bunch of science on a few of these grunty little buddies and within 3 years, they were driving. The Crash Bandicoot franchise has been around for two and a half decades, and for that 25th anniversary, Crash Bandicoot is getting some well-earned love. 
What Does Crash's 25th Birthday Mean For The Franchise?
Sony delivered this Happy Birthday news during the PlayStation showcase. Two of the developers for Crash Bandicoot 4: It's About Time, Paul Yan and Avery Lodato, sat on a little Crash-themed set and unnoticeably read off a teleprompter about the path the series has taken.
If you were hoping for a surprise reveal of a new game barely a year after Crash 4 came out, then unfortunately you may be disappointed. It's Crash Bandicoot's birthday, not ours. It's tacky to expect a gift. At this little celebration, we got an overview of our adventures with Crash and the gang. The video was a nostalgia bomb, showing the original gameplay for each game along with the remastered versions. We got to see our boy as a polygonal nightmare with bad shorts and broad shoulders evolve into the Bandicoot we know and love today. And of course they had to bring up that full-body Crash suit that they were using for promotions for a while. That's so you're thinking about a new game even while you're having your absolute worst nightmares.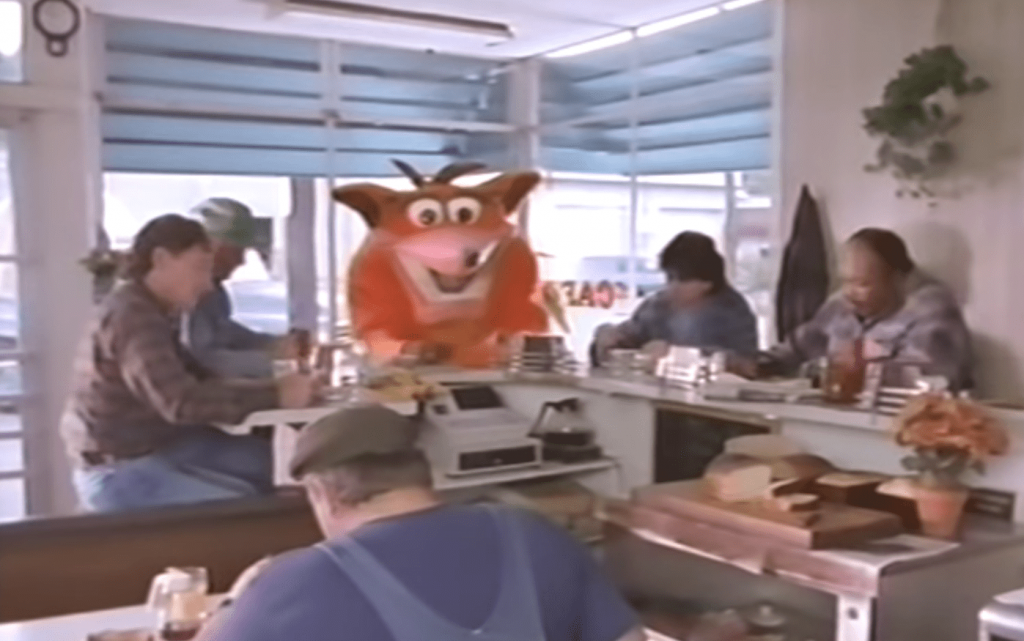 Image via Activision
It may be weird to think that the Crash Bandicoot series is now old enough to run for Governor of Arizona, but this is still the same series that gave us Crash Team Racing, the Mario Kart of the PS1 era. Crash has been around, and it doesn't look like he's going anywhere. It seems like the things to be thinking about now are just what a new game down the line might look like and considering if the devs were being held against their will by those "Crash Bandicoot Device Holders" that were standing like little bouncers on either side of the set. It's also worth wondering if that long shot of the Spyro: Reignited Trilogy is the PlayStation Showcase being cheeky about new game foreshadowing. 
How are you celebrating 25 years of Crash Bandicoot and what was your entry point into the series? Tell us about it in the comments below. 
Featured image via Activision
Jessica Kanzler is a freelance writer and editor who lives with her wife and cats. Jessica has bad taste in tv and an MA in Rhetoric, Writing, and Digital Media studies. Talk to her about Frasier on Twitter @Jessicaakanzler
Leave a comment