Coffee Talk Review – A Fantasy Visual Novel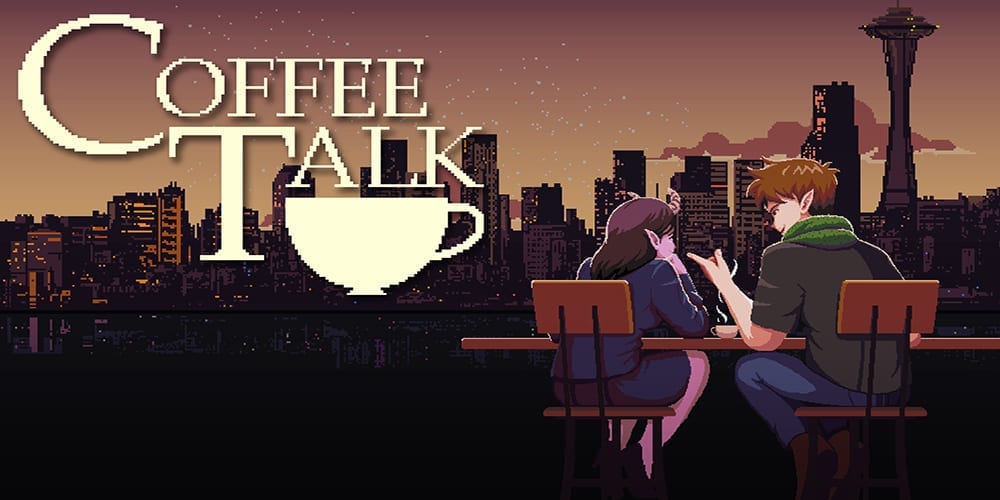 A lot of people who don't enjoy video games find themselves curious about visual novels. There are several narrative-driven games that break through the mainstream. Telltale titles like the Walking Dead series and The Wolf Among Us aren't necessarily pure visual novels, but many learned from these titles that they like the story element. A lot of visual novels take on life simulator-style presentations like dating simulators, school simulators, and otherwise normal lives lived out in a narrative form. There are also a plethora of visual novels that explore sci-fi, romantic, action-adventure, and horror themes. A favorite of mine personally is the fantasy visual novel genre. In my Coffee Talk review, I'd like to point out how exquisite this title is for anyone interested in the medium. Likewise, this is a great visual novel to try if you've never played one.
Coffee Talk
Review – What is This Game About?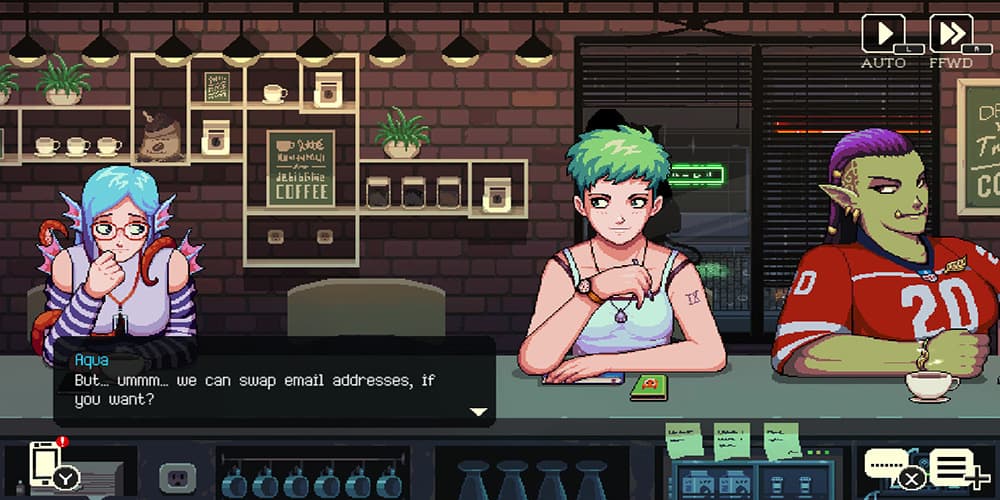 Image Credit: Toge Productions
Unlike other visual novels, Coffee Talk focuses on simply talking and making barista drinks. The actual beverage creator element is simplified into a concoction of 2-3 ingredients. With that in mind, a lot of your time with this game is spent talking. If you don't know the visual novel medium too well, then here's a tip. Reading is going to occur far more than your character actually participating in any action or dialogue. Automated responses for your barista character are written into the script. Otherwise, you have a few opportunities to play a role in the game with drink-making and decisions that come into play.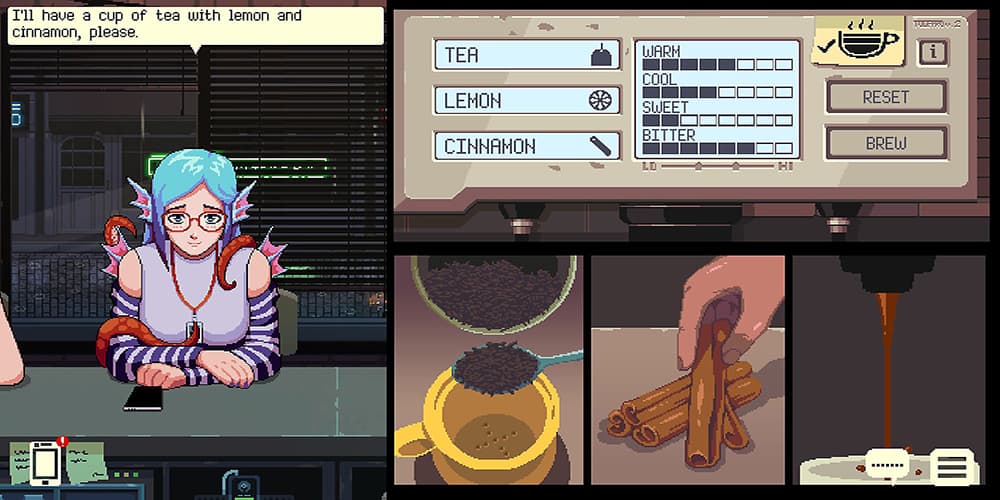 Image Credit: Toge Productions
There's a deeper sub-genre of visual novels that feature service industry positions and the people you meet. This game is a good example of these titles. As a barista in real life, you often get to know your regulars. At this cafe, your door is open overnight, catering to a late-night crowd. Now seems as good a time as any to also mention that patrons aren't always human. Vampires, elves, dwarves, and other creatures exist in the world of Coffee Talk. The diversity in species isn't necessarily integral to world-building, but it does offer a vehicle with which to explore complex themes.
Real-World Problems in a Fantasy World Work Well
Image Credit: Toge Productions
I'll be upfront here: there can't be more than about 6 hours of content in the entirety of Coffee Talk. This isn't entirely uncommon in visual novel experiences. You only meet around 10 characters the entire time, with shop regular Faye being the only one who's around from start to finish. Other characters come into the cafe and do a great job of representing societal issues we can recognize. Early on, an elf is struggling with dating someone of a different species. We also see commentaries arise on climate change, virus outbreaks (yikes, a bit too topical right now), and gun control issues. The topics don't necessarily make deep or meaningful arguments about these issues. Nonetheless, I think they fit well into the world without feeling like an after-school special. 
Additionally, you learn little about your character, which I think helps drive home the point of the game. I love coffee shops, and a huge perk is the interactions that occur in these spaces. I've made friends with strangers in cafes, and often meet old friends too. It's fun seeing your relationship with Faye progress while also meeting newcomers. Visual novel fans will like the experience, but I also think this is a great game to introduce you to the genre as well. 
Coffee Talk
Review Rating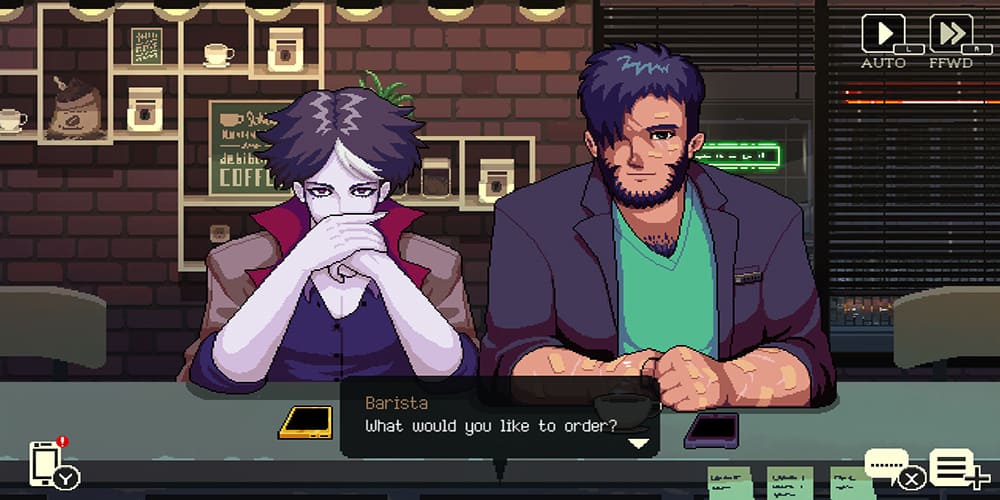 Image Credit: Toge Productions
I rate my game reviews on a scale of 1-10; Coffee Talk is a solid 8. The game is a great example of how to effectively introduce and wrap-up character stories effectively in a visual novel. Likewise, the world is interesting, and the sprites featured in the graphics of the title are well done. The topicality of the game might date it within a few years, and it never really makes any groundbreaking points in its treatment of real-life issues. Still, the game is a good length for the genre and overall enjoyable. 
Coffee Talk is available now for the Nintendo Switch. You can also shop the Nintendo Spring Sale (check here for the highlights) in its final days while you're there too. More of a PC gamer? Pick the game up on Steam!
A digital copy of Coffee Talk for Nintendo Switch was provided by Toge Productions for the purposes of this review.
Thanks for reading Comic Years for all things gaming, comics, and pop culture!     
Featured Image Credit: Toge Productions
Taylor is the Gaming Editor of Comic Years and a lifelong fan of video games. He holds two degrees in Political Communication and wrote a Master's Thesis on resistance movements, race, and the exploitation of college athletes. His wife and two Toy Australian Sheppards keep him sane.
Leave a comment