Celebrating 25 Years of LEGO Video Games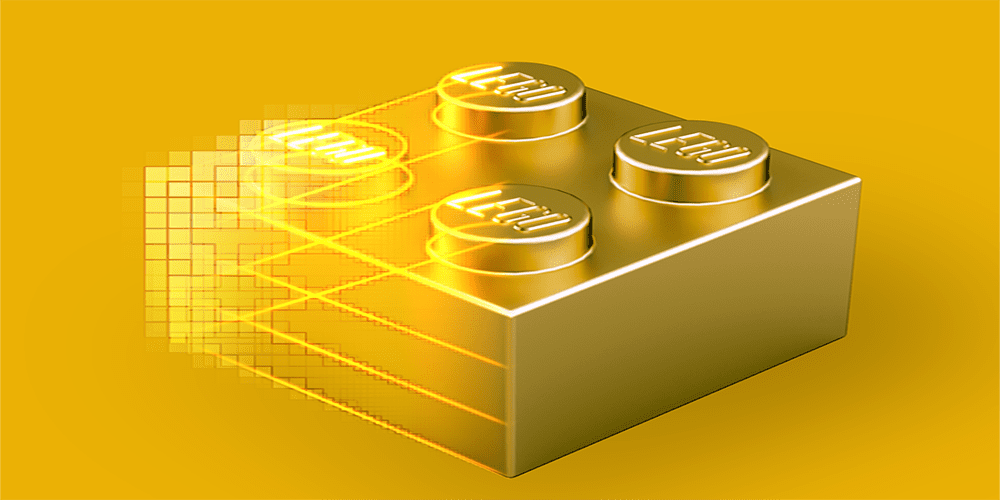 Believe it or not, LEGO video games are celebrating their 25th anniversary this year. In 1995, Sega produced a game for Japan called Fun to Build. Only released on the developer's own console, the Kids Computer Pico, it marketed clearly to the same people who play with the beloved blocks. Fast forward 25 years, and everyone plays LEGO titles now. Securing huge IPs worked wonders for the company as it spread into Star Wars, DC Comics, and more. To celebrate the momentous milestone, the company is launching a new podcast and highlighting some of the best moments in LEGO gaming. If you're a lifelong LEGO fan, either in block or video game form, then this is definitely for you.
25 Years of Digital Block Building, Breaking, and Family-Friendly Fun with LEGO Video Games
In 2021, the release of LEGO Star Wars: The Skywalker Saga will mark yet another game for the popular toy company. To be honest, it's one of my most anticipated titles. That's because LEGO video games to me are fun, low-risk purchases no matter what world in which you're playing. To commemorate the 25th anniversary of their video game endeavors, LEGO is launching a podcast and diving deep into their rich digital history.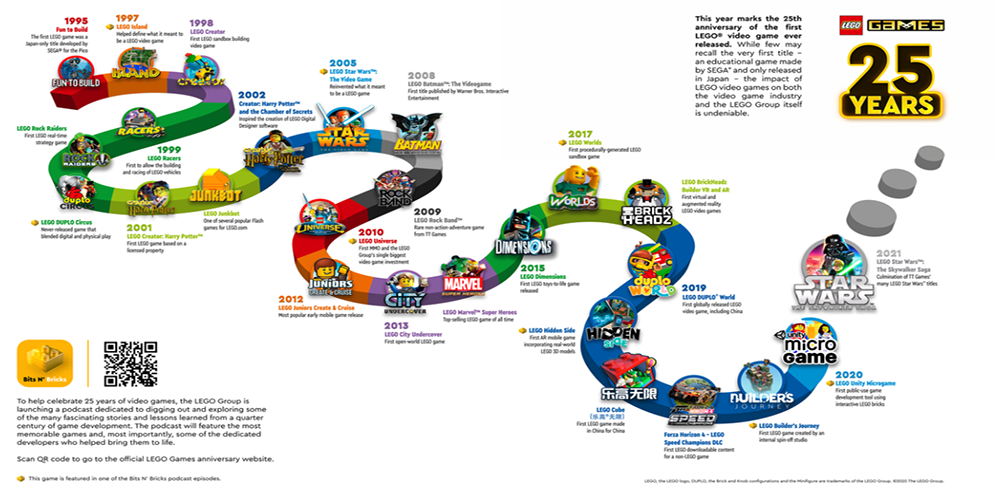 Image Credit: LEGO
If you've gamed for a few decades now, then you might remember some of these titles in the above graphic. I can actually trace my history with these games back to the second title on the timeline. When I was three years old, LEGO Island astounded me. The things I picked up on even at that age are still some of the things I love about LEGO games today. The humor was easy-going and the gameplay was simple and enjoyable. For awhile, most of the games the company produced released on an array of consoles. Then, LEGO Star Wars reinvented what a game from this company would be.
There was something for everyone. Completionists could hunt for secret items. Fans of the movies could relive iconic moments. Kids could play with their parents, neither of whom would feel like the game was above or beneath them. It was family-friendly gaming in perfect harmony.
Bits 'n' Bricks Podcast Coming Soon
LEGO also announced a new podcast in celebration of 25 years of games. Bits 'n' Bricks will commemorate some of the best moments in LEGO gaming. According to the company, they completed over 120 interviews for the project and collected 11 terabytes of data. It should be a fun exploration of this iconic company. It's clear to all of us in 2020 that LEGOs is much more than a toy. The last Star Wars movie to be released was a LEGO Star Wars holiday special. The new Mario lineup of LEGO sets is redefining how you can play with the iconic blocks. Heck, there's a LEGO NES on the market that actually works.
LEGO is all about imagining something and feeling like you can do it. The video games offered the spirit of that mantra in every adventure we come across. From Indiana Jones to Jurassic Park and even the sandbox builder LEGO Worlds, these games define some of the purest joys of any sort of gaming. I'm looking forward to devouring the podcast while I revisit some of my favorites from over the past 25 years. If you have a favorite game from the LEGO video game series, then let us know in the comments!
Featured Image Credit: LEGO
Taylor is the Gaming Editor of Comic Years and a lifelong fan of video games. He holds two degrees in Political Communication and wrote a Master's Thesis on resistance movements, race, and the exploitation of college athletes. His wife and two Toy Australian Sheppards keep him sane.
Leave a comment