CD Projekt RED is Offering Cyberpunk 2077 Refunds After Backlash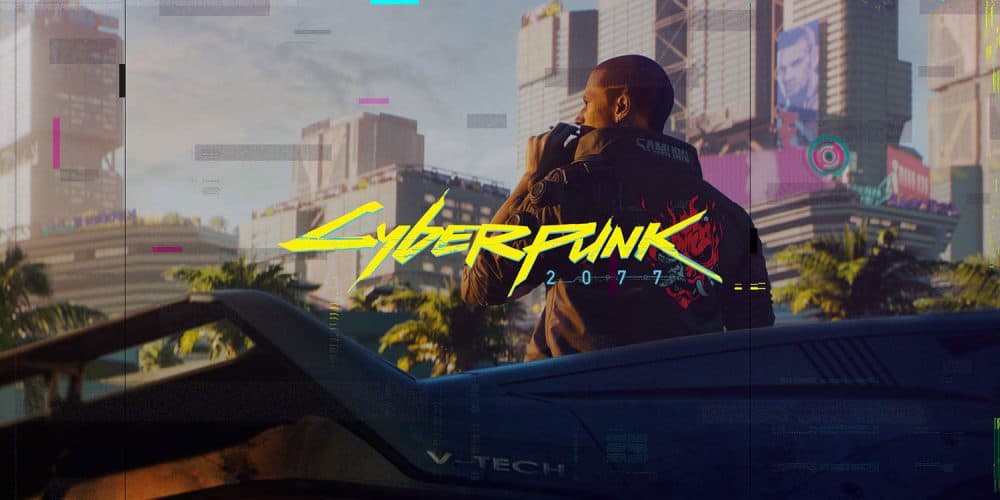 If you read my work here at Comic Years, then you'll remember I talked a lot leading up to Cyberpunk 2077 about expectations. In a lot of ways, the game couldn't meet the anticipation players felt ahead of its arrival. What we didn't expect was an all-out disappointing launch riddled with bugs, poor graphics, and the like. Let's get one thing straight: the developers working hands-on with this game did their best to meet a crunched deadline. Despite delays, this game clearly needed more time. Ahead of a holiday launch and worries about another delay, CD Projekt RED pushed out a game that doesn't work on the consoles most people own. There's a lot to get into here, so let's talk about why players can now get a Cyberpunk 2077 refunds if they find the game to be a disappointment.
Cyberpunk 2077 Refunds – How Did We Get Here?
After being delayed and delayed again, Cyberpunk 2077 launched last week. At first, the major issue seemed to be an epilepsy-triggering light effect in the game. Now, with plenty of time to try it out, players are experiencing major bugs on PS4 and Xbox One consoles. If you're playing on a PS5 or Xbox Series X, then you're not playing the next-gen version of the game. Still, the extra firepower offered by next-gen consoles seems to help with fighting off game-breaking bugs. PC players seem to experience the least amount of issues. After enough fans pointed out how flawed the game truly is, the developer finally responded.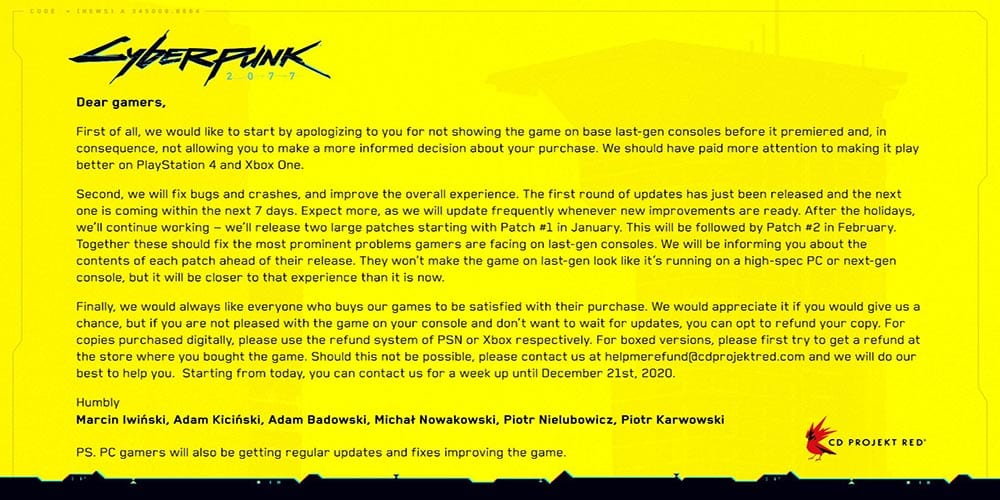 Image Credit: CD Projekt Red on Twitter
Let's not misdirect the frustration some of us might feel right now. Overall, the game is still going to be good when all is said and done. The issue here is that the consoles for which the game was developed can't play the game. It's wonderful that PS5 owners and Xbox Series X/S owners experience fewer issues. The problem is that nobody can find those console to purchase. Furthermore, if a game is sold for a console, then it should work on that console. There's no harshness to my tone or opinion, it's just the facts. Despite offering players refunds for the disappointing launch, CD Projekt RED comes off quite poorly in their apology if you ask me.
When is an Apology Not an Apology?      Next-Gen Console Availability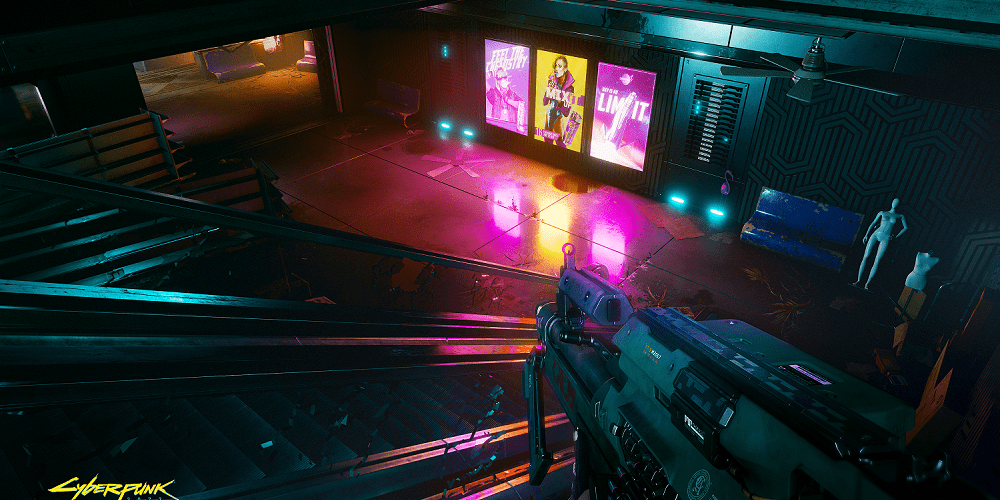 Image Credit: CD Projekt Red
Let's break down what the developer is saying here. They lead by apologizing for not showing footage of last-gen consoles playing the games ahead of launch. That was on purpose because the game can't run on last-gen consoles smoothly. They then add that they "should have paid more attention to making it play better on PlayStation 4 and Xbox One." This is a demographic of players in the hundreds of millions who waited for a game to the tune of 8 million pre-orders and then couldn't play said game. It wasn't a matter of paying attention, it was an issue of not caring enough to be honest. That's unforgivable in my eyes until necessary patches release.
CD Projekt RED also notes two patches coming in January and February should make the game playable on last-gen consoles. That's insane given that players will have to wait two months to be able to effectively play the game. It's insane they're expecting players supporting the game to wait that long. Worst of all, developers who work hands-on with the game can look forward to two more months of crunch time after months of likely being overworked already. I feel horribly for these members of the dev team. The fact of the matter is this game was not ready to launch. If they needed a version out by the holidays, then PC would have worked fine. Consoles, however, clearly cannot support the game in its current state.
Will People Actually Request Cyberpunk 2077 Refunds?
I don't know how many people will seek refunds. I imagine many are willing to wait for the patches. Still, they shouldn't have to. This mess is all self-inflicted and, as usual, the developers working hands-on with the game will need to clean up the mess. I'm happy people seem to enjoy the game when it works. PS5 owners and Xbox Series X owners don't seem to have many issues. It's just the hundreds of millions of Xbox One and PS4 owners feeling the disappointment. This all adds to the concerns I have about games that receive praise before a launch. Things get messy quickly, and they usually get worse the more people look forward to a game.
It's worth noting that some players haven't seen much of anything go wrong. If you played Cyberpunk 2077 so far, then tell us your experience in the comments! I'm truly not trying to drag CD Projekt RED, I just feel for those working on the game and playing it. Hopefully, the team can turn it around quickly. Thanks for reading Comic Years for all things gaming, comics, and pop culture.
Featured Image Credit: CD Projekt RED
Taylor is the Gaming Editor of Comic Years and a lifelong fan of video games. He holds two degrees in Political Communication and wrote a Master's Thesis on resistance movements, race, and the exploitation of college athletes. His wife and two Toy Australian Sheppards keep him sane.
Leave a comment