Call of Duty Vanguard Zombies Review – Not Quite Chaos
The Zombies mode to Call of Duty first debuted in Call of Duty World at War. Since then, it commonly drives sales of the games itself thanks to immense popularity. Past iterations of Zombies mode featured alternative histories, Nazi Zombies, and even some creatively deep lore. While a major story-based experience is coming in December, the first Call of Duty Zombies adventure released at launch and is worth a review. We will separately review the Campaign mode in another piece. Likewise, if you want to know more about online gameplay, be sure to check out our Call of Duty Vanguard Multiplayer review. That said, let's dive into what there is to love and lament about in this initial Zombies experience.
Is Call of Duty Vanguard Zombies Mode an Improvement or Step Backwards?
Early Zombies experiences in Call of Duty felt stagnant and repetitive. As the game mode progresses each entry, the experience of surviving hordes of zombies gets more and more complicated. For some, that makes the game mode a bit overwhelming. I certainly felt that way by the time Black Ops 2 threw more and more at you. Now, I'm used to it, and pleasantly surprised with the changes made in this year's version of the popular game mode.
In this year's Zombies mode for Call of Duty Vanguard, the core positive takeaway I have is an increased sense of possibility and variation. The developers for Vanguard talked about adding roguelike games elements to Zombies this year and it's certainly noticeable. No run of this game is the same each time. The only similarity is your goal: escape Der Anfang alive. Three objectives at the start of a run include collect runestones, staying alive, and tracking down inter-dimensional weaknesses in your environment. These goals allow you a base pattern for each run, but enemies and upgrades make each run unique.
Artifacts you can use in the game mode provide you with power-ups. Similarly, unlockables you can buy to upgrade your squad help to power you up over the zombie hordes. Much like Vanguard's multiplayer mode this year, the goal is to master what you think is the ultimate build-out. Fun artifact powers like an invisibility cloak and ice wind powers make this game mode feel a little ridiculous. Nevertheless, it's fun as hell and great with friends.
As you move from space to space within the map, things don't feel all that fluid. You're sort of moving from one spot to another hoping to survive. It's the typical zombie experience you'd want, but fun factor limitations in terms of how dynamic the enemies are leave me wanting more from this iteration of the game mode. Something like Back 4 Blood somehow does more with less if you're looking for squad-based zombie survival games. That said, the Call of Duty gameplay is hard to beat in terms of first-person shooters. So where does that leave our scoring?
Call of Duty Vanguard Zombies Review Score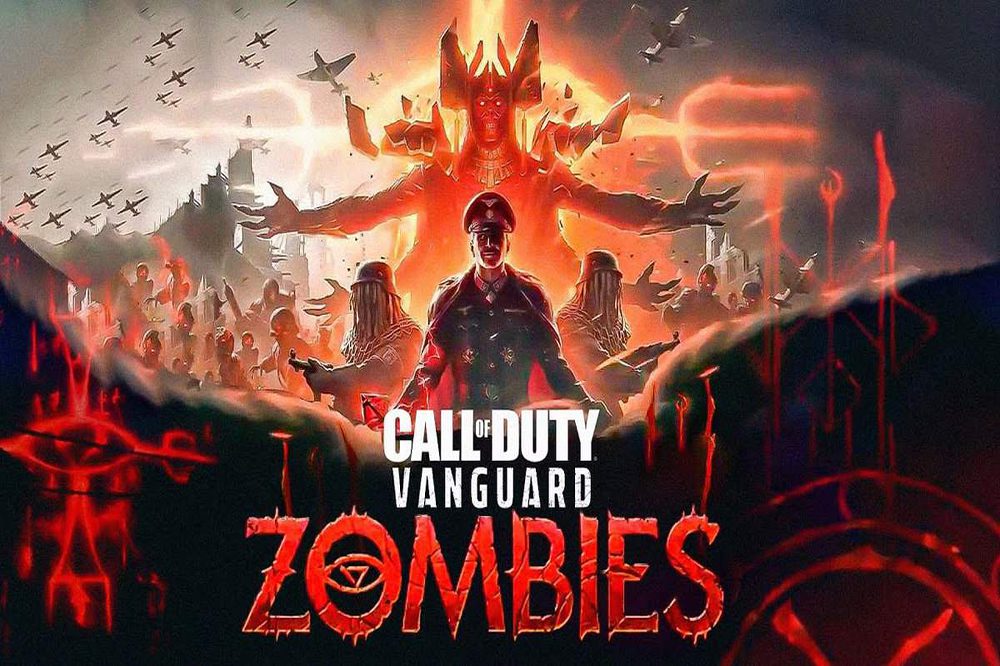 Image Credit: Activision
I review games on a scale of 1-10; Call of Duty Vanguard Zombies mode is a 7. I hope the update coming in December makes the experience feel more connected. Right now, various environments in the game offer fun moments but a lackluster experience overall. Every time you complete an objective, the zombies get more and more powerful. That should be fun, but because you're so busy worrying about these objectives you complete, you're left sort of overwhelmed in a not-so-fun way.
The complicated nature of modern Zombies mode experiences isn't my cup of tea. That said, I do enjoy the focus this year on power-ups, resource spending, and build-out mastering. If there's a deeper level to the substance of what makes Zombies great, then I hope it's coming soon. A little tweak to the overall story of Der Anfang could go a long way. I know this isn't a story-based mode and that narrative isn't the focus. That said, the gameplay simply isn't enough to keep me interested long-term as it stands now.
When updates release, we'll be sure to review them separately. For now, diehard fans of Zombies mode will like the tweaks to the formula in Call of Duty Vanguard. On-the-fence players might find themselves spending more time elsewhere.
Call of Duty Vanguard Zombies Mode is Available Now
Kill all the zombies your heart desires in Call of Duty Vanguard, available now for Xbox and Playstation consoles as well as PC. If you check out the Zombies mode in Call of Duty Vanguard after reading this review, then let us know what you think! Overall, the early content available in Call of Duty Vanguard feels promising. This exciting horde-style experience is certainly a little less thrilling than past years at-launch, but more is sure to come.
Thanks for reading Comic Years for all things gaming, comics, and pop culture.
A digital review code was provided by the publisher for the purposes of this review
Featured Image Credit: Activision
Taylor is the Gaming Editor of Comic Years and a lifelong fan of video games. He holds two degrees in Political Communication and wrote a Master's Thesis on resistance movements, race, and the exploitation of college athletes. His wife and two Toy Australian Sheppards keep him sane.
Leave a comment