Big Brain Academy: Brain Vs. Brain Review – Flex Your Mind Muscle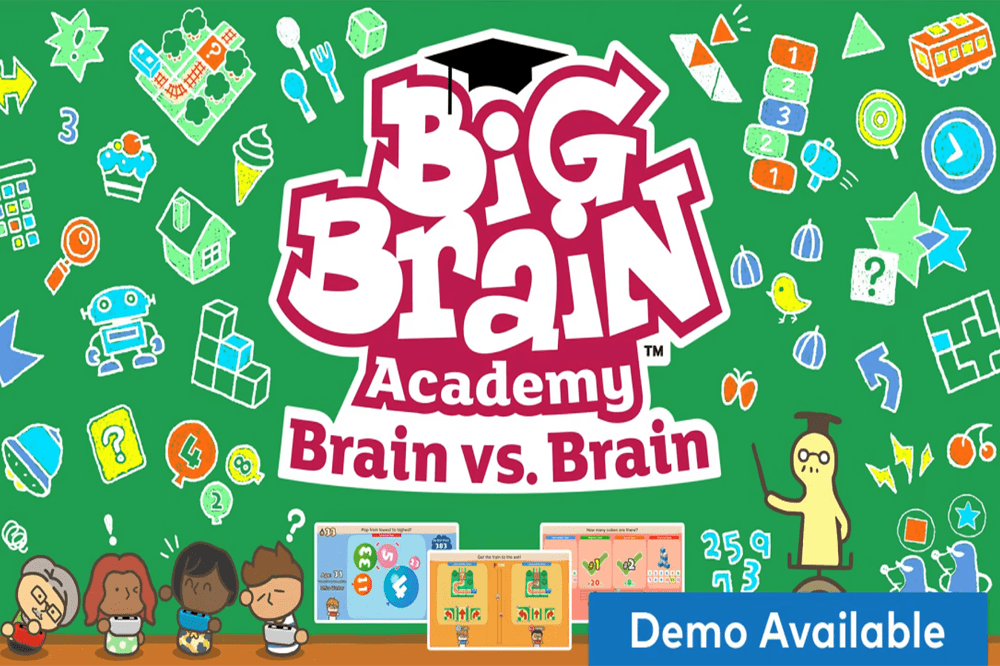 Dr. Kawashima's Brain Training was a huge hit in the Nintendo DS era. Here in the West, we knew the game as Brain Age. The series of minigames helped players use their brains in specific ways to improve mental prowess. The series' success led to another game that aimed to equally test the player's mind-muscle: Big Brain Academy. A release on the DS and then two years later on the Wii offered puzzles, memorization exercises, and more to help encourage active engagement in mental efficiency. It's been almost 15 years since the last game, but the series returns with a release on the Nintendo Switch. Let's see how the experience works on new consoles in this review for Big Brain Academy: Brain vs. Brain.
Train the Brain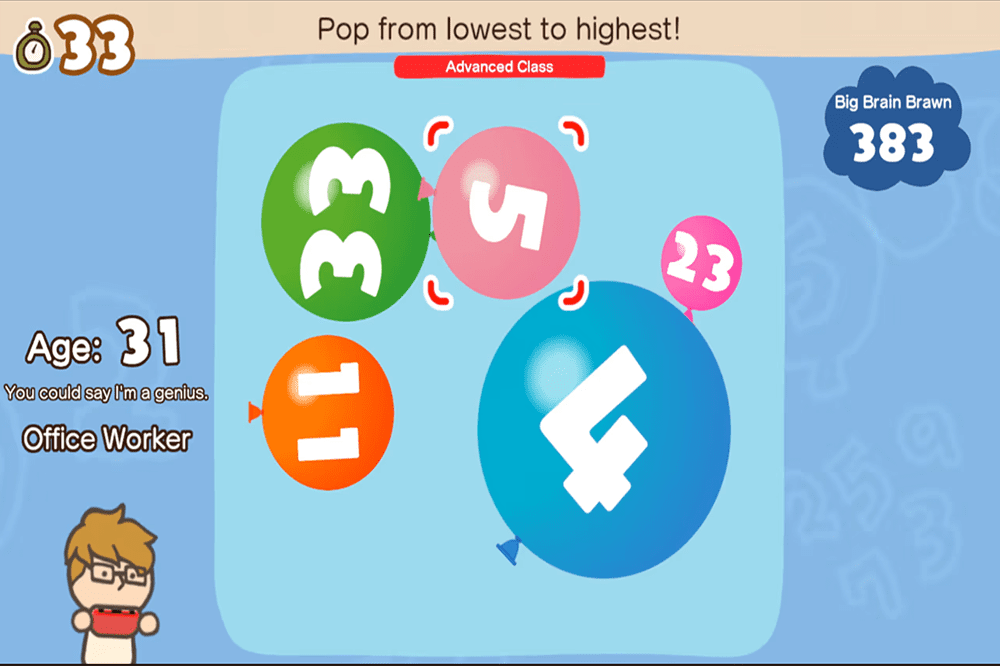 Image Credit: Nintendo
Nintendo revealed the return of Big Brain Academy a couple of weeks ahead of their September 23 Nintendo Direct. The series is a long-time favorite of mine, simply for the way it feels like you're engaging parts of your mind that might need some fine-tuning. I was pleased with Big Brain Academy: Brain vs. Brain from the very start of working on this review. From the beginning, you have access to all of the mini-games available in the entry. There's no frustrating period of time where you have to perform well enough on some games to unlock others. It's just all about practicing the tests and puzzles for higher scores.
Games test your mental abilities across five general categories: identify, visualize, memorize, compute, and analyze. It's really cool to see where you excel and struggle from the start. As you take your first test, you can go in blind to see where you begin before practicing the games to track your progress. You'll earn a Brain Grade, on which you can decide how to spend your time training. During training, you can earn medals that range from bronze to gold and various success levels to motivate you to keep seeking improvement. That's the gameplay in a nutshell: train, take a test, see your scores, and repeat. For those who love flexing their mind-muscle like myself, this is all Brain Age Academy has to offer for the experience to be worthwhile.
You can play Big Brain Academy: Brain vs. Brain solo or with four-player local multiplayer. There's also an online mechanic that is strategically built to ensure you can compete with others without suffering the woes of online lag and latency issues. You can choose to upload your ghost data to the Big Brain Academy online experience and compete against others' performances. It's a really fun way to add an extra challenge to the experience.
Big Brain Academy: Brain vs. Brain Review Score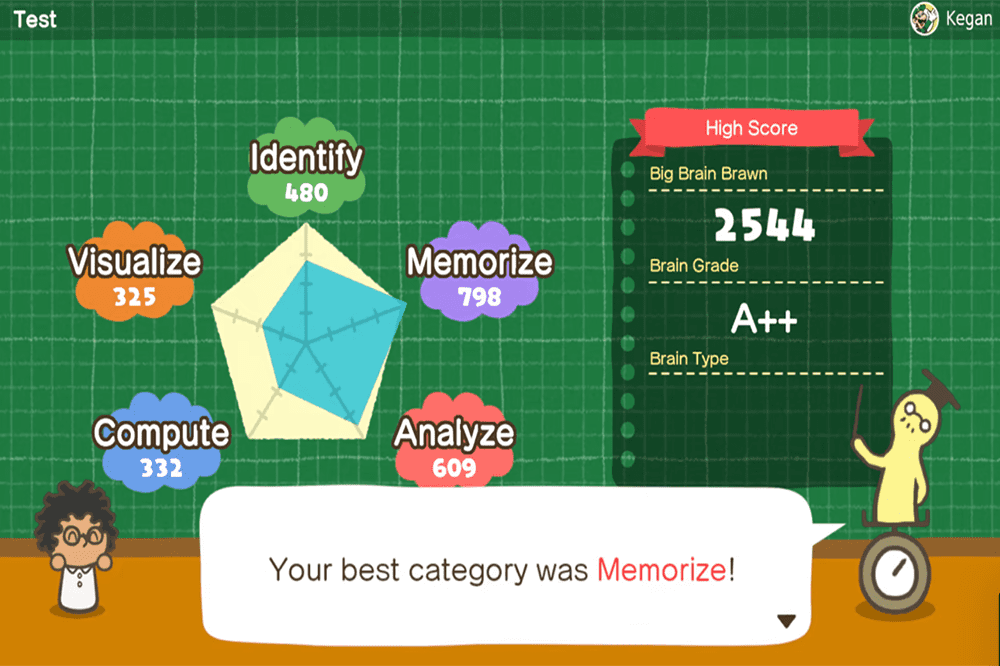 Image Credit: Nintendo
I review games on a scale of 1-10; Big Brain Academy: Brain vs. Brain is a 9 for me. I love the fact that the experience is so streamlined. Like past entries in both this series and the parallel Brain Age series, the goal here is simple. To achieve a simple goal, you need only simple ingredients to give a target audience what they want. Plus, at the $30 price mark, this is set right where it needs to be for curious minds to buy-in.
I look forward to checking in with the game every day and seeing where I can improve things like my computing skills. I'm not bad at math, but I'm clearly lacking in this category. For some who are self-motivated to work on their weaker skills, the game provides everything you need to make a routine out of these exercises. It's why despite having a physical edition I think the digital version works best. Something I run into with Ring Fit Adventure is the eye-rolling practice of switching out the game cart to do something I simply want to hop right into when I'm ready. A digital copy of Brain vs. Brain means you can kill 15 minutes productively without dismissing the activity because you don't have the physical cart handy.
Fans of the past Big Brain Academy games will love this entry. With button and touch controls at the ready, you can play Brain vs. Brain , however, feels most comfortable. A game like this might not pique everyone's interest, but the asking price is perfect for those who love a good puzzle.
Big Brain Academy: Brain vs. Brain is Available Now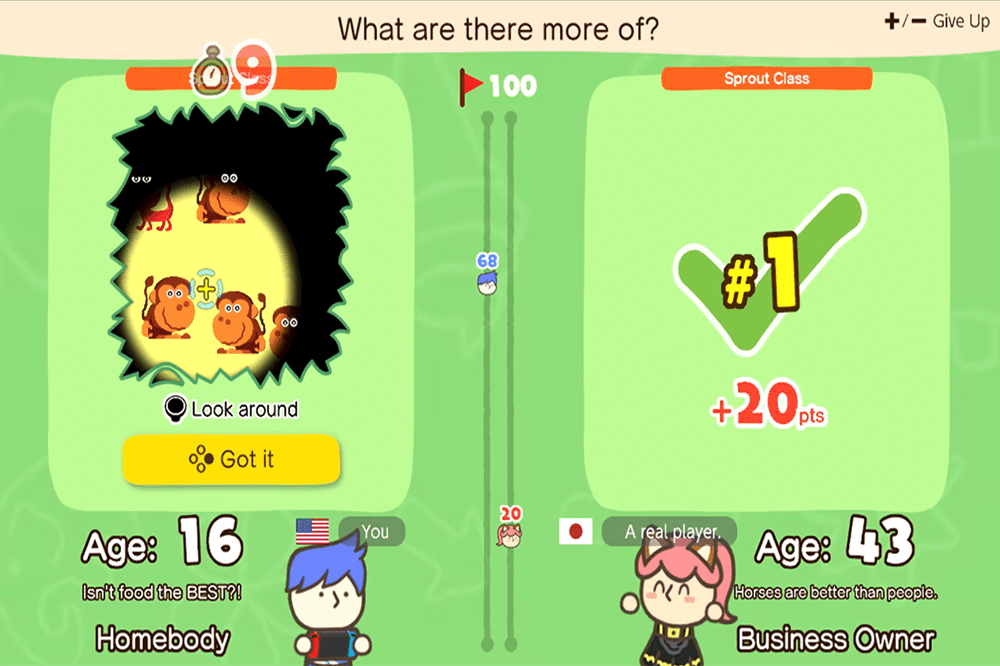 Image Credit: Nintendo
If you liked this review, then you can check out Big Brain Academy: Brain vs. Brain now on the Nintendo eShop or in stores. For those of you that have questions about the game, be sure to let us know in the comments. Better yet, if you've played the game, drop your thoughts below!
Thanks for reading Comic Years for all things gaming, comics, and pop culture.
A digital review code was provided by the publisher for the purposes of this review.
Featured Image Credit: Nintendo
Taylor is the Gaming Editor of Comic Years and a lifelong fan of video games. He holds two degrees in Political Communication and wrote a Master's Thesis on resistance movements, race, and the exploitation of college athletes. His wife and two Toy Australian Sheppards keep him sane.
Leave a comment