Avatar Frontiers of Pandora Leak And Rumors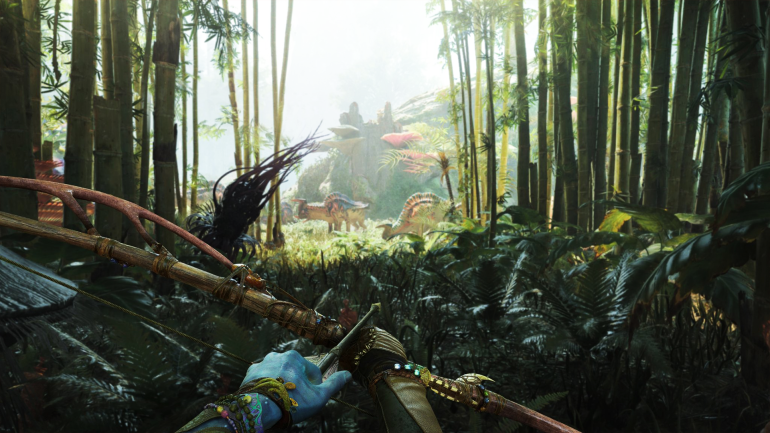 We've got some exciting Avatar Frontiers of Pandora news for you now! Apparently, a notorious Ubisoft leaker by the handle @ScriptLeaksR6 has just spilled the beans on some of the game's exciting features. The leaked info reads like a product sheet. So, this could mean that Ubisoft will make an official announcement soon.
So, what can we expect from Avatar Frontiers of Pandora? According to the leak, the game will be an open-world action/adventure game set in the iconic world of James Cameron's Avatar franchise. Apparently, aerial combat is confirmed to be part of the game, which sounds like an epic feature to me! But that's not all, as the leak revealed that crafting, weapon customization, and skills would be available to players.
Naturally, the potential for immersive gameplay in an open-world environment is enough to excite most gamers. But coupled with the addition of aerial combat and weapon customization? Fans can't wait to get their hands on this game! Although Ubisoft hasn't confirmed the official release date for Avatar Frontiers of Pandora, it's clear that they're hard at work developing this game. You can read the game's leaked description below. 
Avatar Frontiers of Pandora Description
Abducted by the RDA, you, a Na'vi child, are trained and molded to serve their purpose. You must reconnect with your ancient heritage and join the other clans to protect Pandora.

BECOME NA'VI

Harness your incredible strength and agility while customizing your character; crafting new gear, and upgrading skills and weapons to fit your playstyle.

MASTER MULTIPLE COMBAT STYLES

Fight off the dangers of Pandora as you embrace the precision of traditional Na'vi weapons, including your bow and spear-thrower, or leverage your human training with more destructive weapons, such as assault rifle and shotgun.

SOAR THE SKIES

Capture and bond with your personal banshee—a large, dragon-like winged predator that will give you an edge in aerial combat and can be used for traveling long distances.

EXPLORE A WORLD OF WONDER & DANGER

Unfold the epic wonders of the Western Frontier – a never-before-seen continent of Pandora. Journey through beautiful yet unpredictable open world regions, where lowering your guard can lead to deadly mistakes.
Previously, the Avatar Frontiers of Pandora mentioned he thought Ubisoft would shut down his game. Unfortunately, that turned out to be true, as Twitter removed his original tweets that gave more information on the game. According to the leak, the official pre-orders for the game will be opening soon. Also, two new images of the new Avatar game are circulating online, which you can check out above.
Here's the catch, though – the game is rumored to only feature a first-person view during gameplay. Naturally, some fans will feel disappointed about this news. Even so, we're excited about immersing ourselves in the game's breathtaking world, which is part of the Avatar franchise.
New Avatar Game
Image: Ubisoft
Regardless, it's been over six years since Ubisoft initially announced Avatar Frontiers of Pandora. But we can expect plenty of new features with the latest version of Ubisoft Massive's Snowdrop engine. For example, lots of ray tracing, advanced cloud rendering technology, and state-of-the-art NPC AI.
Originally, Ubisoft planned to release the game in 2022. However, they later pushed it back to the fiscal year 2023. Unfortunately, rumors of delays for other Ubisoft titles, such as Assassin's Creed Mirage and The Crew Motorfest, could push Avatar Frontiers of Pandora back even further. 
Currently, we know that fans will be able to play the game on PC, PlayStation 5, and Xbox Series S|X. With all the hype and buzz around Avatar Frontiers of Pandora, it's shaping to be one of the year's most anticipated games. So, keep your eyes peeled for more news on this exciting game. Get ready to immerse yourself in the stunning world of Avatar!
Hi! I'm Arvyn, and I'm an English teacher from the UK. I've been teaching English online for over 4 years to students from all across the world and all ages. Outside of work, I'm a huge fan of reading, video games, and playing with my adorable kitties. See ya!
Leave a comment