Attack On Titan Game – Will it be any Good?
If you're an Attack on Titan fan right now, then you're probably feeling a little down. The fourth season of the anime is winding down. We're all expecting a second cour of the show to finish out the manga, but nothing is certain. Speaking of the manga, that's also coming to an end. For a show and franchise so ingrained in pop culture, it's a bit crazy to see both popular media ending at the same time. If you're itching for a bit more of the chaos from this world, then you might be turning to other popular adaptations of the story. A question on your mind might be whether or not the Attack on Titan games are any good and worth playing. Hopefully, this article answers that question for you.
Attack on Titan and Attack on Titan 2
– Are the Games Any Good?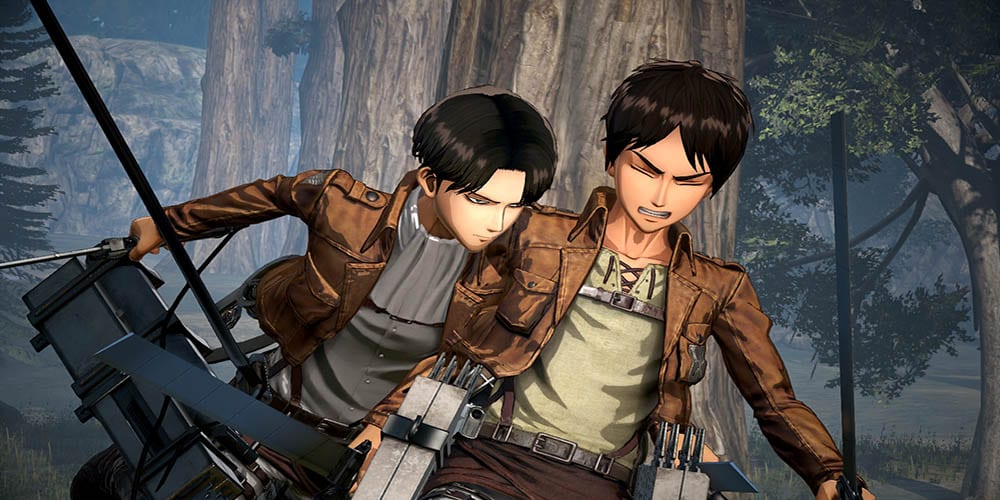 Image Credit: Koei Tecmo
Ever since the trailer for the final Attack on Titan episodes dropped, I've felt emotional. I know the likelihood of a second cour is high, but still, it's insane to see this story coming to an end. It's honestly got me interested in the series' video games again. When it comes to game adaptations, things can go well or they can go very, very poorly. Luckily for us, both of the console/PC Attack on Titan games are quite good. Firstly, Attack on Titan was released in 2016. Arriving in Japan first, the game reached the West on Sony consoles as well as Xbox and PC. 
I think adaptations are always tricky. Whether it's a video game into a movie, which we all know can go poorly, or the AOT game adaptations, it's sort of a mixed bag. Luckily, I'm a brave gamer who's willing to dive head-first into things and hope for the best. I'm really glad that the Attack on Titan game on PS4, Switch, Xbox One, and PC is good. It's the latest adaptation we've had and isn't all that old. That said, even the 2016 game is an Attack on Titan game I would consider to be good. The question becomes what you want to start with.
Let's get one thing out of the way: availability. Finding these games in physical formats is really, really hard. Not to mention, the games in digital formats cost quite a bit. Since they're hard to find physically, these titles don't always go on sale. For example, Attack on Titan 2 and Attack on Titan: Final Battle for the Nintendo Switch have not dropped below $30 digitally according to Deku Deals. That said, they seem worth it given how fun they are.
Is Attack on Titan (2016) Good?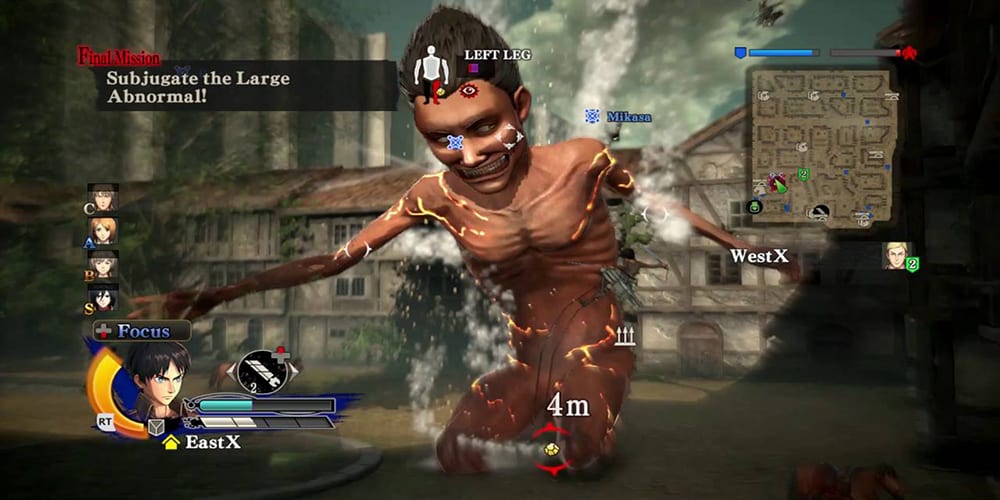 Image Credit: Koei Tecmo
Attack on Titan (2016) developer Omega Force really did a great job with this one. Publisher Koei Tecmo succeeds with a lot of its titles at least in the category of fun factor. In 2015, the game reveal occurred at Gamescom and eventually arrived on February 18, 2016 in Japan. The U.S. version was released on August 30 that same year. The game features the Japanese voice cast and nearly included the English VAs as well. Unfortunately, budget concerns limited the game's ability to bring on these additional actors. As the very first Attack on Titan game for consoles and PC, fans just enjoyed getting the game in general.
Attack on Titan (2016) is a bit rough around the edges. Aimed at running on consoles ranging from the PlayStation 3, Vita, Xbox One, and PC, the game doesn't feel optimized for any single experience. Therefore, even the "modern" ports of Attack on Titan for PS4 and Xbox One don't look all that good. That said, the fun factor is certainly present. In a lot of ways, this game covers what you'd expect an AOT game to offer. Cutscenes are well executed but the gameplay portions suffer from a crowded UI. A map sits top-right on the screen with your character's stat gauges at the bottom-left. Your mission objective takes up the entire top-left corner of the screen. That leaves very little room to actually enjoy what you're playing. 
The game covers the first season of the show, or chapters 1 through 33 of the manga. It's a good adaptation in the sense that you'll likely look past the issues if you're a fan of the series. I think if you look at the PS4 or Xbox One version of Attack on Titan (2016), you'd probably feel disappointed. That said, the sequel is a big improvement. If we didn't have the second game in the AOT franchise, then this one might stand up better. That said, most players will just want to pick up a copy of Attack on Titan 2. 
Does Attack on Titan 2 Hold Up as a Good Video Game Adaptation?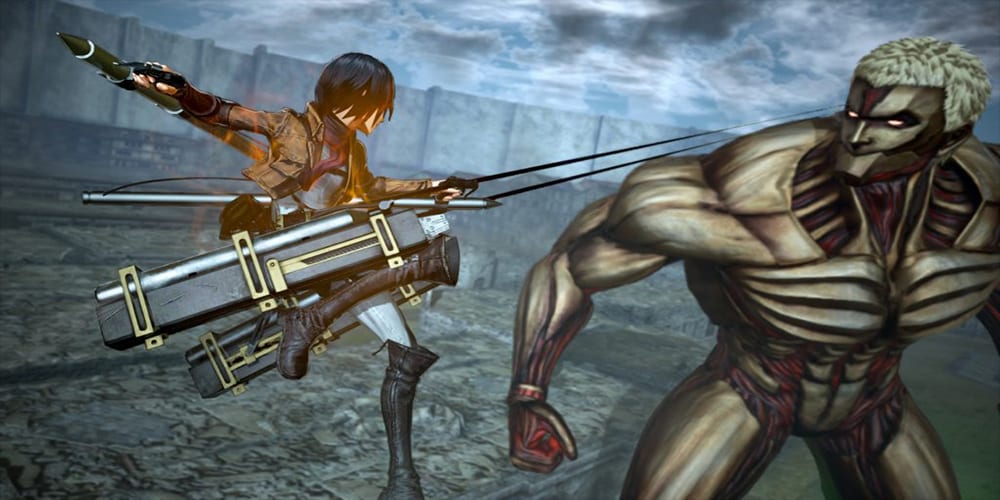 Image Credit: Koei Tecmo
Attack on Titan 2, released in 2018, is a much more complete experience. This Attack on Titan game was released on PS4, Xbox One, Switch, Vita, Stadia, and PC. Shortly after the launch of the first game, Omega Force and Koei Tecmo planned a sequel. The goal was threefold: firstly, AI intelligence needed a boost. Playing the first game is a bit boring once you get the hang of it. This means lackluster AI companions and easy-to-kill enemies. The second goal of the sequel was to bring additional elements to the story. To do this, the developer and publisher worked closely with manga writer Hajime Isayama. Lastly, the intro of English voice actors would help broaden the popularity of the English anime dub. Unfortunately, this goal once again did not occur. This time, the time constraints for launch left no time to bring in the English VAs. 
A demo of the game was released in Japan on April 26, 2019 and worldwide on May 7, 2019. Pretty immediately, fans thought the improvements in the sequel felt substantial. Interestingly enough, this game also covers the first season like the first AOT game. The second season is also playable in the game. When the third season of the anime aired, a DLC pack added this content to the experience. The DLC "The Final Battle" was released on July 4, 2019 in Japan and on July 5 in North America and Europe. This release resulted in a "complete edition" of sorts released in later in 2019 titled Attack on Titan 2: Final Battle.
Cel-shaded graphics and improvements to the controls and strategy of killing Titans really helped this game feel truer to the anime. On top of the better AI, the game just feels more like a current-gen experience. It's interesting to see how much of a difference three years can make! Nevertheless, the game didn't sell terribly well. Despite a "Sound Editing in a Game Cinema" nomination at the National Academy of Video Game Trade Reviewers Awards, the game sort of flopped. On PS4, the Attack on Titan 2 game failed to sell over 30,000 copies in its first week. 
How About the Handheld Game?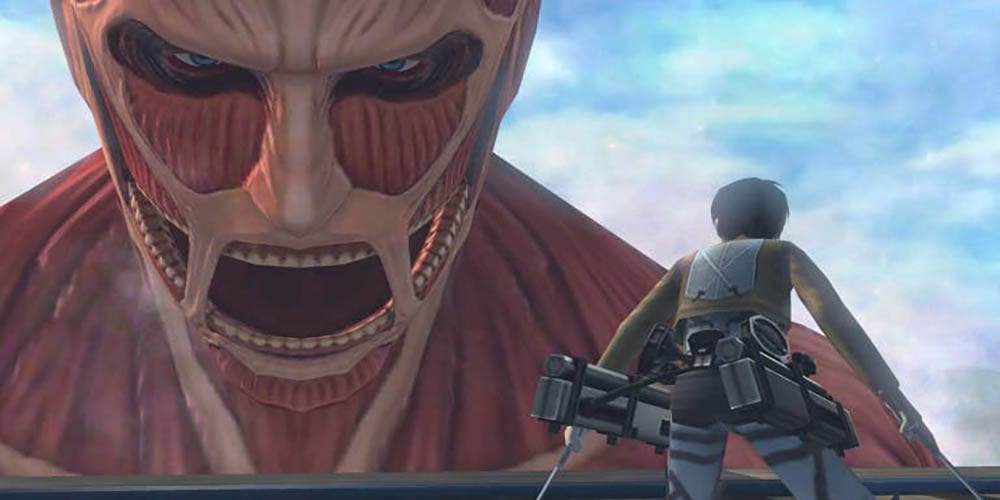 Image Credit: Koei Tecmo
Way before either of the good Attack on Titan games released, we got Attack on Titan: Humanity in Chains. Released for the 3DS in 2013, this was not the game fans wanted. I consider the 3DS to be the best console of the decade but it's a very limited hardware. Think of the issues I laid out about the first AOT game. On Xbox One and PS4, the Attack on Titan game looked really rough coming from the previous console generation. Now, imagine the limited scope of the 3DS. Yeah, it wasn't titan attack level horrific, but it was close.
The 3DS was capable of running really great games, but this was not one of them. The game used cutscenes from the anime and the graphics didn't even look atrocious compared to the controls. The real issue here is the control of the characters in combat. The ODM, or Omni-directional mobility gear, sort of functions like Spider-Man's webs in theory. In the 3DS version, there's very little feel for how to properly control your character. It's almost as if you're guessing where you're about to go. I blame the console mostly, but the development team could have likely worked on this a bit more. Other 3DS games control much better.
The issue with getting the ODM to work is you need two analog sticks to really handle the perspective and movement. Despite offering Circle Pad Pro support, it doesn't quite feel right. Even in Attack on Titan (2016), the movement doesn't feel all that fluid or precise. It isn't until Attack on Titan 2 that you feel like you're really handling the game's intensity with some sort of awareness. If you're a fan curious about the handheld game, then I'd just say pass on it for now. Hell, pass on it forever.
Having Trouble Finding Physical Copies for an AOT Game? You're Not Alone
If you plan on playing the best of the three, then good luck finding a physical copy. Copies for Xbox One and PS4 run well over $120 on most places online. The Switch version is closer to $200. You can grab the game for MSRP on Steam, as well as the PlayStation Store, Xbox Store, and Nintendo eShop. In the most recent Nintendo eShop sale launched after the E3 2021 Nintendo Direct, Attack on Titan 2 dropped to $30. Sales do happen, so keep an eye out for a drop on the Attack on Titan game prices for PS4 and Xbox One as well as PC.
The tough thing about games like these is that they're only going to reach a niche audience. If you're not a fan of the anime, then you're likely to pass on the game. Some people who aren't fans might ask if the Attack on Titan game adaptations are good, but is that a guarantee that they'll play them? Probably not, unless there is a sale. In that case, Koei Tecmo and other publishers will likely stop printing physical copies. It's a cycle that happens to a lot of anime games and niche titles.
That said, it's always a good bet to check your local game stores. They might have copies but they'll likely be charging prices that reflect the demand of these titles. I settled for a digital copy of all the games except the 3DS title. That one I found easily thanks to it being pretty bad. It's interesting that even if you don't think the Attack on Titan games is good you'd still try to find a copy. Game collecting is an interesting practice and it's a lot of fun trying to get rare games. Anime fans certainly will be keeping an eye out at local game shops for copies of the console AOT games.
Let Us Know What You Think of the AOT Game Adaptations
If you're sad to see both the anime and manga coming to an end, then the Attack on Titan games are good enough to help quell the sadness. At least for a little while. We know that we're getting a true finale to the show which is exciting. What are the chances we get a finished adaptation of the manga in video game form? Well, given the way that the AOT game adaptations performed, I'd say it's not likely. That said, the fever around the show's ending might convince Koei Tecmo and Omega Force to do one more title for the series. 
I think for fans of the series the best bet here is to find a way to play Attack on Titan 2: Final Battle. If you can find this physically, then consider yourself lucky. Most fans will need to settle for a digital copy. Either way, it's a fun game to experience however you play it! The Switch version runs well, but experiencing it on PC or PS4 is definitely an optimum Attack on Titan game experience. You can't beat the portability of the Switch though, so if that's your only option, you're still in good hands.
If you've played the Attack on Titan video games and think they're good, then let us know in the comments! Thanks for reading Comic Years for all things gaming, anime, and pop culture!
Featured Image Credit: Koei Tecmo
Taylor is the Gaming Editor of Comic Years and a lifelong fan of video games. He holds two degrees in Political Communication and wrote a Master's Thesis on resistance movements, race, and the exploitation of college athletes. His wife and two Toy Australian Sheppards keep him sane.
Leave a comment