Assassin's Creed Rift Setting Leaks
For several weeks now, there have been rumors floating around about the new Assassin's Creed game. So far, we know that Ubisoft is calling it Assassin's Creed Rift, but that's pretty much it. However, a new rumor suggested that the location had been finalized. Here it is!
Assassin's Creed Rift Setting
Image: Ubisoft
Earlier this week, there was a rumor that Assassin's Creed Rift would occur during the Aztec Empire. This was between 1428 and 1521 and was an Empire infamous for its sacrifices.
However, a reliable video game insider, Jason Schreier, replied to these comments. Previously, Schreier has shown that he's trustworthy. After all, he was the one to leak information about Far Cry: Primal. In this reply, James denied that Assassin's Creed Rift would have anything to do with the Aztecs. In his reply, James said:
The next AC game is Rift, which is set in Baghdad. After that will be AC Infinity, and while that's going to include a bunch of different games/experiences/biomes/whatever you want to call them, I've heard about the main two, and neither of them is Aztec.
Additionally, Schreier didn't rule out that Ubisoft could use the Aztecs for a future part of the game. He said, "It's definitely possible that there's some DLC or spin-off somewhere featuring Aztecs that I haven't heard about. But the tweet specifically said, "next AC game," which is not true as far as I know. The next AC game is Rift. Should be announced in September."
Assassin's Creed Rift Release Date
Image: Ubisoft
Clearly, the Aztecs are not on the table for Assassin's Creed Rift – but Baghdad seems to be! This would fit in with what we know about the character, Basim. Basim appeared in Assassin's Creed Valhalla, Assassin's Creed Rebellion, and a few other titles. He was born in Abbasid Caliphate, and Baghdad is the capital of this area. So, returning to his home city for the newest game seems like the right fit. On top of this, this will be the first time the series has returned to the Middle East since 2018. We last saw this location with Assassin's Creed Origins, so it will be nice to return.
Clearly, we should prepare for September, when Ubisoft finally announces Assassin's Creed Rift. It's not entirely clear, but it seems that Schreier is referencing the Ubisoft Showcase. Interestingly enough, this is also happening in September!
In the last few months, there have been several rumors about Ubisoft planning something big for their showcase. Apparently, they have a list of at least 20 games ready to announce. Some of these are new entries to franchises like Assassin's Creed Rift and Assassin's Creed Infinity. However, other titles will be completely new games. It would make sense for Ubisoft to reveal these two games here, as they're an important part of a huge franchise.
AC Infinity News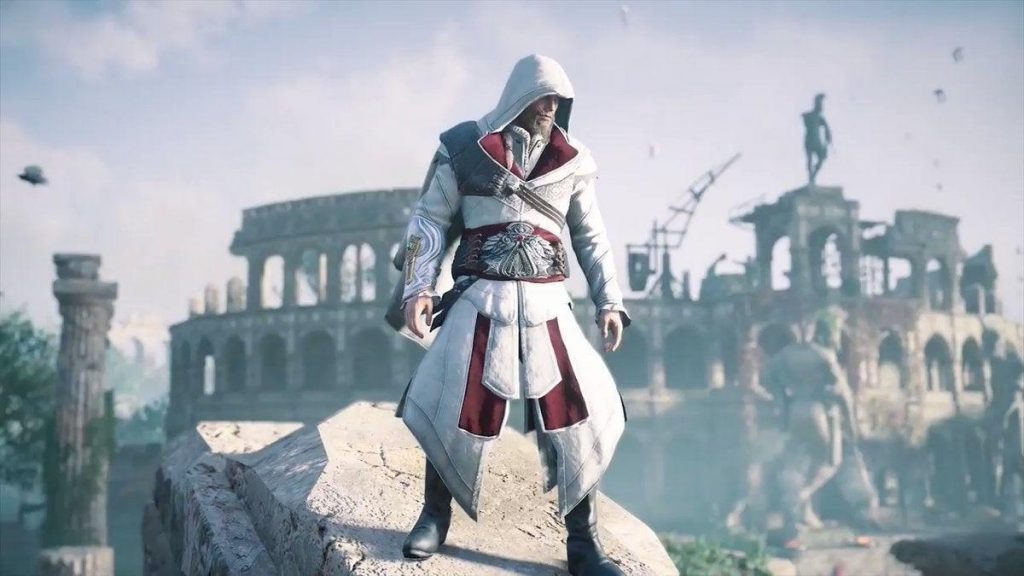 Image: Ubisoft
Originally, Assassin's Creed Rift started life out as a DLC meant for the game Assassin's Creed Valhalla. However, it soon became clear that the game was too big to release like this. So, Ubisoft took some extra time and transformed it into the game they're yet to announce.
Additionally, there's lots of speculation that Assassin's Creed Infinity is going to be an amazing game, too. According to rumours, the game will be set across different important times. Some of these players will have visited before. Also, Assassin's Creed Infinity is rumoured to be an online game that fans will have to pay for. It's going to be nothing like we've seen before!
Unfortunately, there are no exact release dates for Assassin's Creed Infinity or Assassin's Creed Rift. However, it seems that we should keep our eyes peeled for September to find out some more juicy details!What do you think? Are you excited about the game's setting? Do you prefer Baghdad or the Aztecs? Maybe something else entirely? Let us know in the comments!
Hi! I'm Arvyn, and I'm an English teacher from the UK. I've been teaching English online for over 4 years to students from all across the world and all ages. Outside of work, I'm a huge fan of reading, video games, and playing with my adorable kitties. See ya!
Leave a comment