Assassin's Creed Nexus Leak Reveals Details
It seems that the video game industry is full of leaks at the moment! First, there was the huge Grand Theft Auto 6 leak from Rockstar Games, which included unfinished game footage and plot details. The leaker even revealed some of the game's source code! However, Rockstar isn't the only one suffering from leaks. Now, details have emerged about a new Assassin's Creed VR game, titled Nexus. According to this Assassin's Creed Nexus leak, there's some pretty interesting information about the characters and missions during the game.This leak comes courtesy of Tom Henderson, who is a pretty reliable leaker. Henderson has previously proven himself to be reliable with some of the insider information he's revealed. According to his sources, Assassin's Creed Nexus will include 16 missions and has a bunch of characters in it. Naturally, there are some returning faces like Ezio, along with others like Connor, Kassandra, and Haytham. In this latest leak, Ezio, Kassandra, and Connor will be playable in several missions across the game. However, Haytham will only be available in the game's final mission.Since this game will be an entirely VR game, this means there'll be plenty of cool features we've not seen in previous titles. In the Assassin's Creed Nexus leak, the leakers claim that fans will be able to actually engage in lockpicking using their hands, as well as pickpocketing. If that wasn't enough, the VR experience also means fans can participate in combat with enemies and jump off buildings. You'll also be able to assassinate targets using your hands – pretty cool stuff!
Assassin's Creed Nexus Leak Details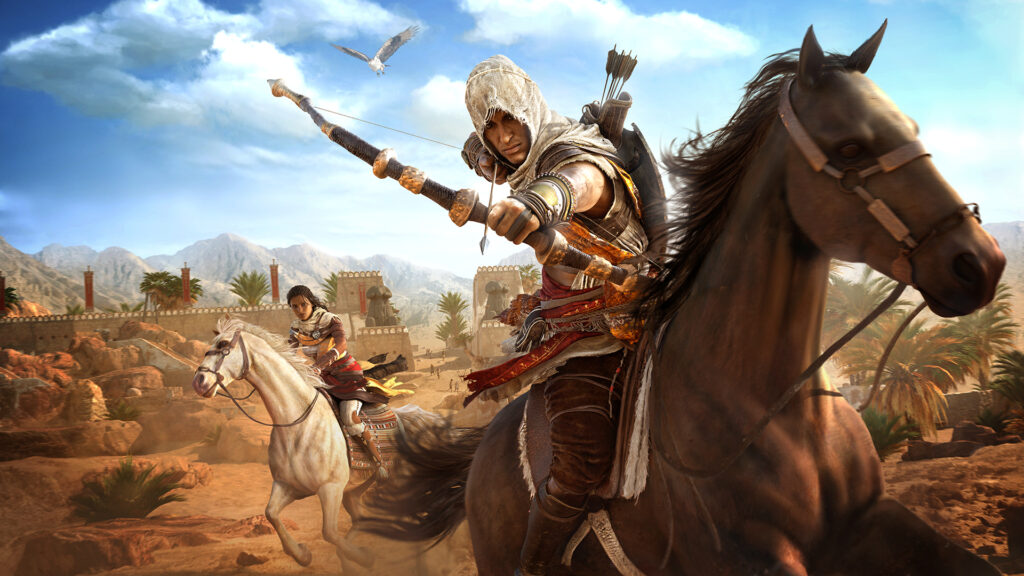 Image: Ubisoft
In this Assassin's Creed Nexus leak, this is the list of the full 16 missions in the game, along with their names:
Mission 1: The Sword of Ezio
Mission 2: Return to Monteriggioni
Mission 3: Monteriggioni Tunnels
Mission 4: To Save the City
Mission 5: Hunting the Bow
Mission 6: Daring Rescue
Mission 7: Siege of Boston
Mission 8: The Three Humiliations
Mission 9: The Thirty Tyrants
Mission 10: The Informant
Mission 11: Barton Raidr
Mission 12: Barton Rain Finale
Mission 13: Return of the Cult of Hermes
Mission 14: Battle of Munychia
Mission 15: Spymaster Reveal
Mission 16: Lost Symbol
Those titles certainly are intriguing! Additionally, the Assassin's Creed Nexus leak also revealed which characters are playable for which missions. Fans can play as Ezio for missions 1, 2, 3, 4, 8, and 13. Kassandra gets missions 5, 9, 10, and 14, while Connor receives 6, 7, 11, 12, and 15. Poor Haytham is only playable for mission 16!
However, it's not all plain sailing for this latest entry in the Assassin's Creed franchise. Henderson later went on to say that Ubisoft might end up cancelling the game, similar to how they didn't release the Splinter Cell VR game. Of course, it's unlikely for this to happen since we have some more concrete details about the game. However, cancellation does remain a possibility.
Ubisoft Forward Event
Image: Ubisoft
Additionally, Henderson revealed a little more in this Assassin's Creed Nexus leak. He stated that Ubisoft would talk about Nexus themselves at the next Ubisoft Forward event. Ubisoft will also talk about other future games in the franchise during this event. This will likely include Assassin's Creed Mirage, Infinity and the mysterious Codename: Jade. Ubisoft hasn't revealed any details about the VR game or publicly spoken about the alleged Assassin's Creed Nexus leak.
In addition, Ubisoft previously announced that they'd release a new title exclusively with Netflix. It's unclear how this game will work or even any details about the title itself. So far, Ubisoft has only announced that it's coming! However, we think it's likely that the game will be part of the Assassin's Creed franchise, given that Netflix is also releasing a live-action series centered around the games.
Currently, we don't know anything else about Nexus – not even a release date. You can catch Assassin's Creed Mirage at some point in 2023. Hopefully, we'll find out more about Nexus in the coming months, and potentially even a gameplay trailer – or even a release date.
Hi! I'm Arvyn, and I'm an English teacher from the UK. I've been teaching English online for over 4 years to students from all across the world and all ages. Outside of work, I'm a huge fan of reading, video games, and playing with my adorable kitties. See ya!
Leave a comment