Review: Star Wars The High Republic: Race To Crashpoint Tower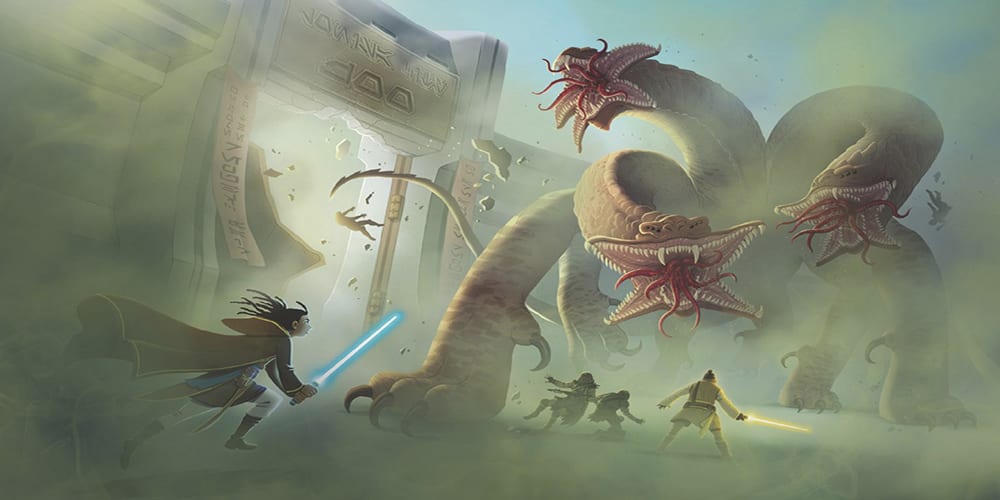 Star Wars fans long for new content, even when we're getting it regularly. There is always room in my schedule for more galactic adventures. It's part of the reason I'm loving the way Disney and Lucasfilm approach The High Republic. On top of new comics monthly, the books released to kick off this first year of High Republic content usually drop in pairs or trios. That was true for the releases at the beginning of 2021 and it's true again for July. This review is going to explore the Junior Novel Star Wars The High Republic: Race to Crashpoint Tower, a must-read for fans of all ages. Don't let the Junior novel label fool you; this might be my favorite book in The High Republic saga yet. Let's get to it!
A Swift Yet Authentically Star Wars Story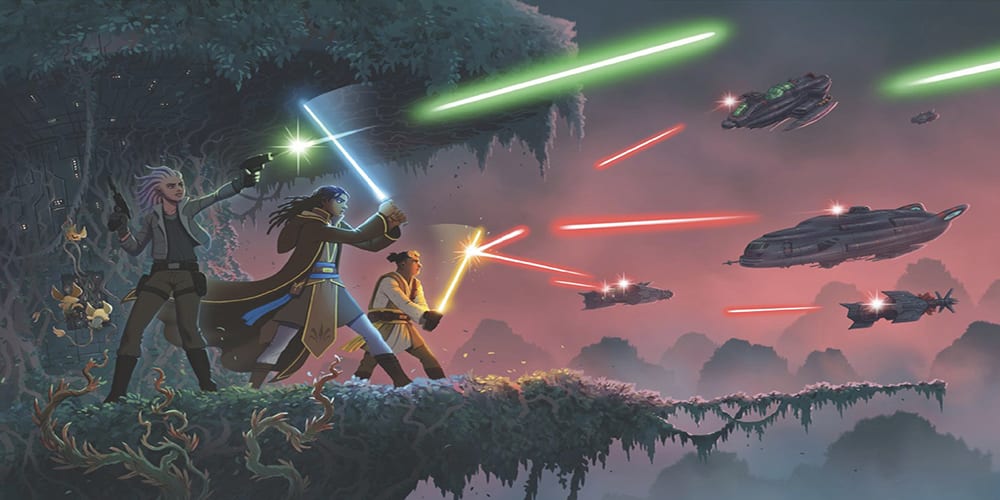 Image Credit: Disney Books
Race to Crashpoint Tower is the Junior Novel released this month for the High Republic saga from Disney and Lucasfilm. You can read my thoughts on the adult novel companion to this book in my Star Wars The High Republic: The Rising Storm review. If you're a diehard Star Wars fan, then I don't need to explain to you that any story in this universe is worth exploring. That said, I understand adult readers might not think exploring the Junior adventure in this growing saga is worth their time. I wrote in my The High Republic: A Test of Courage review that the story intended for younger readers could be enjoyed by all. The same goes for this latest entry written by Daniel José Older.
That name might look familiar if you're following my coverage of IDW's Star Wars: The High Republic Adventures. Older is coming from those comics to tell a bridge story that ties into the events of The Rising Storm. The pair of this novel and its adult companion fit great together. I will say, however, I enjoyed Race to Crashpoint Tower more. Almost all of that has to do with the characters central to this book and the IDW comics.
Spoiler-Free Overview of Star Wars The High Republic: Race to Crashpoint Tower
We start in Race to Crashpoint Tower with Ram Jomaram, a padawan who loves tinkering in his workshop. While repairing ships and droids, Ram uses the force as part of his toolbelt. It's a really interesting approach to lead a Star Wars story with a Jedi in training with such a casual hold over his abilities. He's hiding out here in particular when we meet him because he doesn't want to help with the Republic Fair, the next of Chancellor Soh's Great Works. His droid, V-18, reports to him suddenly that the comms tower at Crashpoint Peak is jeopardized. Hoping to help find a solution to this problem, the two venture out to see what's wrong.
When he realizes the communication errors are a random accident, Ram is thrust into the massive Nihil invasion central to the story in The Rising Storm. While finding out more, he teams up with Jedi Padawan Lula Talisola and Force-sensitive Zeen Mrala along the way from The High Republic Adventures. In a really fun twist, we even run into Vernestra Rwoh from A Test of Courage. While it's a cool moment when she shows up, the other three, particularly Ram and Lula, get the spotlight through the story. The young Jedi soon realize that the Nihil aren't the only threat to the fair. The dreaded Drengir are on the planet and seeking to eat Jedi. Interestingly enough, we learn that the Drengir can speak and they share with Ram and Lula that they received guidance from the Nihil. 
The agreement promised the Drengir full access to the "weak" Jedi if they helped cause chaos on the planet during the Republic Fair. Of course, the Jedi are not weak. When they explain this to the Drengir, they feel betrayed.
Race to Crashpoint Tower Solves Problems That Cause The Rising Storm to Suffer
Image Credit: Disney Books
I won't dive into too much more here to save the story's plot. That said, it's worth seeing how things end up and where this all fits in with the Fair's fate. Paired with Cavan Scott's book, I enjoyed this one a lot more. I'm not saying I disliked The Rising Storm. As I mention in my review, it's just too unfocused and crowded. In a swift 200 pages or so, Race to Crashpoint Tower just tells a better story. It's sort of like Star Wars: The Clone Wars or The Bad Batch. They're clearly aimed at a wider audience with a major focus on younger viewers. They also happen to tell the most satisfyingly authentic Star Wars stories.
The melding of characters from various High Republic projects works great here. It's a great tie-in for the eventual end of this first wave of content from the new Star Wars era. Overall, I'd highly recommend Race to Crashpoint Tower to anyone looking for more High Republic content. Similarly, young readers will love the characters in this story.
If you enjoyed this review of Star Wars The High Republic: Race to Crashpoint Tower, then check it out yourself! It's available now digitally and where ever books are sold.
Taylor is the Gaming Editor of Comic Years and a lifelong fan of video games. He holds two degrees in Political Communication and wrote a Master's Thesis on resistance movements, race, and the exploitation of college athletes. His wife and two Toy Australian Sheppards keep him sane.
Leave a comment