Ma Rainey's Black Bottom Review – Simple Storytelling At Its Finest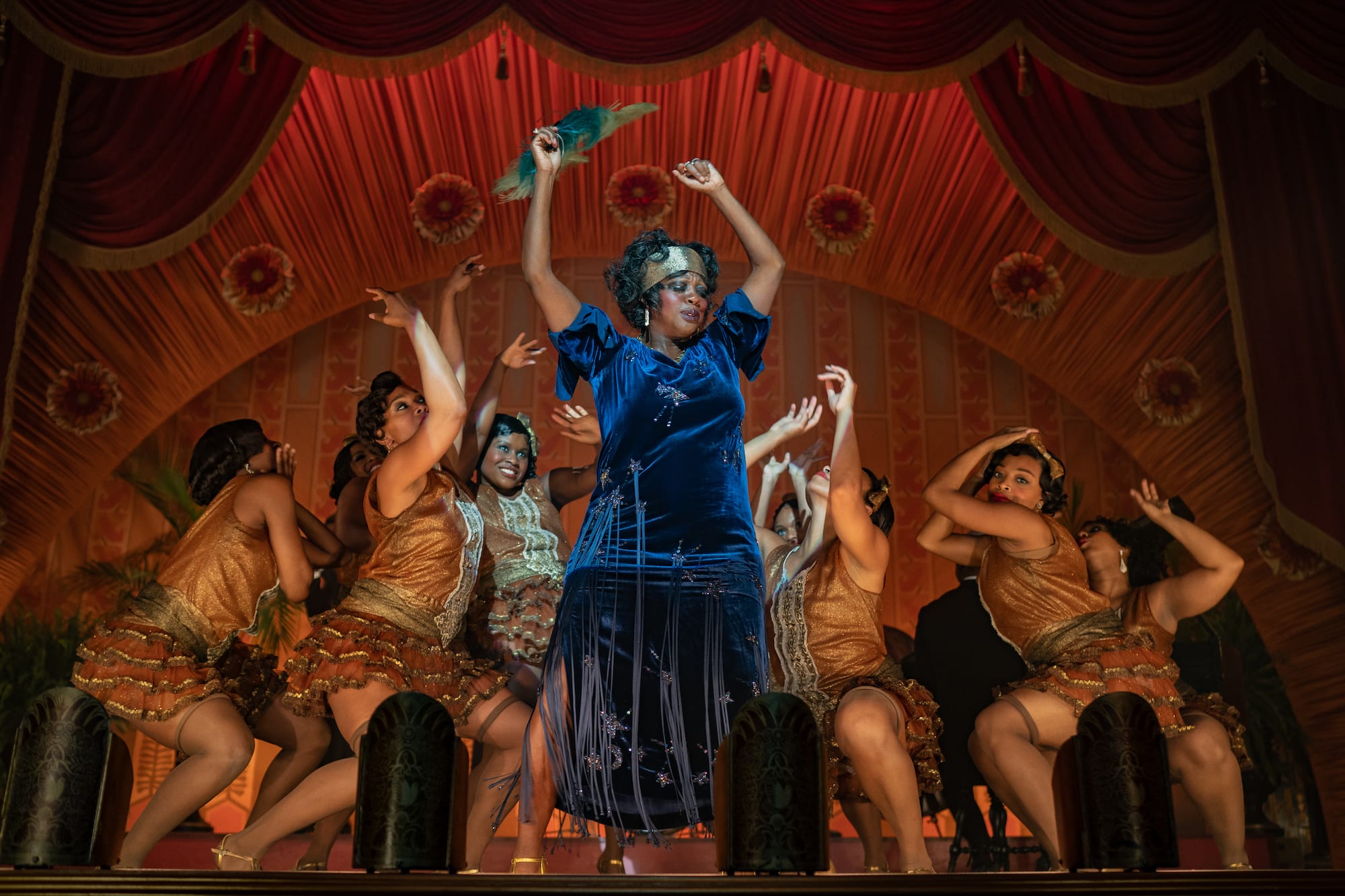 The past few months have brought us plenty of news about each different streaming service. HBO Max turned the movie-going experience around when it announced that all of their 2021 releases would debut on the streaming service on the same day as theaters. Disney is giving us constant news about new Marvel and Star Wars properties. So, it's been an easy time for a film release to sneak up on us. There's one film that silently released this week, and this review is here to tell you why Ma Rainey's Black Bottom is the kind of film that you don't want to miss.
Ma Rainey's Black Bottom Review – Music, Fame, Trauma, And The Blues
Ma Rainey's Black Bottom is not an original tale. While this may be common knowledge to some, I must admit that I went into the film with some ignorance and was unaware of the very real stories that it evolved from. Sure, looking at a film as fiction can be entertaining, but this story deserves to be known. Ma Rainey is a true icon in the genre of blues. Given the title of the "Mother of the Blues", Ma toured and recorded music until 1935. She was more than just a pioneer of the musical genre and left footprints across the industry and will continue to inspire fans for years to come.
The life of this iconic blues artist inspired playwright August Wilson to write Ma Rainey's Black Bottom in 1982. It lives within Pittsburgh Cycle, a set of ten plays that are created with the goal of showcasing the experience of African-American folks in the 20th century in Wilson's hometown. Each looks at pieces of life, from race relations to religion, from different focus points. This film adaptation tells only one of many important stories.
Image via Netflix.
A Story That Starts And Ends With Music
We are introduced to Ma Rainey and her band through song. This first musical performance tells us everything that we need to know about them, from Ma Rainey's (played by the always competent Viola Davis) indescribable stage presence to the unapologetic confidence and flair of Chadwick Boseman's Levee Green. As the screentime goes on, we're left wondering when the actual story will start. It's only after a short while that you realize that we're already deep within it.
This 94-minute film tells a tale that takes place mostly within a single day, with the core plotline taking place in real-time. Ma Rainey, an artist who knows her worth, is scheduled to record an album for Mel Sturdyvant's recording studio. Her band, made up of Green, Colman Domingo's Cutler, Glynn Turman's Toledo, and Michael Potts Slow Drag, have their own thoughts about the music and how it should be recorded. There are tensions between them all, but Ma Rainey's presence is a force to be reckoned with, and only the brave are willing to try and stand in her way.
The Netflix film, directed by George C. Wolfe, takes its time. The storytelling and music-making are weaved together and flow so seamlessly that neither can exist without the other. What could be tossed aside as one of many musical period pieces instead becomes a short portrayal of the human experience, sharing brief moments of man's distrust in spirituality, the struggles of being a Black female musician in an industry filled with white men, and the subtle but screaming racism that was experienced in the early 1900s (and most of which is still experienced today in evolved forms.)
A Review of Ma Rainey's Black Bottom Is Not Complete Without Chadwick Boseman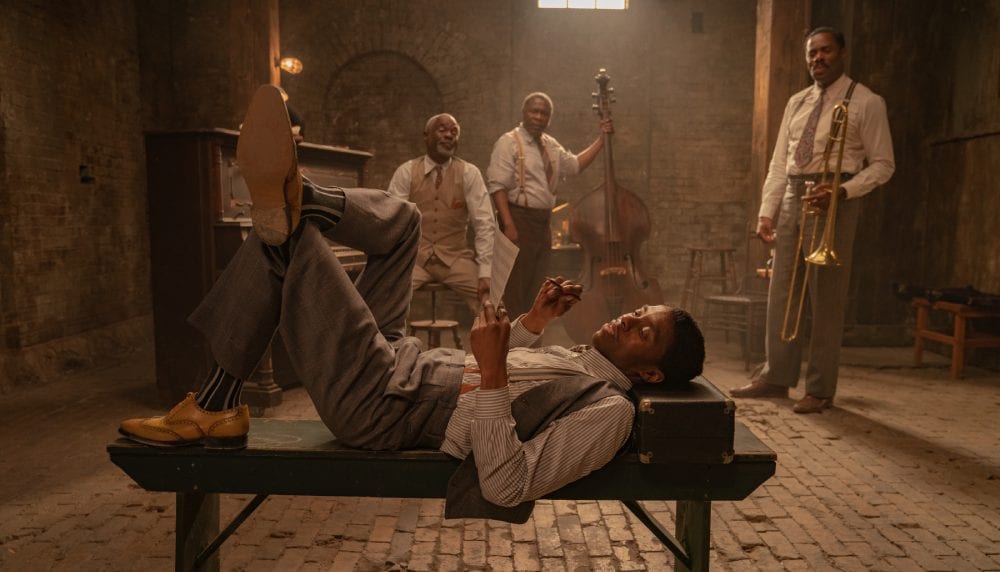 Image via Netflix
Viola Davis is known as one of the most impressive actresses in Hollywood, and for good reason. From her more showy roles like her six years leading How to Get Away with Murder to her smaller, yet equally as impactful performances like in Suicide Squad, we've come to expect a level of wonder from her films. Ma Rainey's Black Bottom delivers. Davis plays the role with as much confidence as is needed, and not a drop more.
The movie may be named after Ma, but the heart of the story revolves around Levee Green. This trumpeter is desperate to achieve something and to play his own music. He has come from a traumatic past and is willing to take the risks that he thinks are necessary to get him ahead, but this can sometimes blur his sights. Chadwick Boseman losses himself in the role, transforming into Levee. It's easy to forget that we're watching the late actor's last film. We're so captivated by his every step and every longing stare, and it's all the more crushing to remember his real-life struggles while the film was in development.
A Perfect Film To Finish Off 2020
Our final review of Ma Rainey's Black Bottom puts it on our list of the best movies of 2020. It is a story that keeps us entertained while also reminding us of the importance of seeing different voices represented on screen.
Have you watched the film on Netflix yet? Let us know if you agree with our review of Ma Rainey's Black Bottom in the comments or by reaching out to us on social media!
Featured image via Netflix.
Meghan Hale is the kind of movie lover that has a "must watch" that is a mile long... and growing. When she isn't talking about the latest film and television news she is writing one of her many in-process novels, screaming film trivia at anybody who will listen, and working as a mental health care professional. Follow her on Twitter @meghanrhale for some fun theories and live reactions to all things entertainment.
Leave a comment