Pride Month Graphic Novel Spotlight: Young Avengers by Kieron Gillen and Jamie McKelvie
Picking the third Pride Month Spotlight was both really easy and really difficult. I knew it had to be something by Keiron Gillen, one of the best writers in comics, and openly bisexual. The difficult choice was choosing which of his works to use. Wicked + Divine seemed like the obvious choice, but with nine volumes, a single article just wouldn't suffice. There's also Die, the "Goth Jumanji," with a trans female narrator who uses a fantasy game to explore her identity…and the game sucks her in. Literally. Then there are his smaller Marvel works, like Angela and Doctor Aphra from Star Wars. However, when I started considering his Marvel work, the answer was obvious: The GLAAD-winning series Young Avengers, by Gillen and Jamie McKelvie. This series is not just brilliant, but significant for LGBTQIA+ representation.
Gillen and McKelvie Gave Us the Long Overdue First Kiss in Young Avengers

Fans waited a long time for this moment. (Image: Young Avengers (2013) #1, by Keiron Gillen and Jamie McKelvie, Marvel Comics)
The first Young Avengers series, by Alan Heinberg and Jim Cheung, introduced one of the most popular couples, gay or otherwise, in superhero comics: Wiccan and Hulking. When people use #couplegoals, they want something like what Wiccan and Hulkling have. However, despite appearing in several comics after their debut, we wouldn't see their first kiss until 2014, when Gillen and McKelvie finally had them kiss in their first issue of Young Avengers. Eight years. And this kiss was more than just a great moment for the couple.
Oh, and a boy kissing another boy at the end saves the world.
The kiss that saved humanity. (Image: Young Avengers (2013) #15, by Keiron Gillen and Jamie McKelvie, Marvel Comics)
Young Avengers Is a Queer Superhero Team with One Token Straight Character.
Not only did this kiss please fans and cement the young couple's romance, but it was also a statement for the short series. The cast of Young Avengers is predominantly queer. Besides Wiccan and Hulkling, we have America Chavez, a lesbian, Prodigy, who is bisexual, Loki—who is not just pansexual, but genderfluid in the most literal sense. He can change gender at will. Speaking of pansexual, there's also Noh-varr, AKA Marvel Boy.
In fact, Kate Bishop, the young female Hawkeye, is the only cisgender straight character on the team. Though many fans expected her to be queer, Gillen pointed out in an interview with Bleeding Cool:
Well, some people have leaped to that idea, but Kate being teased by Miss America doesn't make her LGBTQ. Everyone gets to define their own sexuality. Kate clearly identifies as straight. America teasing Kate's somewhat naive provinciality on suddenly realising she's a minority on her team doesn't change that.

Or maybe she is? (Image: Young Avengers (2013) #15, by Keiron Gillen and Jamie McKelvie, Marvel Comics)
In most books, there's a token queer character. In Young Avengers, Gillen and McKelvie flip that entirely. Doing this created a much more accessible team for the LGBTQIA+ community. It also showed how pointless the idea is in other superhero books that there can only be one (or no!) queer characters. But, sadly, that's still the norm.
All of the Young Avengers Have an Emotional Arc
What Gillen and McKelvie focus on the most in Young Avengers isn't the characters' sexuality—but about their self-discovery. For Wiccan, it's discovering his full potential—and how he will eventually become the Demiurge, a creator of worlds. Wiccan becomes so powerful that he is able to accelerate Kid Loki's age, making him an older teenager…after Loki tricked him into doing it.

Loki finally accepting he is Loki…and that he doesn't want to be the same Loki. (Image: Young Avengers (2013) #15, by Keiron Gillen and Jamie McKelvie, Marvel Comics)
Speaking of Loki, he goes through a lot of changes in the series, not just an age upgrade. In Gillen's Journey Into Mystery, a fragment of Loki's former evil persona consumed Kid Loki and took his form. But Kid Loki didn't completely go away. Throughout Young Avengers, Loki is tormented with guilt. After he's aged, Loki doesn't know if he wants to be a good guy or a bad guy, and leaves the team before his allies can forgive him.
Kieron Gillen Is Awesome—as a Writer and a Person
Sure, this isn't specific towards Young Avengers, but Gillen is a brilliant voice in the comic book community. In an interview with GCN, he recognizes the need for more diversity, but also checks his white privilege too. He was asked if he " about facing the types of backlash or attempted campaigns that have been seen in video games, or against more inclusive superhero films like Black Panther or Captain Marvel." Gillen replied, "I think the books tend to be complicated enough to be quite hard to dismiss with a knee jerk, and also as a white guy I get less shit full stop."
Today, there are a lot of white artists recognizing their privilege in the industries they work for. Gillen was doing it before it was "cool." And that's not to undermine the creative people just now realizing how their privilege helped them, but to show that this isn't a new revelation. It doesn't always take a movement to achieve self-realization.
Jamie McKelvie Brings Insanely Good Art to Young Avengers
Just one of McKelvie's brilliant double-page spreads. (Image: Young Avengers (2013) #1, by Keiron Gillen and Jamie McKelvie, Marvel Comics)
Back to focusing on Young Avengers, Gillen is only half the reason for the success of the book; the other half is because of what McKelvie did with his art. Young Avengers isn't a typical comic book. McKelvie bends the rules of sequential art every time he got the chance to. This might not make much sense, but McKelvie's art feels like a David Bowie song, if Bowie sang about queer superheroes. It's pop art. It's Jack Kirby via Andy Warhol Just look at this art: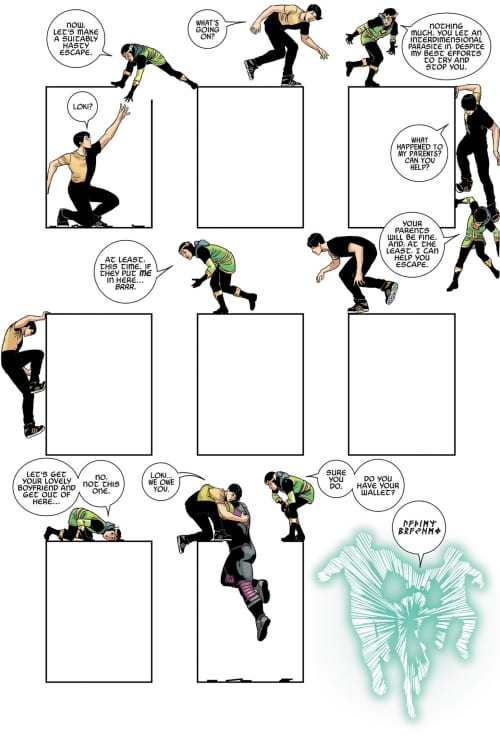 That's one way to break out of the panels. (Image: Young Avengers (2013) #2, by Keiron Gillen and Jamie McKelvie, Marvel Comics)
One exceptionally crazy double-page spread. (Image: Young Avengers (2013) #3, by Keiron Gillen and Jamie McKelvie, Marvel Comics)
Young Avengers Shows that Marvel Can Create Amazing, Diverse Books; They Need To Do It More Often
In the past decade, Marvel has had two significant successes with series that promoted diversity and were loved by everyone. Young Avengers and Ms. Marvel. Yes, there are other series and stories scattered throughout the decade, but we haven't seen the level of commitment that these two titles have received. Despite only having 15 issues, the Gillen and McKelvie run of Young Avengers got the full Omnibus treatment. It might be the shortest comic book omnibus ever printed. And with Ms. Marvel, not only does she have a very long ongoing series, but we're going to see her in the MCU with her own Disney+ show, and she'll be the main character in the upcoming Avengers video game. Oh, and Young Avengers is getting another reprint.
Producing something like Young Avengers is unique, and it's not like they can just turn Gillen and McKelvie into a critically-acclaimed comics machine. But we need more risk takers. And we need to see more creators showcase LGBTQIA+ characters in such a unique way. But we mostly just need to see them commit to the characters and push them. Fans loved Sina Grace's Iceman series, but they canceled it twice and did very little to promote it. Iceman should still be an ongoing comic right now. For that matter, why hasn't Marvel put out another Young Avengers run since Gillen and McKelvie wrapped up theirs?
Fans love these characters. They are also the most popular LGBTQIA+ characters Marvel has…so, let's bring them back. Until the Young Avengers return, I'll just reread the brilliance of Keiron Gillen and Jamie McKelvie for the 19th time.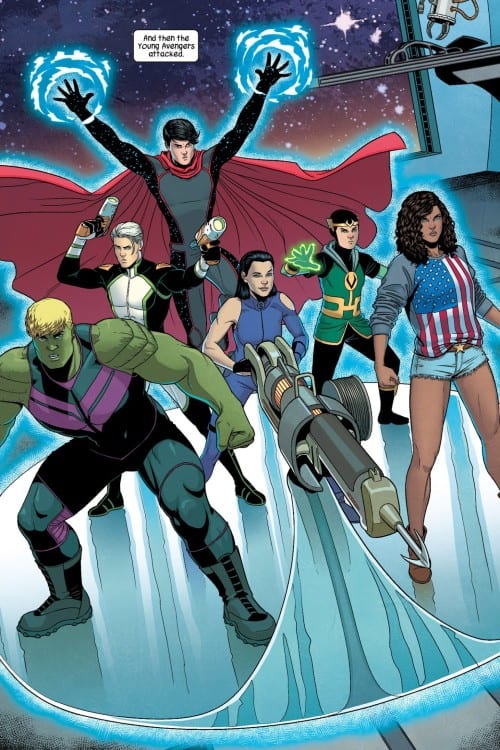 Happy Pride Month from everyone here at Comic Years! (Image: Young Avengers (2013) #7, by Keiron Gillen and Jamie McKelvie, Marvel Comics)
(Featured Image: Young Avengers (2013) #12, by Keiron Gillen and Jamie McKelvie, Marvel Comics)
Roman Colombo finished his MFA in 2010 and now teaches writing and graphic novel literature at various Philadelphia colleges. His first novel, Trading Saints for Sinners, was published in 2014. He's currently working on his next novel and hoping to find an agent soon.
Leave a comment