Legion: The Tortured Soul(s) of the X-Men
First Appearance of Legion: #New Mutants #25
Created by Chris Claremont and Bill Sienkiewicz
The Legend of Legion
Many superheroes have tragic backstories, and while the X-Men might have more than most, Legion has a particularly painful origin. David Haller is the bastard son of "he whom we all look up to" Charles Xavier. Xavier had an affair with Haller's mother, Gabrielle Haller—who decided not to tell Xavier about his progeny. But not knowing who is daddy was isn't the tragedy here—it's what came later.
When he was a child, David nearly died in a terrorist attack. In fact, he was the sole survivor, and the experience triggered his psionic mutant ability. He obliterated the minds of the terrorists, but in the process absorbed the minds of all those who died around him—and the terrorist leader, Jemail Karami. Taking in that many minds at once left him in a catatonic state. His own mind shattered, and thus Legion was born. He developed several different personalities, but because he's a mutant, it wasn't as simple as just having disassociative identity disorder. Each personality had its own superpower. And this wasn't just one or two or 23. Over the course of his publication, he's had over a thousand.
Since awakening on Muir Island, Legion has been victim, villain, and hero. The fact that he is probably the most powerful mutant on the planet with a damaged psyche and personalities constantly trying to take control of his body, makes him an "omega level" threat even when he is trying to be the hero. In fact, while trying to be the hero, Legion has almost destroyed the world multiple times, leaving the X-Men to pick up the pieces of his destruction.
A Legion of Great Legion Stories
Legion's Debut
Legion didn't first appear in the main X-Men books, but in the popular New Mutants series. In Chris Claremont style, it's short (3 issues) and to the point. The way he wrote Legion was incredible—the competing voice and depiction of a soul in turmoil, even for such a strange character, is some of the most human feeling writing of Claremont's career. Claremont's writing was only half of that equation. What really made Legion's pain feel so real and personal was legendary artist Bill Sienkiewicz's amazing work.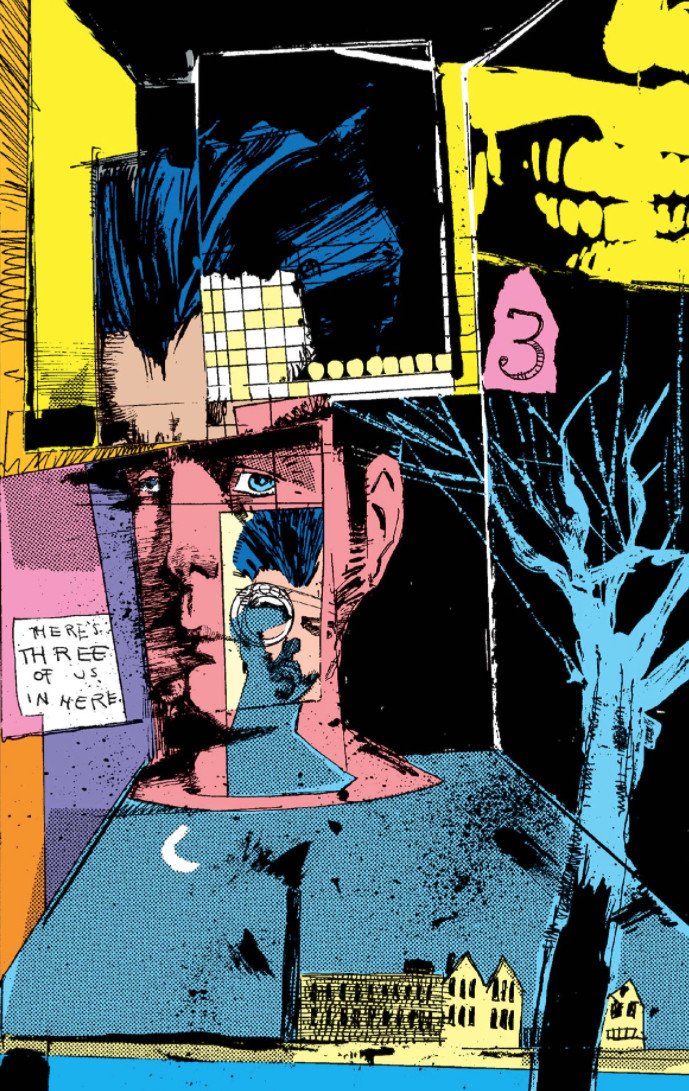 This could be a silent comic, and the emotion would still punch just as hard.
Legion Quest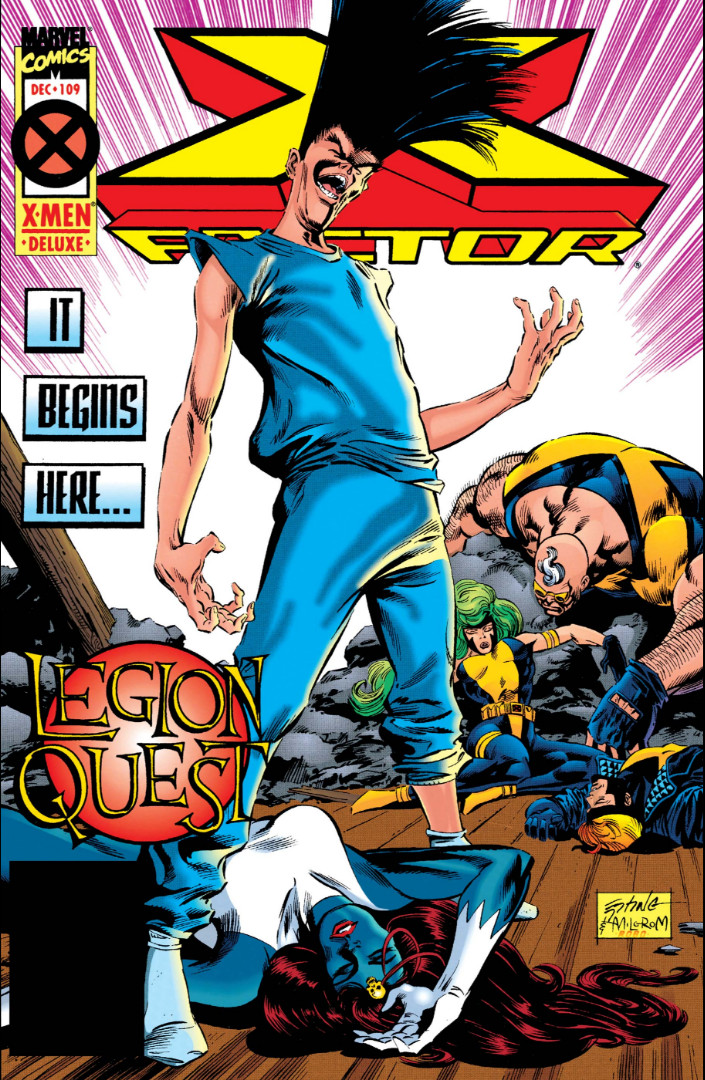 Legion Quest is actually the middle of what became the biggest even in X-Men history: Age of Apocalypse. The story starts with Shadow King Rising, in which the Shadow King possess David and kills the mutant Destiny, Mystique's friend and lover. Though the X-Men defeated the Shadow King, his fall left Legion in a coma. And later on, Mystique went to seek revenge on Legion, believing he killed Destiny. All that did was wake Haller up, but he had a new, heroic cause! He was going to help his father secure peace for mutants by going back in time and killing Magneto.
Instead, he accidentally kills his own father 20 years in the past—and the result? The Age of Apocalypse. A nightmare reality where En Sabah Nur rules with an iron fist. This is what happens when Legion wants to do right by the world.
Return of Legion
At the end of Age of Apocalypse, we find out that reality changed so that Gabrielle Haller ended up miscarrying her would-be mutant child. But, of course, this is comics, and no one is allowed to stay dead, or even unborn. However, Legion would return until Zeb Well's late '00's run on New Mutants, when the reformed team finds Haller in a concrete box and more unstable than ever. Legion's most dangerous personalities are all fighting for control of a doll that gives them control of Haller's body. The X-Men team has to find a way to stop Legion—but also help him.
Age of X
After Legion returned, the X-Men never stopped trying to help Legion control his powers and personalities. While trying to heal Haller's Dissociative Personality Disorder, Dr. Nemesis, one of the X-Men's top scientists, accidentally creates a new persona with the power to alter reality, and modeled after Haller's adopted mother, the deceased Moira McTaggart. Moira wants to protect Legion, of course, and creates a reality where he is a beloved hero and the X-Men live protected behind a force wall maintained by the psionics on the team. It's a crazy reality, and one of the best X-Men stories from the 2000s. It's also Mike Carey's best work at Marvel.
X-Men Disassembled
This is actually a fairly recent story from the latest incarnation of Uncanny X-Men. In this Legion is the villain, at least as far as the X-Men are concerned. In their defense, Haller is crazier than he's ever been before. He's imprisoned and enslaved Multiple Man and his dupes, and attacks the young mutants in the X-Men, ranting and raving about some horrible vision of the future. He's trying to prevent this future from happening, but they're coming—the Four Horseman of Salvation. Of course, he fails, and the X-Men's latest event, which ends this month, begins: The Age of X-Man.
Simon Spurrier's X-Men Legacy
Now, this takes place before Disassembled, of course, but it is, without a doubt, the definitive Legion story in any X-Men title. After Xavier dies in Avengers Vs. X-Men, Legion is devastated. Once again, he wants to help his father's dream of peace come true, but this time he's a little more careful. The entire series is brilliant, especially the relationship between Legion and Blindfold. The series is also a major influence on the FX series, so much so that Simon Spurrier is thanked in the credits at the end of every episode. This is one series that is worth buying the omnibus for. Plus, Tan Eng Huat's art channels a lot of Sienkiewicz's early work on the character.
The FX Series
Legion was a surprise hit, and one of the best shows on TV. If you're not sure what to watch after binge-watching Stranger Things, try Legion. But, though it's loved, it's coming to an end after Season 3. Hopefully, since the show made him a more popular character, Legion will appear in more X-Men stories to come.
Roman Colombo finished his MFA in 2010 and now teaches writing and graphic novel literature at various Philadelphia colleges. His first novel, Trading Saints for Sinners, was published in 2014. He's currently working on his next novel and hoping to find an agent soon.
Leave a comment